'Art of Spice' Chili Cook-Off Application

Saturday, September 29, 2012 from 11:00 AM to 6:00 PM (EDT)
Event Details
Woodbury Fall ARTS Festival
Arts Festival including over 300 Artists, Artisans  & Craftsman featuring… the "Etsy Studio", Performance Arts, ARTS Café  & Gourmet Food Vendors, Music Lounge, Wine & Cheese Tasting, Craft Beer Garden, ART Battle, Scarecrow Competition, 'Art of Spice' Chili Cook-Off  & other Creative Activities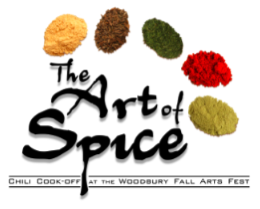 'ART OF SPICE' Chili Cook-Off
@ The Woodbury Fall ARTS Festival

The Art of Spice Chili Cook-off is your chance to have official bragging rights for the 'Best Chili Around' not to mention great prizes! Come and see if you have the right SPICE to be called "The Best"!


Date: Saturday, September 29th, 2012 – Rain or Shine
Where: Woodbury, NJ, Railroad Ave at Cooper Street
Set Up: Saturday, Sept 29th - 7:00am to 10:00am
Public Tasting: 11:00 am to 2:00pm
Event Time: 11am-6pm
Judging: 10:45am
Awards: 3:30pm
About
Creativity is welcomed, the only requirement is "Red Chili"

1,000 people anticipated to "taste" at the event

6,500- 8,000 expected overall

Special guest judges select "Best of Show"

Tasting Kits will be sold for public tastings and "People's Choice Award" voting

$100 registration fee (Aug 15th deadline)
Prizes
Juried Competition 1st prize $500

People's Choice Competition

1st prize $250
Marketing
A fabulous & fun marketing opportunity to showcase your talent and compete against other local restaurants and chefs. Let's show the region the fabulous restaurants we have to offer!

Featured on

www.fallartsfest.com

FAF Social media including Facebook, Twitter and LinkedIn

Featured in Taste of SJ

Program listing

This is not only good for business but good for your community
Vendor Add-Ons
$10     Vendor Breakfast Box

Early setup, no problem! Arrange to be greeted with a fresh breakfast box provided by "The Station Café"
YES, I WOULD LIKE TO PARTICIPATE!
Online Registration Instructions
Purchase your preference above

Download application HERE

Complete this application and email to info@mainstreetwoodbury.org or mail it to MSWI, PO Box 490, Woodbury, NJ 08096.
Purchase by Check Instructions
Download application 

HERE
Complete this application and return it with your payment and self-addressed/stamped envelope to: MSWI, PO

Box 490, Woodbury, NJ 08096.   If you have any questions, please call (856)-845-8655 and leave a detailed message. 
Competition Guidelines & Information

Space:

You are provided a 10x20' area and (1) 8'table-  all other needs are provided by contestant.  Be as creative as you can.  Use decorations, props, etc...  We want to use this to attract the crowd to your station to help with your chances of winning the People's Choice Award.

Check-in:

All competitors will be directed to their area when they check in on the day of the event.

Cooking:

All chili preparation must be done in advance, in a Gloucester County Health Department approved kitchen. Contestants must provide their own cooking equipment and supplies

ReHeating:

Chili will be heated on site for judging and tasting. Cooks need to bring their portable charcoal, sterno, electric, gas or liquid petroleum "Coleman" type cooking stoves, electricity (generators not provided), or charcoal.  If using charcoal, contestants must dispose of all coals from the premises.

Health Department:

All Competitors must submit a

Gloucester County Health Department Application  *no fee

Fire Permits:

A $42

Fire Safety Permit

is required for anyone using propane heat, no fee or permit required for use of electric or charcoal heat

Power source: 

Electricity will not be provided.    

Amount of Chili Required: 

We require a minimum of 20 gallons.  2 quarts are used for the judging panel and the balance for the People's Choice Award. The more chili you provide, the more "people" that are able to taste your chili, the more potential votes you will receive.

Set Up:

may begin at 7am and completed by 10am. Please check in at the "Vendor Check-in Tent" for assigned space information. To avoid setup delays, we highly recommend coming early and carrying in (maybe pulling wagons) to set. The area will be very congested with vendors and you will not be able to drive directly next to your space to "drop off".

Mandatory Cooks Meeting at 9am

.  The Gloucester County Health Department will be reviewing their requirements and regulations.  Warming up and last minute preparation until 11am

Public Tastings:

Tastings begin at 11am. 'Art of Spice' will provide…

Tasting/Voting kits for the public

3oz ladle for serving tastings

Judging:

All judge's decisions are final. Winners will be announced and prizes awarded on stage at 3:30pm

Rain or Shine:

There are no rain refunds. In the case of extreme weather and acts of god, the event will be cancelled and fees will be banked until the following year.

Cancellations:

Refunds will not be given to vendors for any cancellation. If a vendor notifies MSWI in writing before July 27th, MSWI will "bank" this registration fee, which can be used towards the following year registration. It is not guaranteed that fees will be the same year to year. 

Application Approval:

Main Street Woodbury, Inc. reserves the right to decline any application

Liability:

Exhibitors will assume full responsibility for their exhibits.  Main Street Woodbury Inc. is not responsible for any damages, loss or theft, or for any personal injury incurred during the course of Fall ARTS Fest 2012. 

Use of Images:

Unless you request otherwise, your application will be considered permission for the Woodbury Fall Arts Fest to use any submitted images, any images of products from the above submitted websites/online shops/blogs/online examples of work and/or any images taken at the event in any publications or promotional materials, in any medium now known or developed in the future without any restrictions. If you object to MSWI using your product images, please notify the Woodbury Fall Arts Fest, in writing, at the time of your application.



FOR MORE INFORMATION
Main Street Woodbury, Inc. (856) 845-8655 or info@mainstreetwoodbury.org


When & Where
Railroad Avenue and Cooper Street
Woodbury, 08096


Saturday, September 29, 2012 from 11:00 AM to 6:00 PM (EDT)
Add to my calendar
Organizer
Main Street Woodbury is an all-volunteer, non-profit, urban revitalization organization. Main Street Woodbury, Inc. (MSWI) is comprised of residents, merchants, property owners, and interested citizens dedicated to breathing new life into Woodbury's commercial district. Ultimately, using the four point Main Street approach, MSWI will improve the quality of life for people who live, work, shop, and dine in this city.
'Art of Spice' Chili Cook-Off Application