A 6-week Love Letter program that is made for 10 INCREDIBLE WOMXN who are ready to take back their POWERS & rewrite their history.
About this Event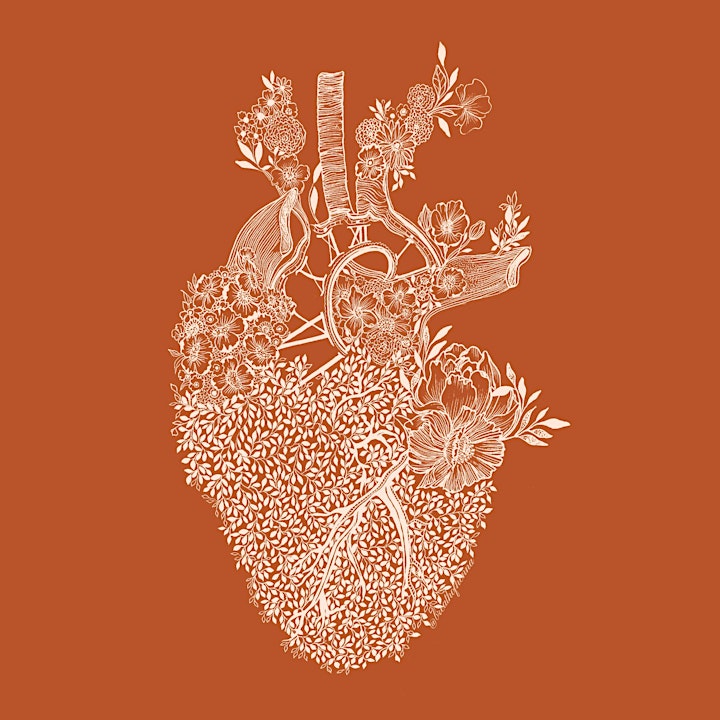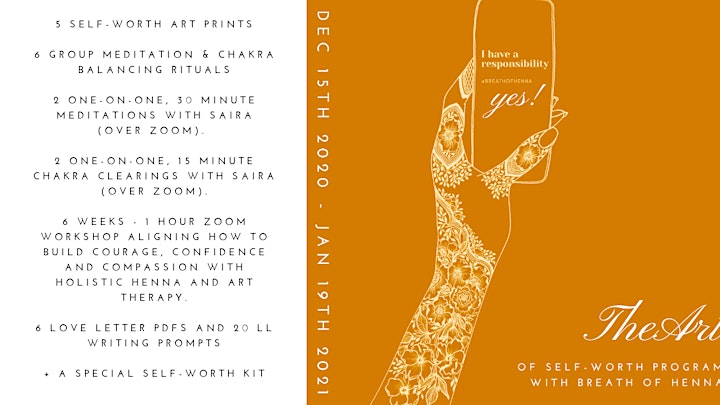 Dear Sister of Great Powers,
Yes, I see you! I hear you! I have read your letters.
Are you ready to reclaim your self-worth?
Are you tired of consuming endless self-care products?
Are you willing to invest in self-care?
Gift yourself the POWER of Self-worth.
Gift yourself CREATIVITY by elevating the powers of your Chakras & energy.
Gift yourself the COLLECTIVE CONSCIOUSNESS that you need to heal your home; your body.
Gift yourself the FREEDOM to express your TRUE BEING & set her FREE.
************
Join us December 15th 2020 - January 19th 2021, one day a week to reconnect with sisterhood and the selfless act of writing love letters to yourself with Holistic henna artist and practitioner, Saira.
The Art of Self-worth program is a 6 week, virtual experience for the womxn who is ready to take her power back! Are you ready to take your power back? Here is what you will be receiving in from our program:
* Increase your LOVE frequency.
* Learn the powers of your chakras.
* Create & be a part of a growing Sisterhood.
* Learn how to ask for what you want to receive.
* Acknowledge your self-worth.
* Transform into your TRUE, COURAGEOUS being.
* Share your stories of power & Grow with other sisters.
* Rewrite pain with love with weekly love letter workshops.
* Receive 10 incredible artworks & learn how to create your own Art with purpose.
* Receive weekly guided Meditations & Chakra healing (virtually) on ZOOM.
* Workshops aligned with your schedule: [11 - 1 PM EST (Mondays) or 7-9 PM EST (Tuesdays)].
* Build your portfolio of well-being with your body, mind & spirit.
* Energetic growth through love letter writing, art therapy, & one on one holistic henna
This program is with 10 womxn, evolving and learning together.
This is a consciously curated group of creatives who are ready to TAKE BACK THEIR POWER.
What you will be RECEIVING:
* 5 Self-worth Art prints illustrated by Saira for your home.
* 6 Group meditations and Chakra balancing rituals.
* 2 1:1, 30 minute, guided meditations on reclaiming self-worth with Saira over ZOOM.
* 2 1:1, 30 minute, guided chakra readings in unlocking your Sacral Chakra with Saira over ZOOM.
* 6 WEEKS: 1 hour ZOOM classes in how to build rituals of COURAGE, CONFIDENCE & COMPASSION for the self through holistic henna therapy. (You do not need to have a background in the Arts). Creativity will come through.
* Our e-book with 6 Love Letters & 20 LL writing prompts in creating affirmations for the self. These are the remedies used by NLP and Holistic health practitioners.
* A gift set for YOU in the mail for practicing Self-worth throughout these coming winter months, with gratitude.
***************
See you on the other side!
With gratitude.
SAIRA HUSSAIN
@BREATHOFHENNA
YOU ARE WORTHY SISTER!