Event Information
Location
Oakland Museum of California
1000 Oak Street
Oakland, CA 94607
The Art of Reparations: MLK Day Showcase & Community Conversations on OUSD's Reparations Resolution - POSTPONED DUE TO COVID SURGE
About this event
POSTPONED:
OUSD, Spearitwurx and Reparations partners unequivocally support the health and wellness of our community, now and always. In light of the recent COVID-19 surge, we have decided to postpone the January 17th Art of Reparations MLK DAY Showcase and Community Conversation at OMCA.
This work to transform Oakland schools to better serve Black Students and Families continues.
We remain committed to providing the community a safe and joyous opportunity to learn, contribute and celebrate the progress of the Reparations for Black Students Resolution. In fact, we are already working with district and community partners to consider how we might honor this historic, community-led effort through a curated experience leading into the one-year anniversary of the OUSD Board Resolution in March.
You can expect to hear more details over the coming weeks and we also encourage you to regularly visit the OUSD Reparations website at www.ousd.org/reparations where information on future engagements and board presentations will be posted.
PREVIOUS DETAILS:
On Monday, January 17, 2022, in observance and celebration of Martin Luther King, Jr.'s birthday, Oakland Unified School District will host an engaging community event in partnership with Spearitwurx and Oakland Museum of California (OMCA). To be held onsite at OMCA, this free event will provide an immersive experience that highlights and uplifts the work of the OUSD Reparations Resolution. The resolution is OUSD's commitment to acknowledging the history of systemic harm done to Black students and families in the district, and to investing in the repair of that harm.
Along with providing engaging opportunities to contribute meaningful input on how best to repair harm done to Black students and families, t​he event will feature student and community artwork, MLK Oratorical Festival youth speakers, performances by Oakland-based cultural activists, interactive maker stations, information and resource tables, light refreshments, and film screenings. One of the featured films is I Am Hope. Directed by Shaka Jamal, I Am Hope elevates the impact of mindfulness work at Frick MIddle School as a tool to restore, reflect, and reimagine a better world.
Invited Artists include:
MLK Oratorical Fest Youth Speakers
Kingmakers of Oakland
Kurse Krew ( Skyline HIgh Scholl Alum)
Alena Museum interactive Installations
and more
Goals of the event include:
-Inviting and elevating community members' hopes, dreams, and aspirations for an OUSD that prioritizes and delivers well-being for Black students and families
-Engaging the broader Oakland community in the first phase of OUSD's reparations work
-Building momentum for the reparations movement in service of ultimately transforming experiences and outcomes for Black students and families in OUSD
The event will be held from 12 to 3pm PT at OMCA, 100 Oak St, Oakland, CA 94607. There's no charge for admission, and event attendees will be granted museum entry for free.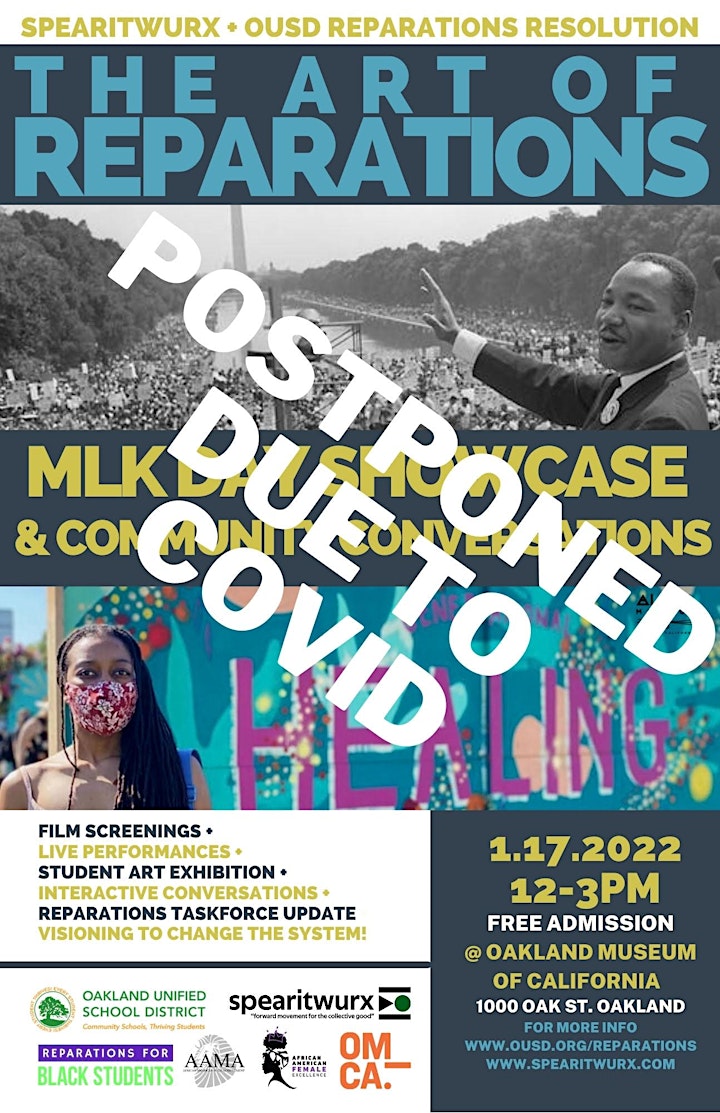 Date and time
Location
Oakland Museum of California
1000 Oak Street
Oakland, CA 94607