Art of Performance - The Inner Science of Breakthrough Performance
About this Event
Watch the preview of key principles in this short animation clip HERE.
Check out the visual presentation HERE.
Recorded live webinar HERE.
The Art of Performance presents a simple yet powerful mindful skill that functions as an inner science of waking the performer as oneself.
The principle behind it simply propounds, that only when the performer is present, peak performance can be achieved. The "state of flow" that many seek for, be it in sports, work or life is when this embodiment is present, when there is no separation between the performer and the performance - how one is, one's performance is.
This re-establishes the power of the individual to consciously re-code the state in which they choose to be, the view of the performer as oneself. This embodying process ultimately shifts the individual to be a continuous agent of transformation, transforming their identity effortlessly and therein their performance to what is demanded.
This workshop is designed to simulate the embodying process, for the participant to rise and attain a state of ongoing breakthroughs as a way of a life that serves as an enrichment for oneself and for all.
Workshop Cost : 250 EUR inclusive of materials inclusive of 3 month access to online learning module.
Schedule:
Onsite - Saturday: 0930hrs - 1830hrs (Lunch break included)
TRAINING METHODOLOGY
The programme uses a self-learning approach based on the teaching system that has been perfected over 23 years by founder Dhyan Vimal. The approach creates a safe environment for the participant to explore, uncover their findings about themselves and be accountable for their learning. Research shows this method is most effective in converting knowledge to actual intelligence that can be applied. It will be run through lectures, reflections, group work and exercises. Chief Corporate Trainer for the DV Institute, Navin Pillay will be in Berlin to facilitate this session.
OBJECTIVE OF THIS WORKSHOP:
AWARENESS OF A PERFORMER
The key awareness you need to hold as a performer.
CLARITY OF YOUR ROLE
Recognising the ability you need to perform in your role.
OWNERSHIP
Recognising the results you are responsible for in the role you are in.
CREATING RESULTS
Developing the ability to move from problem solving to result making.
This introspective programme is designed to empower participants to shift their current as-is performance levels to excellence.
Course Outline:
DECODING THE SELF
Understanding each participant's current personality label or view they hold over themselves in regards to being a performer.
This self-assessment subsequently assists the participant through mindfulness to re-establish the right view of themselves as a performer.
DECODING ROLES
Recognising and taking responsibility over the the roles each participant plays in the different areas of their work and life that demands performance.
And detecting the key qualities that connects the participant to their roles.
DECODING RESPONSIBILITY & ACCOUNTABILITY
Clarifying each participant's responsibility and accountability.
Aligning their responsibilities and roles in line with their entrepreneurial goals or within the organisation's strategic or visionary goals.
Detecting and growing beyond inner conflicts that prevent peak performance.
DECODING & RECODING EMBODIMENT
Understanding what embodiment is and detecting for oneself what the participant has embodied in their life and work.
Defining what each participant is choosing to embody based on the performance that is demanded in their realities.
Detecting the specific work that has to be undertaken for the embodiment process.
DECODING BARRIERS IN PERFORMANCE
Detecting the ideas of self-condem- nation each participant has imposed upon themselves that create the inner split which prevents peak performance.
Assessing each participant's readiness to move towards a breakthrough in performance.
CODING THE SCIENCE OF GROWTH
Understanding how to evaluate one's own performance and identifying the specific areas of growth needed for each participant.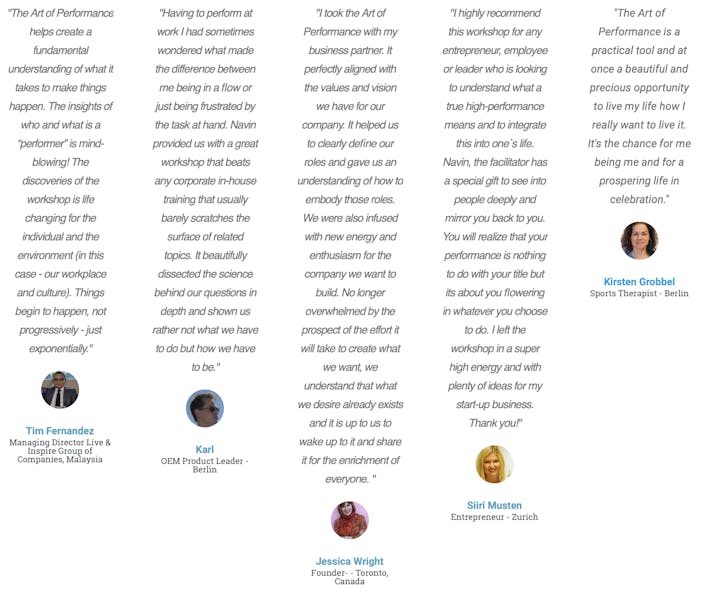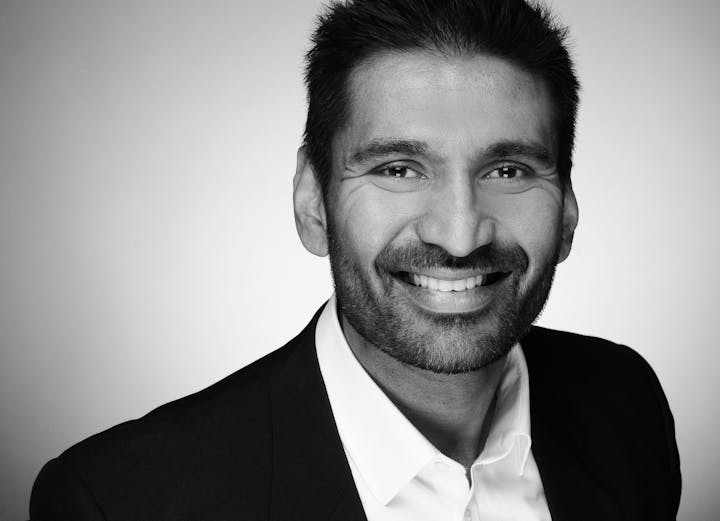 About the facilitator
Navin Pillay has spent the last 25 years working in corporations around the world in diverse fields and cultures from aerospace engineering to project leadership and training and consultancy. He is highly skilled and knowledgeable in the domain of training and facilitation specifically with themes dealing with mindfulness, change/transformation and science of critical thinking. Navin is also TOCICO certified & a `Jonah` – Expert in Critical Thinking Processes. He travels the world extensively conducting seminars and workshops and speaks regularly on topics related to individual/corporate transformation and breakthrough performance. He is also the Chief Facilitator with Dhyan Vimal Institute for Higher Learning and founding partner of Holia GmbH, a consultancy based in Berlin, specializing with helping companies embrace integrated, holistic transformation. Navin is a highly engaging and energetic facilitator and his passion is working with people in diverse and challenging environments.
Art of Performance website: www.dvinstitute.com/art-of-performance/
Blog: https://rightnessliving.com/art-of-performance/