Description
Reserve your spot today for ART OF LIFE'S SURVIVOR GATHERING, our most anticipated event of the year exclusively for cancer survivors. Unite with other survivors to enjoy a refreshing Saturday that will lift your spirits as you CONNECT, CREATE & CELEBRATE together!
Art of Life recognizes "cancer survivors" as anyone who has received a cancer diagnosis in their lifetime. Whether you are recently diagnosed, in-treatment or years cancer free... this event is for YOU!
The Art of Life's Survivor Gathering was inspired by the legacy of Paula Doherty who believed that survivorship requires ongoing support and connection opportunities so that no cancer survivor ever has to walk the journey alone.
COME ENJOY | A day you will not want to miss
10:30-11:00 Check-in
11:00-12:30 CONNECT: Shopping, Photo Booth, Box Lunch & Lots of Laughs!
12:30-2:30 CREATE: Art Workshop and New Friendships!
2:30-3:00 CELEBRATE: Raffle & Fun Giveaways!
TICKETS | Includes box lunch from Corner Bakery, Art of Life tote and ONE amazing workshop of your choice

$20 Early Bird Tickets purchased before/on February 28th
$30 Tickets purchased after February 28
To inquire about scholarships call 559.301.5606
NEW ART WORKSHOPS | Breakout into one art workshop of your choice
Art Journaling Workshop
Art in the Kitchen: Nourishing Snacks Workshop
Cheese & Charchuterie Board Workshop
Living Succulent Wreath Workshop
Macrame Workshop
Terracotta Pot Painting (+Mosaic) Workshop
Watercolor Workshop
Wood Plank Painting Workshop
Yoga + Essential Oils Workshop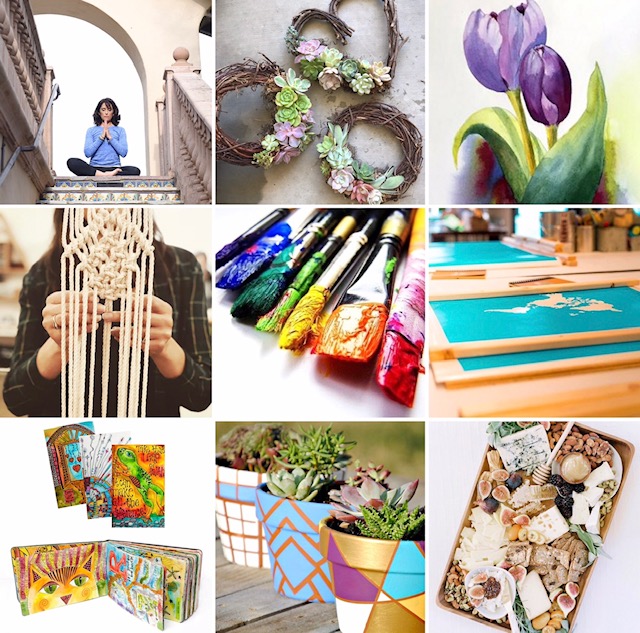 Please note...
Dress casual and comfortable. Aprons will be provided during art workshops.
Please note that while friends and family are not a part of the Survivor Gathering, we do invite them to sign-up to volunteer, be an active part of future family events and our programs related to the Art of Life Healing Garden. Thank you for understanding and respecting the sentiment of this day as we seek to connect and honor all cancer survivors.
Cancer survivors ages 17 and under may bring 1 Guardian with them, however the art project will be reserved for survivors only.
To request a scholarship for the ticket price please contact Art of Life at 559.301.5606 or info@artoflifecancer.org