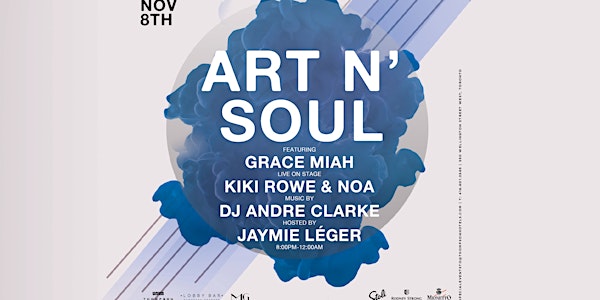 Art n' Soul
When and where
Location
550 Wellington St W Lobby Bar Toronto, ON M5V 2V5 Canada
Description
Art n' Soul is an intimate, unique experience where you will get to know your local talent on a personal level. Experience mood setting performances with stripped down acoustic sets with select local talent and artists.
2 Live Acts by: NOA & Kiki
1 Live Painting by: Grace Miah
Live entertainment + an art exhibition
Old school hip hop and rnb vibes provide by Dj Andre 905 all night to create that special feeling. Set times begin at 9:00pm
Come grab a drink, enjoy the music and join us in creating the perfect setting, open for all!
About the Artists:
NOA:
The Toronto born artist has spent the last two years creating an incredibly addictive catalogue of songs that the world is just starting to get a taste of. Her music blends vibrant, catchy melodies with resonant emotional themes -- from relationships to female empowerment and self-realization. All the while, NOA's artistic voice maintains a fun, lighthearted velvety tone that helps lift her fans above the noise and negativity of everyday life.
Kiki Rowe:
Singer /songwriter Kiki Rowe first breakout hit "Trust Issues" (produced by multi-platinum selling DJ Mustard) quickly shot to #1 on Spotify's Top 50 Viral Chart - Canada. Since then the songstress has amassed millions streams and been featured by many of the most respected outlets in the industry such as Complex,Huffington Post, BuzzFeed, Entertainment Weekly, Billboard, Fader and Earmilk. In 2017 Toronto's #1 radio station KiSS 92.5 named Kiki as "One To Watch" and her follow up single "Come My Way" went on to achieved Top 40 status at Canadian radio.
Kiki recently signed her own publishing deal with Sony/ATV, the company is also home to iconic names such as The Beatles, Michael Jackson, The Rolling Stones as well as contemporary superstars Taylor Swift, Kanye West and Ed Sheeran.

She has partnered on marketing campaigns with brands such as Skechers, Sephora, Guerlain and Rudsak.

Currently, Kiki has been in the studio working on her debut album.
Grace Miah:
Grace Miah is an upcoming artist from Ghana who resides in Canada. She considers herself a self-taught artist who gets her inspiration from conversations, social media and the rich histories within the diversity of the world with her subject matter mostly from a feminine point of view. Her aspirations are to use art as a therapeutic tool to elevate people from their daily activities and to channel their inner child. Grace has been actively involved in the community by hosting paint therapy for YMCA across the GTA , young men in the Toronto housing community as well as doing live paintings for events that are for are geared towards a cause. In the future, she hopes to open a multifaceted gallery that will help give back to the community by teaching and donating to causes that changes lives.