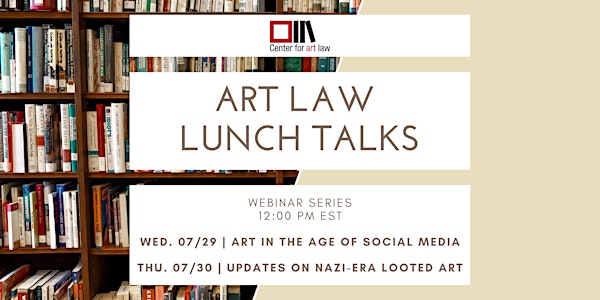 Art Law Lunch Talks
For your lunch break, join our casual conversations on recent developments in art law with professionals with first-hand experience.
Refund Policy
Contact the organizer to request a refund.
About this event
WED. 07/29 at 12 PM EST | ART IN THE AGE OF SOCIAL MEDIA
With the reach of social media, artists have open access to the most expansive advertising and exhibition space in history. However, this boon is not without its complications. Using platforms such as Facebook, Twitter, or Instagram necessitate complying with private community guidelines and policies. As a result, many artists have found that the freedom to create has become constrained by social media censorship and copyright strikes. This expert panel will discuss how we should understand artistic expression in the age of social media hegemony.
Speakers:
Dr. Amy Werbel, Author and Professor of American Studies at the Fashion Institute of Technology
Mikaela Gross, Associate Attorney at Cowan, DeBaets, Abrahams and Sheppard LLP
Moderator: Irina Tarsis, Founder and Managing Director at the Center for Art Law
THU. 07/30 at 12 PM EST | UPDATES ON NAZI-ERA LOOTED ART
From the HEAR Act to the Guelph Treasure, the Zuckerman and Nagy cases, the United States is still grappling with the aftermaths of the Nazi-era looting of artworks that end up in the hands of US collectors, auction houses, and galleries. How are the law and the courts dealing with years of lost art, statutes of limitations, and "fair and just solutions"?
Speakers:
Moderator: Irina Tarsis, Founder and Managing Director at the Center for Art Law