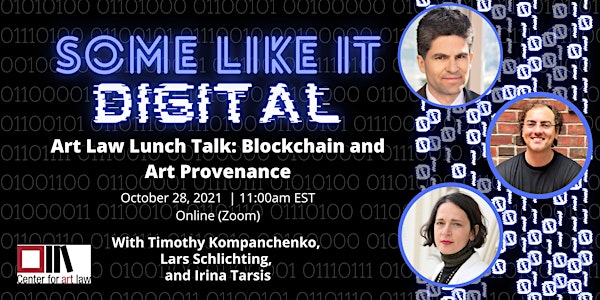 Art Law Lunch Talk: Blockchain and Art Provenance
Some Like it Digital is a new series of talks on art and law issues in the digital space. This event covers blockchain and art provenance.
Refund Policy
Contact the organizer to request a refund.
About this event
If there's a buzz word for this past decade it's got to be blockchain. But, even with its general popularity some questions always pop up - what is it? What does it do? WHERE is it? And in our circles - how does this affect the art and legal landscape? Join Lars Schlichting, Tim Kompanchenko and Irina Tarsis for a conversation on the disruptive use of blockchain in the art world. Using the story of Artory, together we will explore topics of provenance and the evidentiary applications that blockchain offers to artists and lawyers. From ownership aspects, the true meaning of the phrase "immutable" data, to a quick glance into how NFT's can be used as a certificates of ownership or authenticity, we will try to cover as much as we can in the hour we've got!