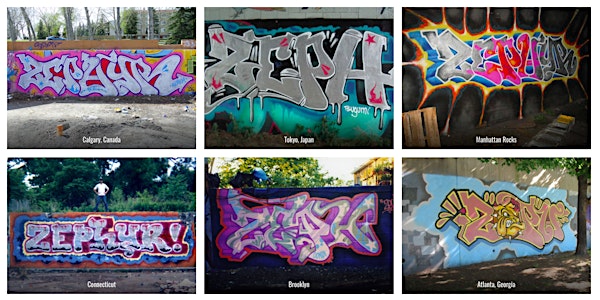 Art & Law Dialogue: Dr. Bonadio & Zephyr on Graffiti (NY)
Join the Center for Art Law for a discussion with graffiti artist Zephyr and Dr. Enrico Bonadio to celebrate his new book.
When and where
Location
New York University Law School 245 Sullivan Street Furman Hall, 9th floor, Lester Pollack Colloquium Room New York, NY 10012
About this event
Sponsored by the NYU Art Law Society, this Art & Law Dialogue will dive into the world of graffiti from the perspectives of Zephyr, pioneer graffiti artist, and Dr. Enrico Bonadio, legal scholar and author of the recently published Cambridge Handbook of Copyright in Street Art and Graffiti (Cambridge Law Handbooks, 2019). The conversation will be moderated by the Center for Art Law's Executive Director, Louise Carron.
COVID-19 UPDATE (03.09.2020, 12:19 PM): NYU has not cancelled any events or closed its facilities. The event will proceed as planned.
About the Book
In recent years, the number of conflicts related to the misuse of street art and graffiti has been on the rise around the world. Some cases involve claims of misappropriation related to corporate advertising campaigns, while others entail the destruction or 'surgical' removal of street art from the walls on which they were created. In his new book, entitled The Cambridge Handbook of Copyright in Street Art and Graffiti (Cambridge Law Handbooks, 2019), Dr. Enrico Bonadio brings together a group of experts to provide the first comprehensive analysis of issues related to copyright in street art and graffiti. Chapter authors shed light not only on the legal tools available in thirteen key jurisdictions for street and graffiti artists to object to unauthorized exploitations and unwanted treatments of their works, but also offer policy and sociological insights designed to spur further debate on whether and to what extent the street art and graffiti subcultures can benefit from copyright and moral rights protection.
About the Speakers
Dr. Enrico Bonadio is Senior Lecturer in Intellectual Property Law at City, University of London and Visiting Professor in IP Law at Université Catholique de Lyon as well as visiting lecturer at the LLMs in Intellectual Property offered by the World Intellectual Property Organization in Turin and Ankara. His current research focuses on copyright protection of unconventional forms of expression, including graffiti and street art. He is the co-editor of Non-Conventional Copyright: Do New and Non-Traditional Works Deserve Protection? (2018) and Beyond Plain Packaging: The New Intellectual Property of Health (2016).
Going by the street alias of Zephyr, Andrew Witten is a fantastic example of how old school graffiti painting is still making a tremendous impact on urban art. Like many of his contemporary peers, Zephyr mostly concentrated on tagging his pseudonym all over walls and subway trains of New York City. He is furthermore credited with several innovations that really altered the course street art was headed during the 1970s and 1980s. Besides being a successful graffiti genius, Witten is also a renowned lecturer and author of diverse books concerning many aspects of street painting and how seasoned urban artists used to do things in their own time.
Louise Carron is the Executive Director of the Center for Art Law, where she manages the Center's daily operations, including editing and reviewing articles and the monthly newsletter, planning and coordinating events, along with training and supervising interns. Ms. Carron actively engages in scholarship and has participated in numerous conferences on art law topics, including legal issues surrounding street art, fin-tech, and authentication. As a New York attorney since May 2019, Ms. Carron teaches workshops on legal basics for artists and advises visual artists and creative entrepreneurs on contract matters, copyright use, and business law. A member of the Art Law Committee of the New York State Bar Association and of the Entertainment, Arts and Sports Law Section of the New York State Bar Association, Ms. Carron believes in helping artists to protect their creations, rights, and legacies.
Cover: courtesy of Zephyr, www.zephyrgraffiti.com.