Description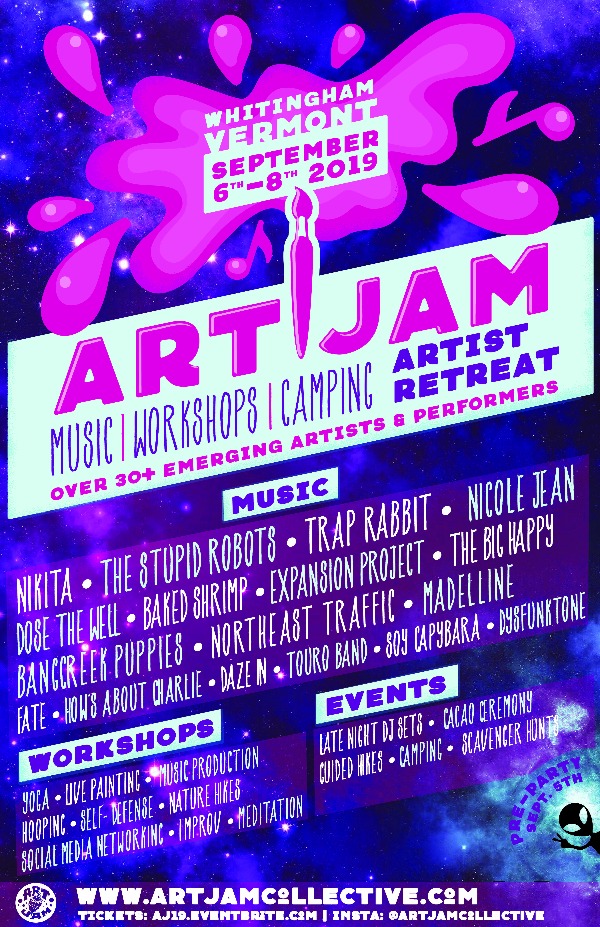 Art Jam 2019 Music
FaTe
Dose The Well
Soy Capybara
Plus Many More!


Art Jam Artistic Retreat & Music Festival
Is a safe space for creative minds to feed off of one another. Whether it is a morning yoga class or an afternoon spent fine tuning a freestyled song, anyone who has a desire to discover themselves artistically can start here.
Our goal isn't to become the next Coachella;
We find that people thrive in intimate settings where their voices are heard, their opinions matter and their knowledge is utilized. We are focused on creating community online and IRL via our events.
Art Jam offers live music, workshops, surprise events...
And open atmosphere of togetherness and support. Seriously...without sounding like a cult... we really do love our time spent in Vermont at Art Jam annually. We have a ton of surprises in store this year, you won't know unless you go! A little mystery goes a long way...
"Unity in Community"
With attendees totaling 200 - 250 we keep things intimate on purpose. We don't anyone 'lost in the sauce' so unlike the other major music festivals, Art Jam focuses on fostering relationships among those who attend. We're a big group of friends who are open to making many more! We'd love to meet you in Sept!
- The Art Jam Collective