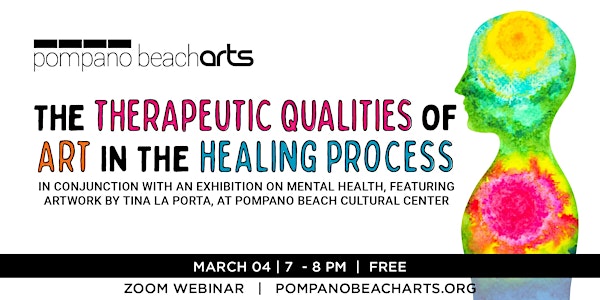 Art in Therapy Panel Discussion
When you register for this Panel Discussion, a Zoom link will be emailed to you.
About this event
Art in Therapy Panel Discussion
The Therapeutic Qualities of Art in the Healing Process
A live panel discussion via Zoom on the roles that both art and therapy, when combined have on the healing process. Art therapy is a specialized area of mental health that uses art materials and the creative process to explore emotions, reduce anxiety, increase self-esteem, and resolve other psychological conflicts. This panel is organized in conjunction to the exhibition on mental health featuring artwork by Tina La Porta.
Panelists:
Lark Keeler, a specialist in Mindful Education, Creativity Exploration at the NSU Art Museum.
Creativity Exploration sessions are designed to expand participants' sense of well-being and perceptions of forms, while increasing brain connectivity through visual and cognitive stimulation.
Stephen Legari, Educational Programs Officer – Art Therapy, Musée des beaux-arts de Montréal
Steven Legari is a registered art therapist and couple and family therapist. Stephen Legari holds a Masters of Creative Arts Therapy with an art therapy specialisation from Concordia University and a Masters of Couple and Family Therapy from McGill University. He has worked extensively as a therapist in adolescent psychiatry, addiction recovery, community art therapy, and child development. In 2017 he became Program Officer for Art Therapy at the Montreal Museum of Fine Arts. This comprehensive museum-based therapy program includes therapeutic groups, a community art studio, research collaborations, and internships for art therapy students. Since taking on this role, Mr. Legari has collaborated on museum-based therapy for people living with eating disorders, epilepsy, breast cancer, and published chapters and articles on internship supervision, neurodiversity, and therapeutic program development. He resides in Montreal, Canada.
Tom di Maria, Director of External Relations, Creative Growth Art Center, https://creativegrowth.org
Creative Growth Art Center is a non-profit based in Oakland, California that serves artists with disabilities by providing a professional studio environment for artistic development, gallery exhibition and representation.
Maria Theresa Barbist is an interdisciplinary artist with a focus on sculpture, performance and film. Born in 1979 in Schwaz, she worked as a psychologist and psychotherapist in Austria before relocating to the San Francisco Bay Area to study movement-based art therapy. She attended the San Francisco Art Institute where she received an MFA in New Genres. She lives and works in Miami, FL.
Artist Tina La Porta will moderate this panel and speak about her experience of making artwork in art therapy class during a stay in the hospital.