Art in the Park: A Socially Distant Expressive Art Experience
About this event
Expressive guided art has many benefits, from boosting your self-esteem, and providing you a safe outlet to relieve your emotions, to giving you a sense of control over your life and helping you to get to know and understand yourself better.
Art therapy helps to reduce stress and anxiety, process feelings, and more.
Join us for a Socially Distant Expressive Art Experience.
All materials are included and are yours to take with you.
Masks are Required (will have available if needed)
Socially Distance Protocols will be enforced.
Space is extremely limited. Registration required.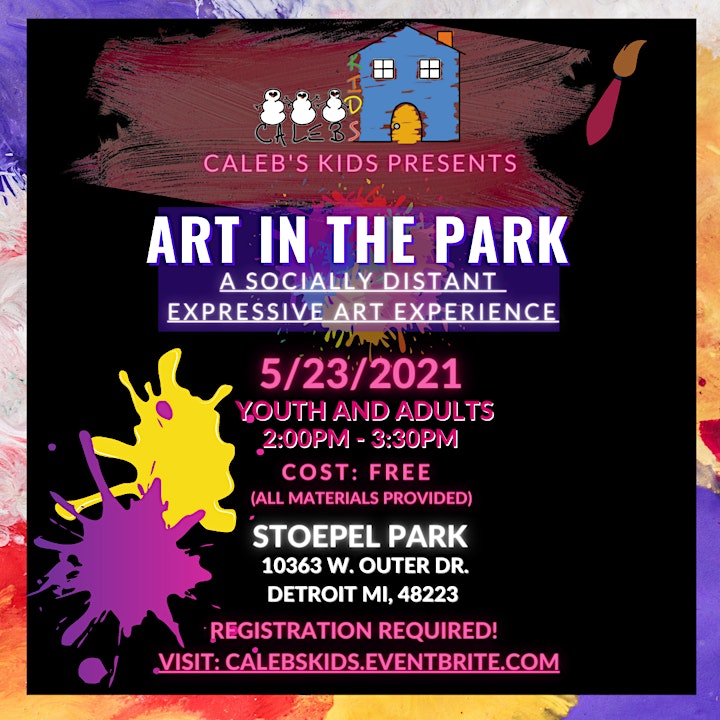 Organizer of Art in the Park: A Socially Distant Expressive Art Experience
Caleb's Kids is a 501(c)(3) charitable organization located in the Metro Detroit area. 
With a focus on youth grades 6 - 12, our purpose is to positively impact youth suicide rates by providing tools , resources, educational materials, workshops, and other support for mental health awareness and suicide prevention. We equip our youth with the necessary tools that will help them choose life.
Suicide is the 2nd leading cause of death for youth ages 10 - 24. We are losing our youth to suicide at a staggering rate. It is important to tackle the underlining issues that may cause someone to consider ending their life.