Join Us for Art In The Afternoon Come learn about why African American Art is so important, why you should collect and how to collect!
About this event
ART IN THE AFTERNOON
Enjoy wine and cheese while learning about African American Art
Meet Gallery Owners Derrick and Jackie Thompson, with a chance to ask all your burning questions about art collecting!
THURSDAY, December 9th at 6PM
RSVP Required -so the gallery can make sure there is enough wine!!!!_
Overdue Recognition Art Gallery
15402 Emerald Way
BOWIE TOWN CENTER
Bowie, Maryland 20716
(301)383-2875
www.overduerecognition.com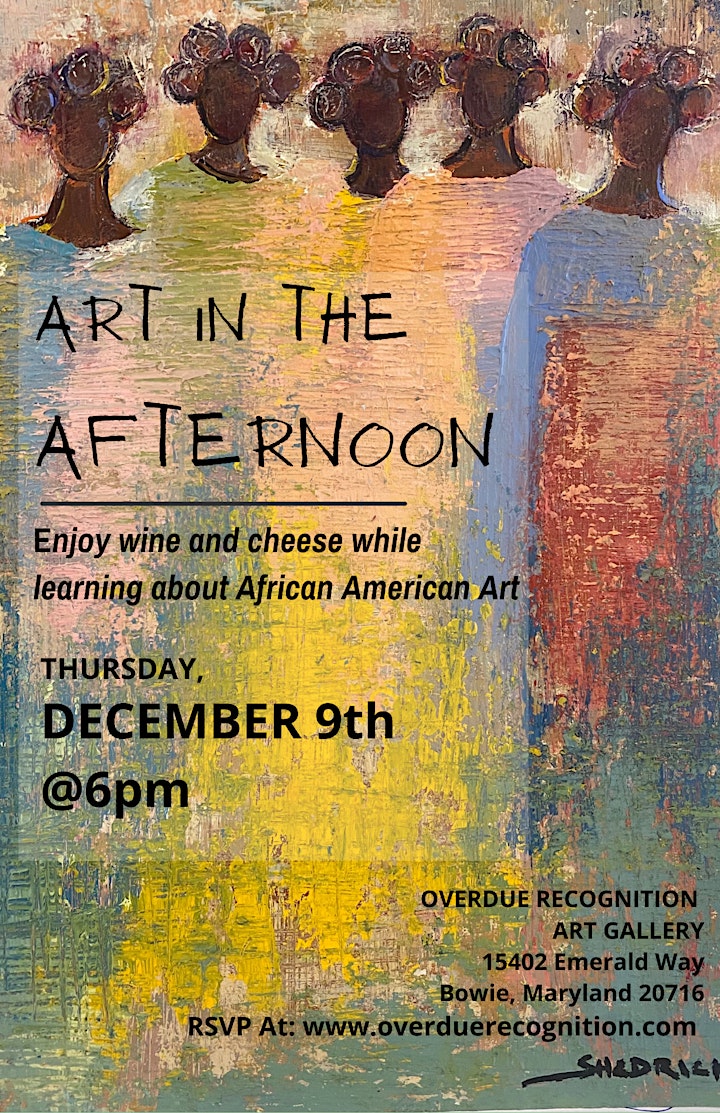 Organizer of Art In The Afternoon
Establish 2004, Overdue Recognition Art Gallery proudly represents over 75 renowned and emerging African American Artist. We specialize in everything from Originals to Fine Art Reproductions including, Serigraphs, Giclees, limited and open edition  Lithographs.

The gallery provides a venue for African American Artist to showcase their excellence. We fulfill our educational goals through lectures, workshops, intimate gallery talks and exhibitions with the artist in attendance.

We are committed to Art as an essential part of life and therefore exhibit, collect, preserve and encourage Art.

We take very seriously the responsibility, of providing collectors, both private and corporate with Art that is high in aesthetic quality and strong in investment potential.
Gallery Address 15402 Emerald Way Bowie Maryland 20716
(Bowie Town Center)
Gallery Hours: Monday- Saturday 11am to 8pm and Sunday 12N to 6pm