Description
QUESTION
Who Are You Really? Release what your heart wants through heART!
Do you feel that there's a creative side to your soul that you haven't fully expressed yet?
Are you seeking new ways to unlock your inner potential?
If you answered "yes" to any of these questions, it's time to dive into the SELF-WORK!
Art & Soul's
FREE Art & Healing Cohort 6-Week Program
We are so excited to receive our first grant for our Art & Healing Work. We like to thank The Greater Sacramento Urban League which has awarded the Oak Park - Black Child Legacy Campaign RAACD grant to Art & Soul.
This grant allows us to serve African American Women living in the Oak Park 95817 community with our FREE Art & Healing Cohort 6-week program starting March 10, 2019, thru April 14, 2019. We are looking for Black women ages 24 and up living in the 95817 Zip code.
Our cohort is designed for small intimate groups of 12 women at a time. We will notify you via email if you are one of the recipients. Should you not be selected to participate in the program will have other events you can support us in.
Thank you for registering with us.
Follow us on Facebook for information about our program and events taking place in the Oak Park community.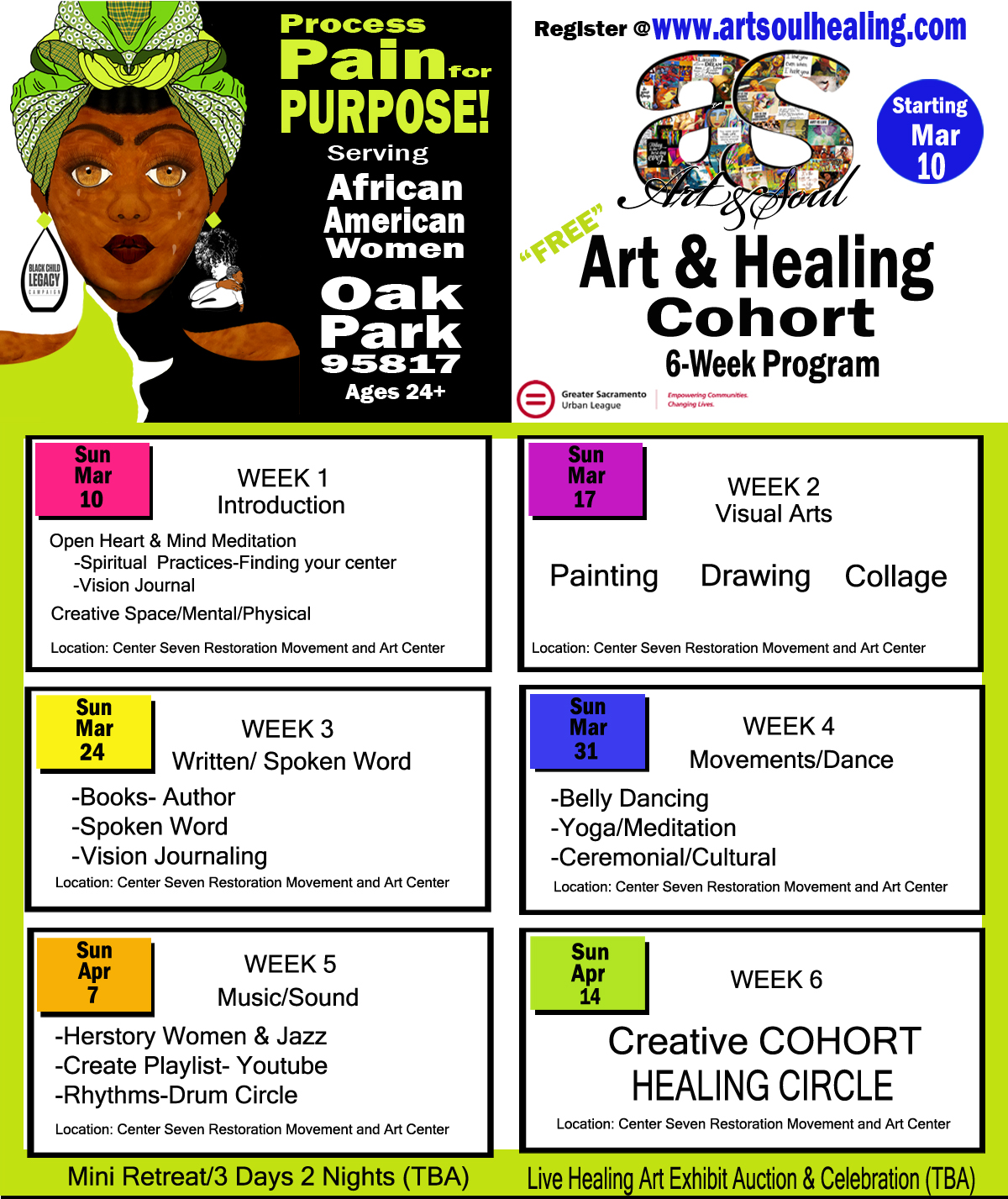 Our goal is to serve the African American Women living in Oak Park 95817 specifically, in order to increase self-awareness and promote self-care thru art expression. This will help to build healthy mental attitudes, strengthen family connections and increase productivity in the community. Through Art & Soul's, Art & Healing Cohort we will use art and technology to explore and research heritage and cultural ancestry. This will give African American mothers insight as to their origin to discover who they are and how to reconnect with their families. Our intervention methods and creative exercises will help support the Black Child Legacy Campaign, by helping women identify their hidden talents and gifts through ancestral roots. It will restore a sense of identity and well-being and create a new pattern of self-love. When women love themselves they can then love their children. These prevention and intervention efforts will reduce disproportionate African American child deaths due to abuse and neglect and create a new legacy.
---
SELF-WORK
Art & Soul's Art & Healing Cohort six 6- Week Program is a commitment to building a diverse community. Starting with YOU! To do that you first have to know who you are and what you are here to do. In other words, what is your PURPOSE or calling in life? We encourage creative play, have fun and experience your inner child in order to unleash your hidden potential. Give yourself permission to express your inner thoughts, feelings, and emotions in a non-judgmental way, puts the power back into your hands. This process awakens the explorer in you, leading to fresh trails of adventure, and revealing things about yourself you didn't even know. It creates a pathway of discovery, potential, and new possibilities.
We offer unique weekly workshops instructed by local talented facilitators operating in their gifts. The Art & Soul Speaker Series is evidence of that, by sharing the stage it creates a platform for self-expression! It was created to encourage others to take action, in order to step into their purpose and share their gifts and talents with the world. Our invited special guest speakers have already taken those steps, and are actively engaged, practicing and serving to utilize their gifts and talents. They are asked to share their journey and process at our events and Art & Healing Cohort 6-Week program, for the purpose of advocating Activation, Restoration, and Teaching (A.R.T.) We believe the influence of seeing others demonstrate what they do well, bolsters Activation in us and shows evidence of the power of self-belief. Our soul cries out for Restoration in order to help build the courage and confidence needed to do the work within. Through learning, we can then inspire others by Teaching what we know. Life transforming lessons and experiences not only impact our lives but the lives of our families, communities and the world. Share your heART!
Weekly small intimate group circles will be the canvas for the heART of connection. Through self- reflections, sharing and peer evaluations, this mindful process will help return you to a present state of mind. Reconnecting with your heart, mind, body, and soul, opens you up to recognize your inner essence, reclaim self-love, and realign to your purpose in life. Mental health is an essential part of our overall wellbeing; our work together will be transformative as we take the steps to build a healthy mental attitude while developing your gifts, talents, and abilities.
TOPICS We will work through some of the most pressing topics we face as individually, socially, economically, culturally and mentally! These topics will be explored in-depth by using Art & Soul's Artistic Creative Healing Exercises (ACHE).
MEDIUMS An array of mediums will be available for self-expression.
Visual Arts: painting, drawing collage, assemblage and jewelry making.
Written & Spoken Word: Vision Journaling, Poems, Story Telling, and Books.
Music: Rhythms of Life, Playlists, and instruments.
Movement: Dance, Yoga/Meditation, Cultural-ceremonial, Exercise, and Fitness.
This program is intuitive, interactive, experimental and flexible allowing the freedom to flow where your heART takes you offering opportunities of authentic connection with one another.
ENVIRONMENTS The Art & Healing Cohort 6-Week Program(6) is a hybrid course including weekly gatherings and both public and private online sharing platform groups like Facebook and cluster. Our weekly gatherings will take place at Center Seven, Restoration Movement & Art Center (Oak Park). Home environments and art galleries will be the backdrop to ensure the program stays activated and exciting. Most locations are within 10 miles of Sacramento CA.
MINI RETREATS 3 Days 2 Nights
This is where we serve you! Mini ReTreats are for the women who have committed to showing up for the entire Art & Healing Cohort 6- Week Program and completed the Artistic Creative Healing Expressive Exercises (ACHE®). Showing up weekly is a vital part of the healing process, full participation is needed. The retreat will be a restful and relaxing get-a-way to come together and share in a calm, quiet and intimate setting. It will be a recap of the previous weeks of what we have learned about ourselves through this creative process. Together in an intimate healing circle of (12), we will share our personal journey, our growth, development and the beauty we see in each other and the healing power through this experience. Location and dates TBA