Art Flowshop™️ - Holiday Edition - Keeping Your Inner Peace
Description
Art Flowshop™️ - Holiday Edition
Keep Your Inner Peace During The Holidays By Tapping Into Your FLOW STATE Through Artistic Expression!
Find peace, connection, play, transformation, grounding, and freedom while unleashing your inner artist. As you play in the creative space of painting, you'll be allowing yourself to get centered into your heart. From that fully aligned space, you will have access to showing up powerfully in your life.
Especially during the holidays, it can be challenging to stay centered and at peace internally. We'll use ART as a way to shift any of that stuck or chaotic energy swirling around into a strong sense of inner joy and peace, so you can show up in any situation (with family, work parties, friends, or otherwise) with confidence and happiness.
This 3-hour workshop will include:
- Overview of what FLOW STATE is, how it works, and the benefits for your entire life
- A special process/intention setting to set you up for optimal FLOW during the painting
- Create your own PAINTING as a way to get into the FLOW STATE - (No experience needed, beginners welcome!)
- ALL painting materials included and you get to TAKE HOME a piece of art you create! *Or give it as a GIFT to someone for the holidays.
- Special music during painting to allow you to access FLOW
- Specific exercises to anchor in your experience to the painting
- Live feedback at the end of the workshop, and a questionnaire to take with you, to measure the lasting effects days and weeks later.
- You'll officially be a part of the FLOW SQUAD!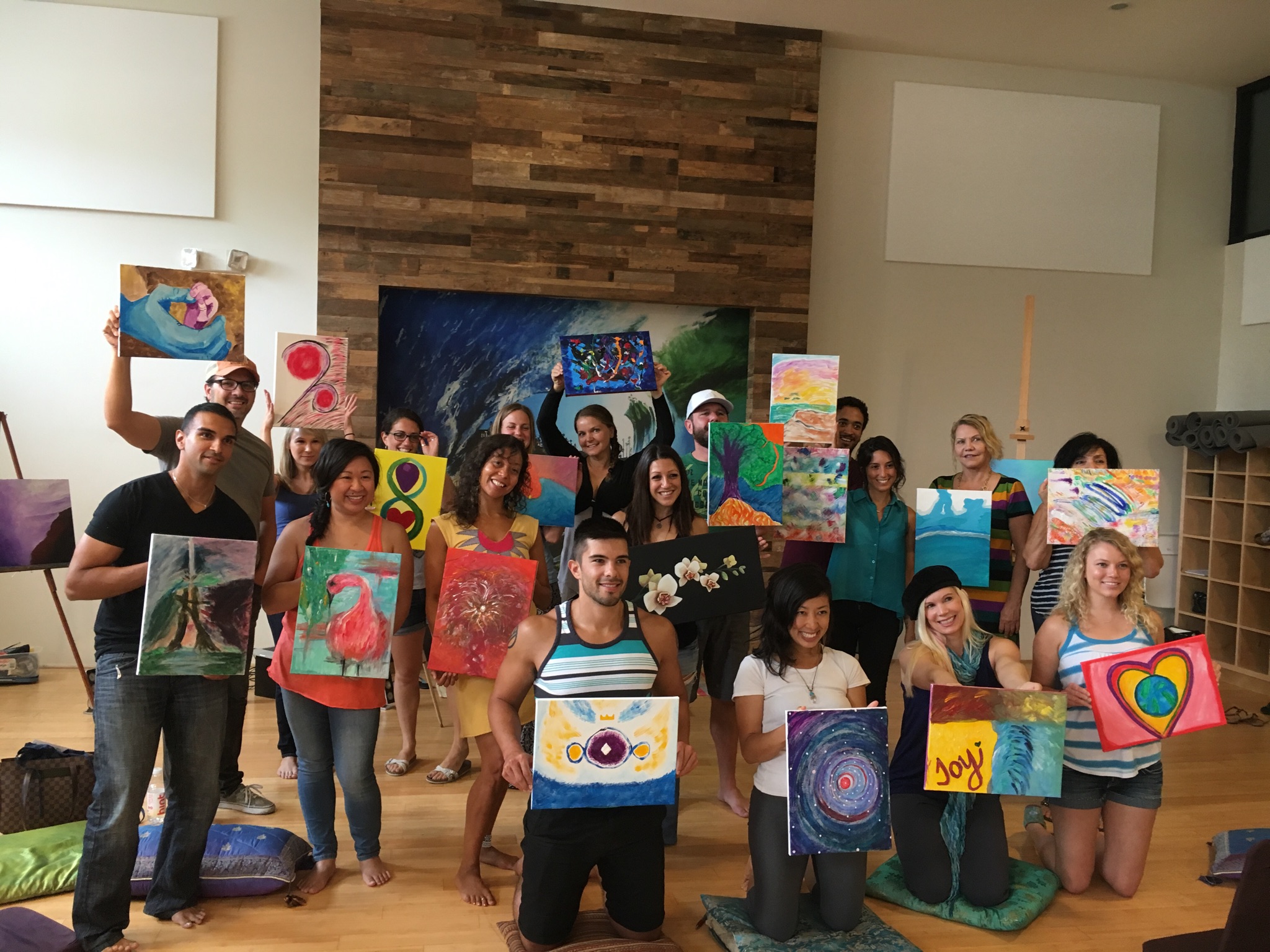 Location: Eve Encinitas, 575 S Coast Hwy 101, Encinitas, CA 92024
Event Date & Time: Sunday, December 4th, 1-4pm (arrive at 1 to check in, prompt start time at 1:15pm)
Optional Lunch and Hang Out Before: 12pm noon - 1pm
This is an amazing vegan restaurant, so feel free to come for LUNCH and to hang out before the event.
Capacity: This is limited to 20 people, please register early to reserve your spot.
Tickets: Online pre-sale is tiered - $30 for the first 5, $35 for the next 15, At the door is $40 (and only if there is available space)
Reserve your Canvas ahead of time to save and to make sure you get in!
(Cancellations/refunds available until 12pm on Dec 3rd)
The "FLOW STATE" (or "being in the zone") is when you are performing at a peak state, while losing track of time, space, and the sense of self. Not only is it an amazing feeling while in the experience of FLOW...but the after effects are pretty epic as well.
While in the FLOW: Specific chemicals are released in the brain, and functions of the brain get turned off... allowing you to lose track of time, space, and sense of self; feeling as though you can just BE. You also feel PEACE, JOY, HAPPINESS and SERENITY within your body and mind. It's as though you're in a meditative state while in the act of "doing" and "creating".
After the FLOW: Studies show that after being in the FLOW STATE, high-level executives found that they were 7x more CREATIVE, 5x more PRODUCTIVE, and overall more connected and happy. This allows for more powerful living, no matter what the circumstances are in your life.
Another benefit is having answers all of the sudden, easily arise from within on those frustrating questions you've been struggling to "figure out" in your head for weeks.
About the Host:
Jennifer Querques - Artist, Flow Facilitator, and Empowerment Coach
Find out more here: http://jenniferquerques.com
The Artist: Art is a creative outlet and foundation for FLOW in my life. As a source of pure creation, art allows for stillness and peace in the present moment while tapping into my higher source. Current ARTWORK includes a floral series of original oil paintings for a Gallery in San Diego, CA, and acrylic abstract paintings. IG: @jqtheartist
The Flow Facilitator: I've been hacking into the FLOW STATE through painting for the last few years, and now I'm bringing it to the masses! I host Art Flowshops for the public at Eve Encinitas on a regular basis. My other venture is in bringing FLOW STATE to Creatives and Corporations, through my company, Peak Flow Activators. If you know of any Creatives in search of expanding their innovation, and Corporations looking to improve employee performance and satisfaction, refer them to http://peakflowactivators.com