Description
Join us for the 4th Annual Art Feeds Paint Wars on Saturday, April 30th at Victory Ministry & Sports Complex! This year Art Feeds Joplin + Art Feeds Carthage are partnering to bring one event that will benefit children in both communities.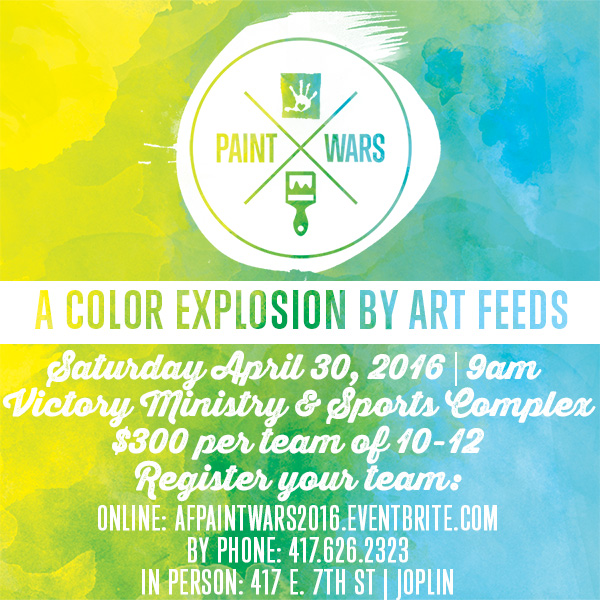 Art Feeds Paint Wars is a unique fusion of Dodgeball with Art Feeds Paint Bombs resulting in a colorful, competitive mess. Teams will battle their way to the top by hurling Art Feeds Paint Bombs at each other through obstacles while bonding as a community. Here are the basics:
Maximum of 12 players per team

10 players on the field at a time

"Round Robin" play (meaning each team will play every other team once)

Goggles are required (and will be available for purchase on site)

Extra paint bombs available for purchase, to reserve your paint bombs now (a bag of 25 for $25) call 417-636-2323 to reserve over the phone

Each team must wear matching identifiers (handkerchiefs, hats, socks, shorts, headbands, etc.)

Championship trophy awarded

Award for best chant & best team uniform (so get those outfits and those chants ready!)

Free Paint Wars T-shirt with registration (when sizes are not given, we will automatically add a large to your order for each team member)
*Handbooks and waivers will be sent via email after registration and the play schedule will be given upon arrival Saturday, April 30th*
Location: Victory Ministry & Sports Complex
3405 S. Hammons Blvd.
Joplin, MO 64804
Team Registration Deadline: Monday, April 25th for $300 per team
Singles Registration Deadline: Thursday, April 28th for $25 per person (plus fees + taxes)
Check In: Saturday, April 30th at Victory by 8:45am.
All the funds raised from ticket sales will benefit an Art Feeds chapter. Ticket proceeds from Carthage teams will benefit Art Feeds Carthage and ticket proceeds from Joplin teams will benefit Art Feeds Joplin.
Check-in is Saturday, April 30th at Victory Ministry and Sports Complex from 8:00am- 8:45am. Once your team or individual ticket is purchased on this site, you will recive an email with a link to a Google Drive folder. The folder contains the Paint Wars Handbook + Prior to Play document. It also has a waiver that must be filled out by every team member. All waivers need to be turned in at Check-In by 8:45am on Saturday, April 30th. Teams will recieved t-shirts at Check-In. Opening ceremonies begins at 9:00am with the first round of games to follow.
To register as a single or with a few friends:
1. Click "get tickets" on this page
2. Enter the team Singles
3. Purchase a single ticket for $25
4. Enter all your information and confirm payment. Follow the instructions in your confirmation email.
5. We will place you on an awesome team with all those who you registered with!
Any questions can be directed to ashley@artfeedsjoplin.org or chelsea@artfeedscarthage.org