This outdoor session is designed to be a colorful & creative experience filled with art, sensory play, and exploration for kids ages 2-5
About this Event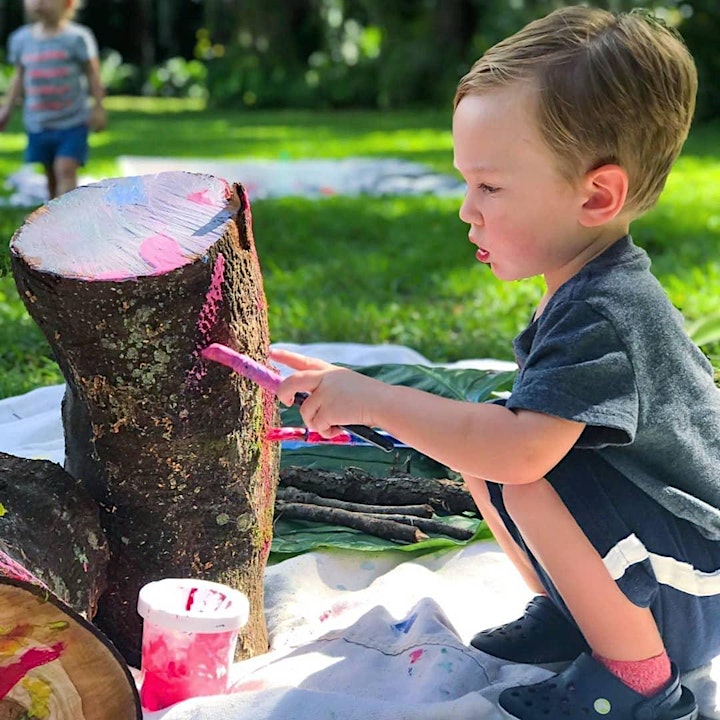 This magical outdoor session happens in 4-week sessions every Tuesday from 10:00 - 10:45am at our outdoor studio, a magical acre of oaks in Tampa, FL
This session is designed to be a colorful & creative experience filled with art, sensory play, and exploration for kids ages 2-5. This child-led session encourages curiosity, creativity, imagination and critical thinking - all while having a blast!
You can expect different stations with creative, process-based art projects, water play, non-toxic playdough, nature-inspired activities, and more!​ Each child will receive their own container with individualized materials that they get to use throughout the different stations. There will be ample room between stations so that everyone can enjoy their own space.
Please review all of our new guidelines regarding COVID precautions and studio guidelines.
*NOTE: Due to the Holidays, November sessions will only be 3-weeks, instead of 4 (November 3, 10 & 17, there will no class on November 24th)
This session is recommended for children ages 2-5.
$25/drop-in, $60/ 3 week session (use promo code 3week at checkout when registering for ALL 3 sessions to receive package discount)
Please read our SAFETY AND CLASS GUIDELINES:
CLASS CAPACITY: There is a minimum enrollment of 5 students for the sessions to start and a maximum of 10 students per session. If we do not meet enrollment we will not be able to move forward with the class.
All students must be registered and accepted our waiver prior to the start of each class session.
PARKING: Please be respectfull of the space that we share with Nature's Oak Wellness Center. When parking please make sure you are not blocking any vehicles or entrance.
Parents are responsbible for their children at all times. This class is outdoors and requires that you stay vigilant of your children at all times.
MAKE-UP POLICY: Because spots are limited and individual materials are provided, if you miss a session they cannot be made up and payment will not be refunded or transfered.
WEATHER: Classes will take place outdoors. In case of inclement weather, class will be cancelled and everyone will be notified via email. Class will be rescheduled for another date. In case the instructor has to cancel class, a refund will be issued.
MASK POLICY: Masks are highly encouraged AND required for all students ages +5 and all adults You may practice "mask breaks" away from the group as there is plenty of space.
TEMPERATURE CHECKS: Touch free temperature checks will be given to each child, adults and staff prior to entering class.
All students and adults must wash their hands prior to class starting. Hand washing and hand sanitizing will be encouraged throughout the duration of the class.
MATERIALS: All materials are included. Students will have their own sanitized supplies that they will use throughout the entirety of class. Tools and materials will be sanitized after each class. Please note that the price of class is reflective of individualized materials for each child.
COVID: If the child or a live-in family member tests positive for COVID-19, or has come into contact with someone who has tested positive, you must be symptom free for 14 days before visiting the studio.
If you (or your child) learn that you have tested positive or have come in contact with someone who has tested positive for COVID-19 after attending an event, please let us know so we can immediatley notify other all other attendees as well.