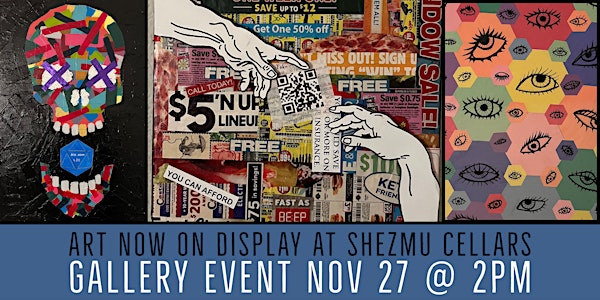 Art Exhibit and Gallery: Quinn
Quinn is now on display at Shezmu Cellars all this month with a gallery to top it off!
When and where
Location
Shezmu Cellars Winery & Taproom 562 Wylie Road Southeast #Suite 3 Marietta, GA 30067
About this event
Shezmu Cellars' monthly artist spotlight returns with an exciting new exhibit and gallery! The exhibit is on display at Shezmu Cellars NOW and will conclude with this gallery event where you can meet the artist and purchase your favorites. Come view the exhibit during Shezmu's regular business hours and make plans to attend the gallery!
While no tickets are required, if you RSVP via the free "ticket" on Eventbrite or facebook event, you'll receive an email reminder two days ahead of the gallery and you'll let the artist know you support them and their work!
From the Artist:
My name is Becca Quinn Dawson, but my artist name is Quinn. I chose my middle name to be my artist name because of its uniqueness, which is what I wanted to achieve with this collection. I grew up in the small town of Carrollton, Georgia, which is approximately an hour west of Atlanta. Growing up, my grandmother and I would always watch big blockbuster films together like The Mummy (1999), Lord of the Rings, and Labyrinth (1986), and my cousin, who lived with her at the time, would be in her room working on her oil paintings, which were heavily inspired by surrealistic imagery. I remember always annoying her by peeping my head into her room to watch her work. Watching her work is the reason why I started drawing. I wanted to be able to create something from nothing, just like her. When I wasn't with my grandmother and cousin, I would be with my older sister watching films like A Nightmare on Elm Street (1984) or Underworld (2003). Because of this, I was constantly surrounded by various forms of art, which I believe to have been big influences on my artistry. As I got older, my interests evolved and so did my artistic style. I became more fascinated in the macabre and gothic scene where I began to experiment more with grayscale and monochrome palettes, as well as my fashion choices. You know what I'm talking about. Anyways, throughout middle school and high school, this was my set style. I was always known for my zombies and creatures, as well as my fantasy inspired drawings, but once I was out of high school and in college, I felt as though I lost my flair. College influences your perspective on things, regardless of what you're studying due to the new interactions being introduced into your life. I actually felt really lost and without a sense of purpose with my art.
Once I graduated college with a degree in Film and Art, I began working in the film industry, where again, I am constantly surrounded by creativity. You would think that after working twelve plus hours per day would kill someone's creative drive, but actually, it kind of sparked mine. It became more of a need than a want, so I would make myself do something, not necessarily painting, but something creative to get those gears grinding again. I needed to find my flair again, but from a new approach. I decided that this time, everything I make will be in color. I wanted to break out of my grayscale safety zone. Thanks to a friend of mine, I was able to have this opportunity to display this brand new collection and I am so excited to be able to share this experience with you all. I hope you enjoy Color Evoked.
Shezmu Cellars is an urban winery producing local honey-wines (mead) while also pouring 30 taps of craft beer and over 25 wines from North Georgia wine country. Shezmu Cellars believes mead doesn't have to be a sweet dessert wine and focuses on producing sessionable dry meads served carbonated, nitrogenated, and still. Voted Best Winery in Georgia in 2020 and 2021 by the Georgia Business Journal, the Marietta winery is available as a venue for private events and hosts monthly art exhibits and comedy shows among the occasional themed party.
FREQUENTLY ASKED QUESTIONS:
Is parking available?
--- Yes, there is plenty of free parking in the lot in front of the winery... but if you're planning on drinking, please plan on taking a Lyft, Uber or designate a driver!
Do I need to print my tickets?
--- No! We will be able to check you in electronically.
Is only wine available?
--- Nope! We have lots of wine, including a huge Georgia wine selection as well as Sake and other wine-based beverages. We also have 30 taps of craft beer and some domestics in bottles/cans. We do not serve liquor.
Is there a kitchen on site?
--- Unfortunately no. We often have food vendors at our events, but if we do not advertise them then our offerings will include charcuterie, chocolate and other bar snack options. However, we allow customer to bring in whatever food they like so feel free to use your favorite delivery service or bring in take-out!
Any other events I should check out?
--- We are glad you asked! You can always see our next few events by visiting https://shezmucellars.com/events/ and clicking the names to see details.