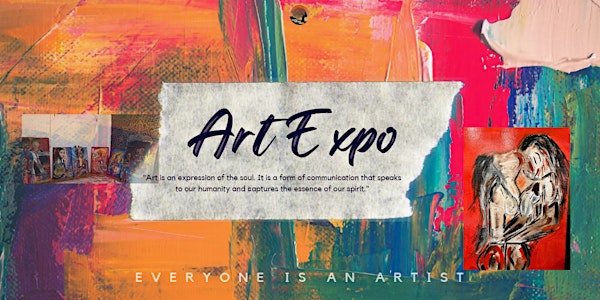 Multiple dates
ART Drop Off
Temple Mother Earth is inviting all local artists in Washington, DC to feature your art in our upcoming Art Exposition at the Temple.
Date and time
March 17 · 5pm - May 29 · 9pm EDT
Refund Policy
Contact the organizer to request a refund.
Eventbrite's fee is nonrefundable.
About this event
Drop off Date: Every Sunday at 11AM-1PM and Monday between 6-9PM
📍2415 32nd St SE HILLCREST WDC 20020
📌Visit this link below for more information and details:
https://bit.ly/TMEartExpo
We are looking for local artists to showcase their artwork in our upcoming exhibition!
@TempleMotherEarth would love to host an art expo in May and work with a local artist to have their art in the space. If you or anyone you know would love to have your art featured, please connect and let us know when you are available.
Excited to move the Art Expo forward and have everyone come and enjoy your beautiful masterpieces.
Please let us know if you know of any other artists and please share this information with them.
https://t.me/+7uM5sjE4xEgxNmIx
Please join the ART EXPO Chat on telegram with the various artist in the city.
Intention:
Featuring local artists from the DC area, this exhibition offers a platform to showcase the talent and creativity of those living and working in the nation's capital. The Intention of Art Exposition will feature works from a variety of different mediums. Paintings, sculptures, photography, digital art, and more will all be on display. Each artist will have an opportunity to explain the inspiration behind their work and demonstrate the unique perspective they bring to their craft.
The Intention of Art Exposition provides a rare glimpse into the creative minds of the local art community. It will also be a great opportunity for those in the DC area to explore and appreciate the art that is produced locally.
Why we would love to have an Art Expo @TempleMotherEarth?
Temple Mother Earth would love to have an Art Expo because it would provide an opportunity for local artists to showcase their work, furthering its mission of creating a community of art and culture. Specifically, we know that Artists are very close to their souls to their art and would love to experience and do art at the temple.
Temple Mother Earth is an incredible venue for an art expo. It offers a unique, peaceful setting that allows visitors to appreciate and reflect on the art in an intimate and inspiring atmosphere. The natural light and the beautiful grounds make Temple Mother Earth a perfect place to showcase artwork. Additionally, Temple Mother Earth is a community hub. The art expo would be a great way to bring the local community together and foster an appreciation for the arts. It would be a wonderful opportunity to provide artists with a platform to showcase their work and bring their ideas to life.
It has the perfect atmosphere to inspire creativity, it will bring the community together, and will help to promote the importance of environmental protection. We would love to have an art expo at Temple Mother Earth and we hope that you will join us in making it a reality.
About the organizer
Welcome to @TempleMotherEarth!
We are an international Temple of consciousness, spiritual learning and healing center, focused on providing the community with service, education, spiritual fellowship, healing practices, guidance, kemetic teachings, plant medicine expansion, ayurvedic medicine and earth medicine healing.
501C3 approved + With various providers for healing: Health is our greatest wealth Hypnotherapy/ Psychotherapy Sounds healing /Yoni steam / Reiki Beekeeping / gardening /Meditation Yoga / bodyworkers/ tantric practitioners / Qi Gong / crystals work / Numerology / ColorOlogy / womb work / mirror work / daily practice / Kambo / sacred ceremony Et el
FB: https://www.facebook.com/groups/TempleMotherEarth/
Telegram: https://t.me/templemotherearth
Discord: https://discord.gg/qBKfvBjRcc
Mother Earth Tribe is a life-changing community so you can, deepen your spiritual practices, be witnessed, seen, heard, + supported, create space to connect inwards with your true self & intuition. We feature trusted experts, transformative tools and free virtual workshops that you can access anywhere in the world. With new members joining each day, we think you might like it too.