ART DISCOVERY FAMILY WORKSHOPS: Select Sundays at the Henry

Multiple Dates
Event Details
Dig deeper into the art on view at the Henry and get dirty with an art making activity!
Each workshop includes a family centered interactive guided tour that explores a specific theme and exhibition. All tours are followed by a unique fun art making activity in our education studio that everyone can enjoy.
Workshops are 1 ½ hours in length and appropriate for all ages. Parents are strongly encouraged to make art alongside their children.
FREE with gallery admission. Admission to the Henry is always free for members and students.
Space is limited. Please sign up with EventBrite.
Questions: email tours@henryart.org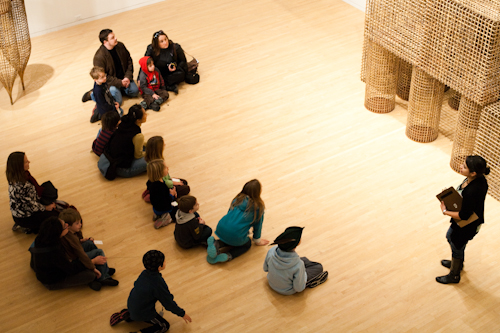 Exploratory Themes, Dates and Times:
Sunday, April 15 at 2pm
Exploring the Natural World through the Art of Winslow Homer and Wolfgang Laib
Pollen and Paint: Laib, Homer, and the Natural World
Explore in-depth Winslow Homer's An Adirondack Lake (1870) and Pollen from Hazelnut (1995-1996) by Wolfgang Laib and think about how each is a unique reflection of our relationship to the natural world. Participants will make a painting inspired by one of these works.
Sunday, May 20 at 2pm
Exploring Paint through the Art of Andrew Dadson
Look deeply into the fascinating world of layers of paint and color and discover new abstract dimensions. Back in the Studio paint your own abstraction inspired by a landscape or natural setting.
Sunday, June 17 at 2 pm
Exploring the Art of WebComics
Morning Serial: Webcomics Come to the Table
Get inspired by webcomics that push the boundaries to create new and imaginary worlds. Back in the Studio develop your own character and imaginary world for a webcomic of your design.
Sunday, July 15 at 2 pm

Exploring the Art of The Record: Contemporary Art and the Vinyl
Explore a variety of artworks that use the record as their subject or medium. Get inspired to embellish a vinyl record with paint, collage and other media into a unique work of art.
Where

Henry Art Gallery
University of Washington
15th Ave NE & NE 41st St
Seattle, WA 98195


Multiple Dates
Add to my calendar
Organizer
Henry Art Gallery is a center for contemporary art and ideas. The only dedicated contemporary art museum in our region, our home within the University of Washington provides a rich and dynamic laboratory for cross-fertilization and the ongoing quest for new knowledge. The Henry is internationally recognized for its groundbreaking exhibitions, for being first in the field to champion artists who go on to global acclaim, and for premiering and sponsoring new works by artists of note. Since our founding in 1927, the Henry has been committed to providing opportunities for discovery, inspiration, and exhilaration through immersive experiences with art.
ART DISCOVERY FAMILY WORKSHOPS: Select Sundays at the Henry