Description
Day 2 : 23 June 2019, Sunday Time : 10.30am - 12.30pm Venue : GALERI PETRONAS, Level 3, KLCC
Topic : The Mosque Architecture and Sufism
Speaker - Prof Dr Azizi Bahauddin, School of Housing, Building & Planning, USM
Panel Session 3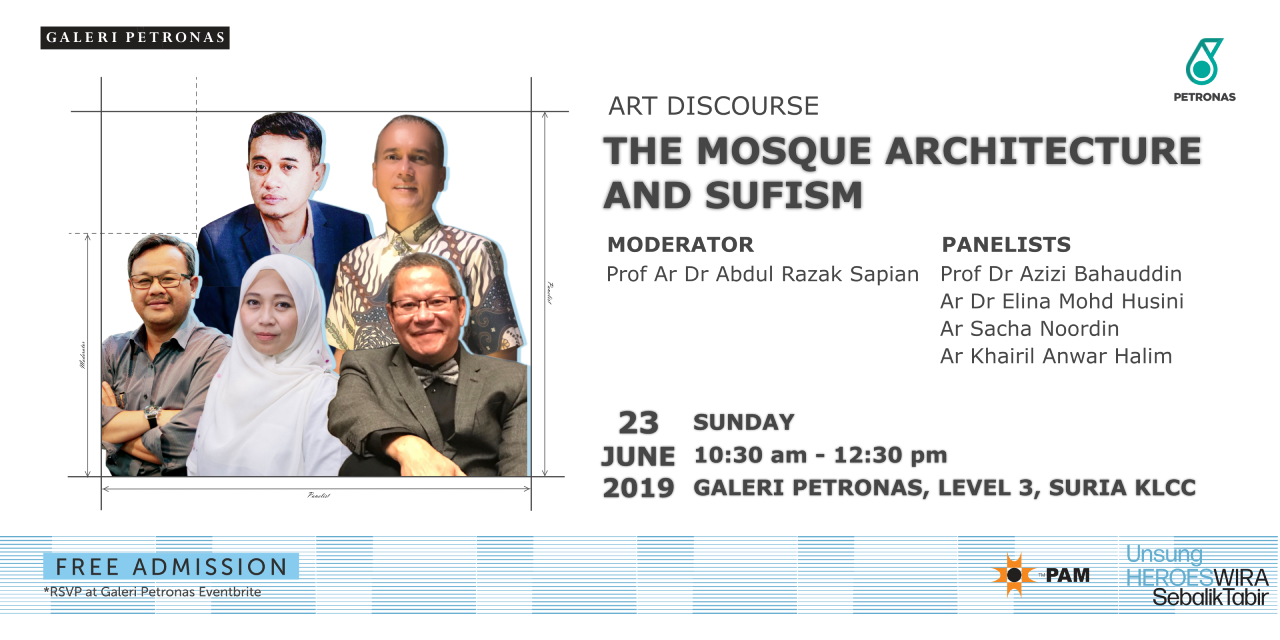 Moderator - Prof Ar Dr Abdul Razak Sapian, IIUM
Ar. Dr. Abdul Razak Sapian is a Professor at Department of Architecture, Kulliyyah of Architecture & Environmental Design. Currently he is the Dean at Kulliyyah of Architecture and Environmental Design, IIUM. He graduated his first degree in Housing Building & Planning (Hons.), USM in 1993, majoring in Architecture and graduated his Bachelor of Architecture degree from University of Dundee, UK in 1995. In 2003 he obtained his Ph.D. in Architecture from UTM. Professionally he is a registered Professional Architect with Lembaga Arkitek Malaysia (LAM A/A 154) and Corporate Member of Pertu buhan Arkitek Malaysia (PAM M 2089). His areas of specialization are environmental engineering (natural ventilation & thermal comfort, energy and passive design strategy), Computational Fluid Dynamic (CFD) and housing (High and low rise residential building). He has published more than 50 articles in reputable international (ISI and Scopus) and local refereed journal as well as presented in many national and international seminars. He also published a numbers of book in the area of his interest such as in architecture, conservation and heritage. Active in research with novelty ideas and product has lead him in participation and won several awards at university, national and international level research exposition such as in IRIIE (IIUM Research, Invention and Innovation Exhibition), ITEX (International Invention and Technology Exhibition), and SIIF (Seoul International Invention Fair). Currently he is also conducting few researches on his area of specialization, among others are as follows; CFD Investigation on the Potential of Solar Induced Ventilation in Enhancing the Stack Ventilation Performance for Hot and Humid Climate. Thermal Performance of Green Wall in Tropical Climate and Possibility of Using Ventilated Facade in Reducing the Indoor Air Temperature of Malaysian Building. In term of supervision, he has and in progress supervising more than 20 postgraduate and more than 50 undergraduate students in IIUM and also outside IIUM as external supervisory committee. Being a registered professional architect, he is actively involved in related consultancy under the university business arm. Even prior to his appointment as IIUM academic staff in 1989, he has served few public and private organization such as CIDB (Construction Industry Development Board Malaysia) and Architect firms until he successfully setting up his on private practice namely Dr. Abdul Razak Architect. Currently he is involved with the development of IIUM teaching hospital in Kuantan, few Endowment fund Mahallah projects namely Mahallah Syeikh Humaid and LTAT and preparing comprehensive Bako peninsular master plan for Sarawak government.
Panelists :
1. Prof Dr Azizi Bahauddin - School of Housing, Building & Planning, USM
Ph.D. Sheffield Hallam University, Sheffield. M. A. in Interior Design, De Montfort University, Leicester. B. Architecture, Texas Tech University, Texas
Dr. Azizi is a lecturer in the Interior Design Programme. His Ph.D. is from Sheffield Hallam University. M.A. in Interior Design from De Montfort University where he received a letter of commendation for his academic achievements in his dissertation and final project and B. Architecture from Texas Tech University, Texas. Dr. Azizi specializes in Exhibition Design and Interior Design concentrating on human senses, combining Fine Art and Architectural spaces. Dr. Azizi received a number of awards relating to his specialised area of exhibition design. Most of the awards were given during exhibition competitions among local universities and research institutes.
2. Ar Dr Elina Mohd Husini - Faculty of Engineering & Built Environment, USIM
Ar. Elina Mohd Husini holds a Ph.D. in Architecture from Universiti Teknologi Malaysia and currently as the dean in the Faculty of Engineering and Built Environment, Universiti Sains Islam Malaysia. She is also a practicing architect and has interest in sustainable architecture and heritage. She is currently involving in research based on Sustainable Architecture that focuses on energy-saving, renewable energy and innovative sustainable buildings. She has involved in Solar House competition as a project manager in Solar Decathlon Middle East 2018, Dubai and was awarded the winner of "People's Choice Award 2018". She was the research leader for daylighting , renewable energy , contributed in research on " Kampung Mizan, editor for several monograph , research books and join publication with SamSacei University in Uzbekistan Elina has also provided technical assistance to a number of innovations at international level and policy in university.
3. Ar Khairil Anwar - Razin Architects Sdn Bhd
Born in Johor Bahru, Ar. Khairil Anwar Halim was formally schooled in St John's Institution in Kuala Lumpur before he left to continue his studies in the United States in 1983. Ar. Khairil received his Bachelor of Architecture degree from Louisiana State University in Baton Rouge, USA and continued his professional career working at Clements, Blanchard & Associates, an Architectural and Engineering Consulatncy Firm located in Baton Rouge, Louisiana before returning to Kuala Lumpur in 1991. In 1996, he established KAC Architect in Kuala Lumpur where he is the Principal and has been in professional practice since then. Ar. Khairil teamed up with Ar. Razin Mahmood in 2013 as a Director of Razin Architects Sdn. Bhd., managing various projects from Kuala Lumpur. He has been in Professional Practice for the last 30 years involving various types of development particularly specialising in Sports and Recreational projects. Over the years, he was also involved in numerous upgrading and remodelling projects in residential, office, retail and recreational categories. In 2018, Ar. Khairil launched his first book entitled 'Soaring High, Glittering Venues', a book which showcases 14 Stadiums and Sports Facilities he was a part of as Project Management Consultant for the 2017 Kuala Lumpur SEA Games (South East Asian Games).
4. Ar Sacha Noordin - Sacha and Tan Architect
Ar Sacha Is an Architect with over 18 years of experience with works in Malaysia and abroad. He runs his office like an Atelier, and he is a hands-on Principal who is always available to solve issues personally. His design philosophies are a little harder to pin down, although one consistent thread throughout his career has been an interest in narrative-driven work. Good architecture must be a "Story Worth Telling" he says and that's guided his design. In his early years after completing his studies at the Bartlett School of Architecture in London, which coincided with the time that Peter Cook can over from the AA School to lead the Bartlett, he came back to Malaysia and worked with Dr Ken Yeang. This was a period of great fervour in that office, you could say it was peak Bioclimatic Skyscraper period in that office. Going into private practice came almost by accident. After having asked to leave TR Hamzah & Yeang In 1998 due to the economic recession, and as work was hard to come by, he began to work with friends on private commissions. He joined Huat Lim as a director of ZLG Sdn Bhd in the early 2000s before opening Sacha and Tan Architects In 2003. He has since been in practice under that guise ever since and I still trying to make sense of a lot of things.