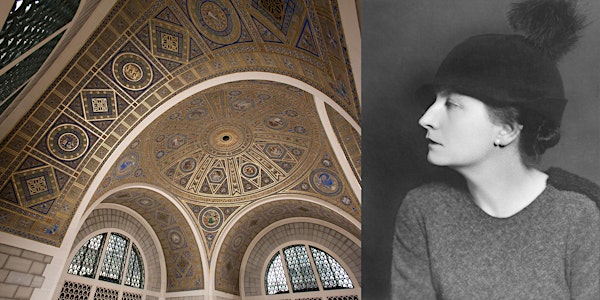 Art Deco in Washington, D.C.: The Legacy of Hildreth Meière
Documentary World Premiere and Panel Discussion
When and where
Location
National Academy of Sciences 2101 Constitution Avenue NW Auditorium Washington, 20418
About this event
Cultural Programs of the National Academy of Sciences, the Art Deco Society of Washington, and the International Hildreth Meière Association invite you to attend the world premiere of the first two videos in the new Hildreth Meière documentary series, a DOCYOURSTORY production. The program will also include a panel discussion with scholars, artisans, and preservationists. On event day, the building will open at 1 p.m. Come early to see the Great Hall and special exhibitions exploring intersections of art and science.
In-Person and Online Event
You can register to attend the event in-person or to watch the Livestream online.
COVID-19 Requirements
All in-person attendees must show a photo ID and proof of up to date COVID-19 vaccination (a photo of the card is fine). Masks are optional for those with up to date COVID-19 vaccination.
For those who cannot show proof of being up to date, masks are required. We regret that those who are unvaccinated, including children, cannot attend.
Up to date means a person has received all recommended doses in their primary series COVID-19 vaccine, and a booster dose when eligible.
Hildreth Meière
Muralist Hildreth Meière (1892-1961) designed the decorations for the dome and arches of the Great Hall of the National Academy of Sciences (NAS) building which opened nearly 100 years ago in 1924. The project was her first major commission and launched her 40-year career. Her images celebrate the history, significance, and role of science and blend Art Nouveau and Byzantine influences with the Art Deco approach to design that became a Meière trademark.
Documentaries
"Hildreth Meière Designs for Washington, D.C." highlights four locations in D.C. where her work can be seen--National Academy of Sciences, Municipal Center (Henry J. Daly Building), Washington National Cathedral, and Harvard University's Center for Hellenic Studies--and the Archives of American Art, Smithsonian Institution where her papers are located.
"Hildreth Meière Restoring an Art Deco Mural" recounts the restoration and relocation of the three-paneled marble mosaic Pillars of Hercules mural originally installed in the lobby of Prudential Plaza in Newark, N.J. In the late 1990s, the mural was removed and placed in storage for more than ten years. Now restored, one of the panels is on display at the Newark Museum of Art and the other two are at Harvard University's Center for Hellenic Studies.
Video trailer link available here.
Panel Discussion Moderator and Speakers
Moderator
Steve Orr is an award-winning broadcaster turned consultant. He founded Steve Orr Media to help clients become more effective speakers, as well as create and produce podcasts. He's the author of the forthcoming book Podcasting for Small Business. Steve's career also included a long run at the MarketWatch Radio Network. As a business anchor/reporter, he was regularly heard on some of the country's biggest news stations, including 1010 WINS in New York, WBBM in Chicago and WTOP in Washington, DC.
Speakers
Janice Goldblum for over 46 years worked as an archivist at the NAS, retiring in 2019. While at the NAS she built archival collections, conducted tours, and assisted the 2012 building restoration architects. She was part of the NAS staff who wrote and produced The National Academy of Sciences Building: A Home for Science in America (2013). Janice has been an avid supporter of the International Hildreth Meière Association education and preservation efforts including support for external exhibitions on Hildreth Meière at St. Bonaventure University, Quick Center for the Arts, and at the National Building Museum.
Kate Haw since January of 2020 has been Executive Officer for Collections, Exhibitions, and Programs at the National Gallery of Art, overseeing exhibitions, public programs, and the research library. From 2013-2019, Kate was Director of the Archives of American Art at the Smithsonian Institution, the world's largest resource for the study of American art. Kate has also held curatorial roles at the National Gallery of Art and the American Federation of Arts, and was Co-Director of the renowned Skowhegan School of Painting & Sculpture.
Douglas "Peter" Sefton has been active in historic preservation since the early 2000s and serves as a trustee of the D.C. Preservation League. The recipient of a master's degree in Architectural History from the University of Virginia, he is co-author with John Deferrari of Sixteenth Street NW: Washington, D C's Avenue of Ambitions, published by Georgetown University Press in February 2022. Peter's current research interests include patterns of community transition and New Deal architecture in the District of Columbia.
Kathleen Murphy Skolnik teaches art and architectural history at Roosevelt University, leads seminars on Art Deco design at the Newberry Library, a private research library, and lectures for the Scarsdale Adult School. She is the co-author of The Art Deco Murals of Hildreth Meière and a contributor to the recently published Art Deco Chicago: Designing Modern America. From 2008 to 2016 she was the editor of the Chicago Art Deco Society Magazine and currently serves on the Advisory Board of the Art Deco Society of New York and is a Board Member of the International Hildreth Meière Association.
Richard Williams, FAIA
Richard Williams Architects' buildings are noted for their formal rigor, aesthetic refinement and an ethos of restraint. Recipient of many local and national awards, his firm's work has been featured in the New York Times, Washington Post, Architectural Digest, and DWELL. A native of Washington, D.C., Richard received his BA in history and literature from Harvard College, and a Master of Architecture from the University of Virginia with highest honors. Named a Fellow of the American Institute of Architects in 2010, he has served on numerous design juries and governing boards, including two terms on the US Commission of Fine Arts' Old Georgetown Board from 2014-2020. He is married to Kimberly Prothro Williams, an architectural historian and author.