Location
Golden Moon Studios
28 East 3rd Avenue
Ste. 101
San Mateo, CA 94401
Join us for a trial session of art camp! Get a taste of our new summer art program without committing to a whole week! Open to children 5-12
About this event
Welcome to Golden Moon Studios, located in downtown San Mateo. We are an artist led studio offering classes, workshops, classes and more! Drop off your child with us for a day full of fun and creating! Drop in dates available now!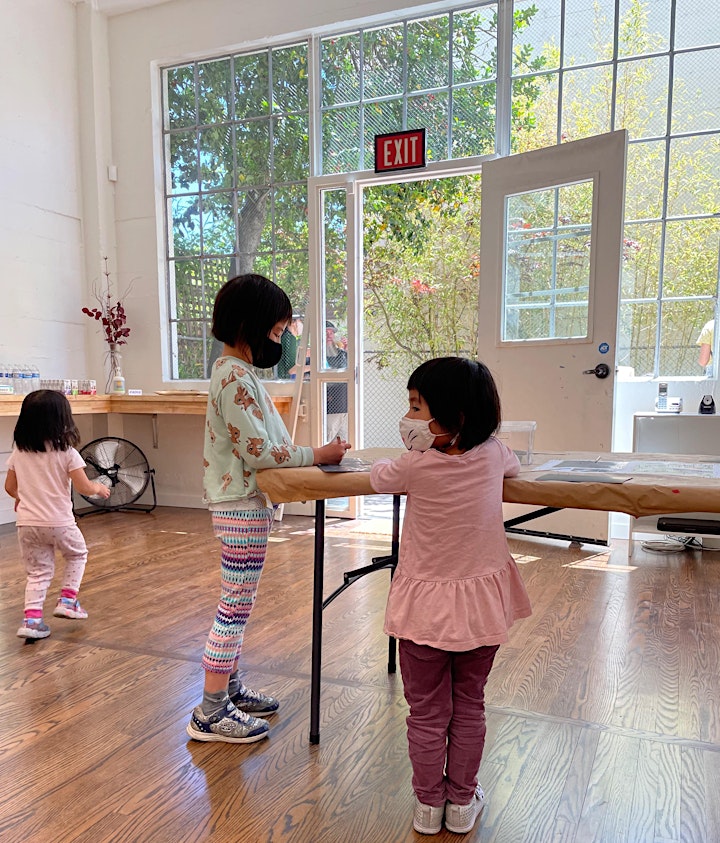 Our Mission:
Our hope is to give children a voice through art-making. Art allows a child to explore, from the point of the unknown to a point of completion, learning art techniques while working through mistakes and problem solving, resulting in higher self-confidence, awareness, and leadership skills.
We hope to provide growth in children through honoring ideas, executing dream designs, guidance through questions to engage problem-solving, build creative thought processes through mistake-making, and celebrate collaboration.
What will my child do?
Children will participate in 1 or 2 weekly themed lessons with other campers based on our lesson schedule and will receive an individual lesson. Lessons can include water colors, oil pastels, collaging, acrylic painting and more. Available to children 5-12 years old.
What should they bring?
- Healthy lunch and snacks (nut-free)
- A water bottle with plenty of water
-Comfortable Cloth & Shoes
-Extra clothing for colorful accident or extra layers for outdoor time
- Hat and/or Sunscreen
-Medications (Ex: EpiPen) if your camper(s) need it.
-Curiosity with positive attitude
All art supplies are included!
What to expect?
This is a day trial for summer camp. Your child may have slightly different art projects based on our regular schedule (other campers might be finishing up a project from the previous day). Your child will receive an individual art lesson with the class. We'll try our best to conquer a project but some students may need more time and we don't believe in rushing young artists! The main focus will be to learn a new skill and above all HAVE FUN!
What's the day schedule look like?
A typical day at art camp starts with checking in and introduction to our main art activity, based on that weeks theme. Campers are shown a new technique and/or art material. We then will have snack time (usually on our patio) followed by more project work. Some days children will take a walk to Central Park and the Japanese Tea Garden.
What are the weekly themes?
Theme: Natural
June 20th - June 24th & July 18th- July 22nd
Artists across many mediums are inspired by art forms in nature. Art can mimic nature, by seeking to visually replicate objects as they actually appear in real life. Campers will learn more about art inspirations in nature and learn to incorporate the natural world around them into their artwork.
Theme: Elements of Art
June 27th -July 1st & July 25th - July 29th
"Art is not what you see, but what you make others see" - Edgar Degas
Explore the seven elements of art: line, shape, texture, form, space, color, and value with unique art projects while incorporating literacy components. These are the building blocks of all art and are a good place to start when making, looking at or analyzing works of art. Campers will explore the elements of art and engage in a variety of art-making techniques.
Theme: Color Exploration
July 5th - July 8th & August 1st - August 5th
What a colorful week! Explore tint, shade and value with the science of color. Campers will express themselves and encourage creative experience through colorful projects. When kids learn the theory of color, their creativity will be endless and they will continue to grow as artists!
Theme: Artists and Masterpieces
July 11th - July 15th & August 8th - August 12th
Who is your favorite painter or painting and why? Have you heard of Jackson Pollock or Frida Kahlo? Have you ever seen a painting by Pablo Picasso or Leonardo Da Vinci? Campers will explore art history and engage in a variety of materials and methods such as: drawing, painting, collage, weaving and more!
My kid loved it and wants to come back!
Awesome! We offer discount codes for anyone who has attended a trial session. Check in with us to learn more and visit our website to view weekly themes and dates:
https://www.goldenmoongallery.com/summer-art-camps
Cancellation Policy:
Drop in days can be rescheduled but are non -refundable. Please email us for questions: studios@goldenmoongallery.com
Questions? Call or email us!
650-242-1988
studios@goldenmoongallery.com