Description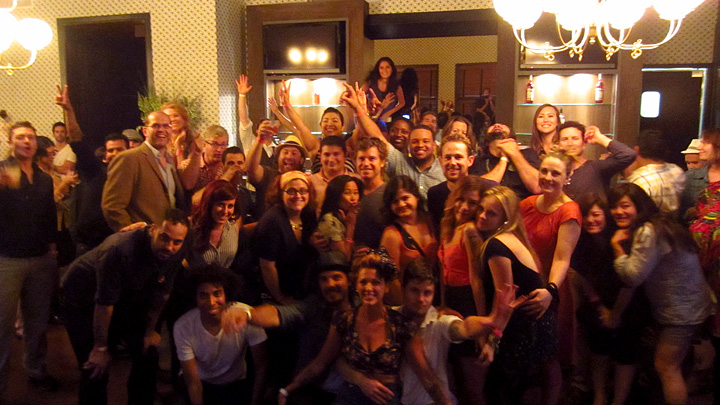 "New Orleans has its Tales of the Cocktail, but Los Angeles has its own ultimate cocktail fest – Art Beyond the Glass." — Lanee Lee, ShakeStir
UPDATE JUNE 29: PRESALES FOR ABTG III HAVE ENDED. A LIMITED NUMBER OF TICKETS WILL BE AVAILABLE AT THE DOOR FOR $60.
Now in its third year, Art Beyond the Glass is going back to where it all began! ART BEYOND THE GLASS III is taking place at Sadie Kitchen & Lounge on Sunday, June 29, 2014. As they did for our inaugural fundraising event, Sadie is once again donating its space, staff and food. ABTG III is raising funds for the Mural Conservancy, an acclaimed arts nonprofit that works to restore, preserve, and document the murals of Los Angeles. Proceeds from ABTG III will help restore Luchas del Mundo (Struggles of the World), a landmark mural created for the 1984 Olympics by famed artist, Willie Herrón III.
At ABTG III, dozens of top bartenders from across the L.A. area will mix cocktails and showcase their art, music, photography and much more. Among the bartenders returning for ABTG III are Chris Amirault (Harlowe); Julian Cox (Soigné Group); Chris Day (Tipple & Brine); Beau Du Bois (The Corner Door); Karen Grill (Bestia); Francois Vera (Pour Vous); Brady Weise (1886); artists Brian Butler (Sunny Spot), Gabriella Mlynarczyk (.ink) and Justin Pike (The Tasting Kitchen); singers Kiowa Bryan (Eveleigh) and Erik Trickett (Caña); and magicians Joshua Lucas (Honeycut) and Jordan Gold (littlefork).
First time participants include Ken Baranda (Hakkasan); Alex Barbatsis (Rivera); Mary Bartlett (Honeycut); Jeremy Lake (Crossroads); bartender/musician Josh Curtis (Copa D'Oro); Talia Gallina (A-Frame); Jason Hubert (Black Market Liquor Bar); Kelly Merrell (Trader Sam's); Elizabeth Mickiewicz (Fifty Seven); Éva Pelczer (Honeycut); Alex Straus (The Bon Vivants); Sofia Szabo (The Spare Room); Joe Valdovinos (The Playground); and Christine Wiseman (La Descarga).
Live music performances by Matt Mann & The Shine Runners, Higher Flux, and a closing set by an all-star bartender band. DJ sets by Dino Balocchi (littlefork), Naomi Schimek (The Spare Room), and Matt Wise (Roger Room).
Hosted by Dan "The Imbiber" Dunn, Art Beyond the Glass III is taking place at Sadie Kitchen & Lounge, a stunning, 7,300 square-foot venue that mixes Golden Age Hollywood glamour and modern aesthetics. ABTG III is expanding to include the Cherokee Courtyard, Sadie's gorgeous new outdoor area. The Sadie bar program is overseen by Giovanni Martinez, one of L.A.'s most innovative and highly respected bartenders. Executive chef Jonathan Moulton features a seasonal menu of globally influenced comfort food.
Admission includes cocktails, art, entertainment, and bar bites from Sadie and Guelaguetza, which is also donating its food. In addition, guests will be able to purchase bartender art, buy raffle tickets and bid on silent auction items, including artwork, photography, rare spirits and more. All proceeds will be donated to the Mural Conservancy.
Art Beyond the Glass III is being produced with the participation and support of the Southern California Chapter of the United States Bartenders Guild (USBG).
Art Beyond the Glass llI is being made possible with the generous support of sponsoring brands, including Pernod Ricard (Absolut Elyx, Altos Tequila, Plymouth Gin), Morrison Bowmore (Auchentoshan, Bowmore), Ace Beer Distributors, Anchor Distilling (Hine Cognac), Aviation Gin, Bacardi, Congenial Spirits, Giffard, La Niña Del Mezcal, Leblon Cachaça, Pisco Portón, Amandula, Art in the Age, and Miracle Mile Bitters.
Hyrdration provided by RESQWATER
Sound provided by N>EFFECT PRODUCTIONS.
Parking is available in the lot adjacent to Sadie.
Art Beyond the Glass III is a 21 and over event.
For the complete list of participating bartenders and updated event info, visit www.artbeyondtheglass.com.
Please enjoy ABTG III responsibly. Use Uber promo code "ThirstyInLA" for a free ride, up to $20 for new users.
Update June 28: We are very excited to announce that Harlowe is hosting the official ABTG III after party, starting at 8pm! Our friends at Greenbar Distillery are sponsoring the event with Slow Hand White Whiskey, Crusoe Silver Rum, Tru Gin, Grand Poppy Bitter Liqueur and Fruitlab Hibiscus liqueur. Not only that, they're also sponsoring a shuttle that will take guests between Sadie and Harlowe. Cheers!
Organizer of Art Beyond the Glass III
Art Beyond the Glass (ABTG) is a special event series that showcases the artistic pursuits of bartenders outside of their bars. At ABTG, everything from the cocktails to the art and music is created and performed by bartenders. Proceeds from every ABTG event are donated to a cultural nonprofit organization. Since its founding in November 2011, ABTG has donated over $210,000 to nonprofits across the country.