Chefs of the Caribbean Celebrity Brunch featuring food, drinks, entertainment and art during Art Beat Miami/Art Basel.
About this event
Chefs of the Caribbean, Little Haiti Optimist Club and Welcome to Little Haiti invite you to the 8th Anniversary of ART BEAT MIAMI during Miami Art Week/ Art Basel. The iconic Caribbean Marketplace (In the heart of Little Haiti) will transform into a pop-up gallery showcasing the works of more than 30 emerging and renowned local and international artists.
The CHEFS OF THE CARIBBEAN Celebrity Brunch will feature delicious dishes from each Chefs including an island dessert area, specialty beverages & spirits as well as Korbel Champagne and more located inside  the ART BEAT MIAMI Gallery.
Celebrity Chef Participants: Chef Creole, Chef Ron Duprat, Chef Sheron, Chef Dominique, Chef Danny, Chef Irie, Chef Andre Nurse and Chef Jenny Risonne.
.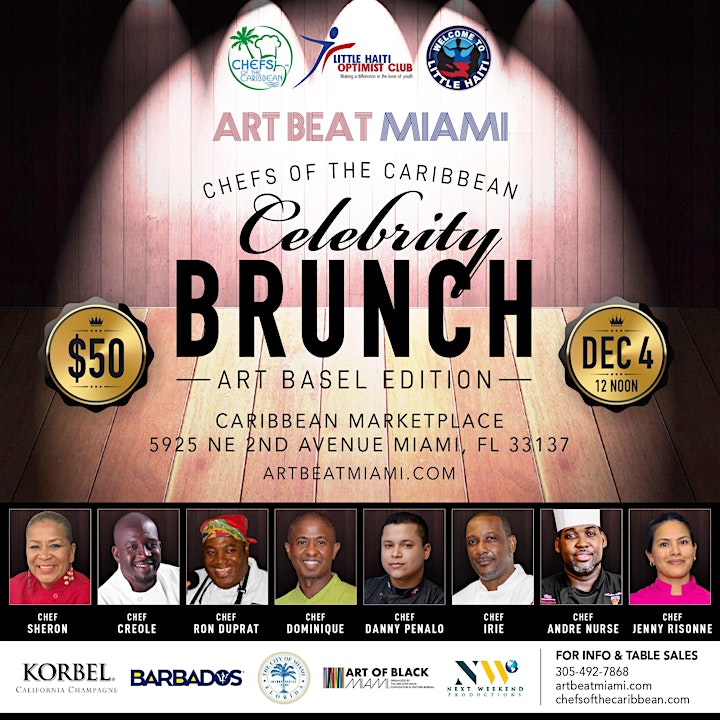 Organizer of ART BEAT MIAMI Chefs of the Caribbean Celebrity Brunch
The mission of the Little Haiti Optimist Club is to make a difference in the lives of youth by providing education, mentorship, athletics, arts and cultural programming.  Our goal is to be the premier organization providing programs to prepare the youth of Little Haiti for academic and life excellence.