Description
Do you know what you are doing for Art Basel Week?
With this exclusive all-access pass, you get access to six exclusive events that will be held at MIami's hottest pop-up party destination: the Miami Dome!

Featuring the Visual Artist Summit, Live Visual Performances, Projection Mapping, Digital Visual Gallery, VR Showcases and VR Mini Movies, Headlining DJ's and Live Music, Panels and more!
The pass gets you into the following events: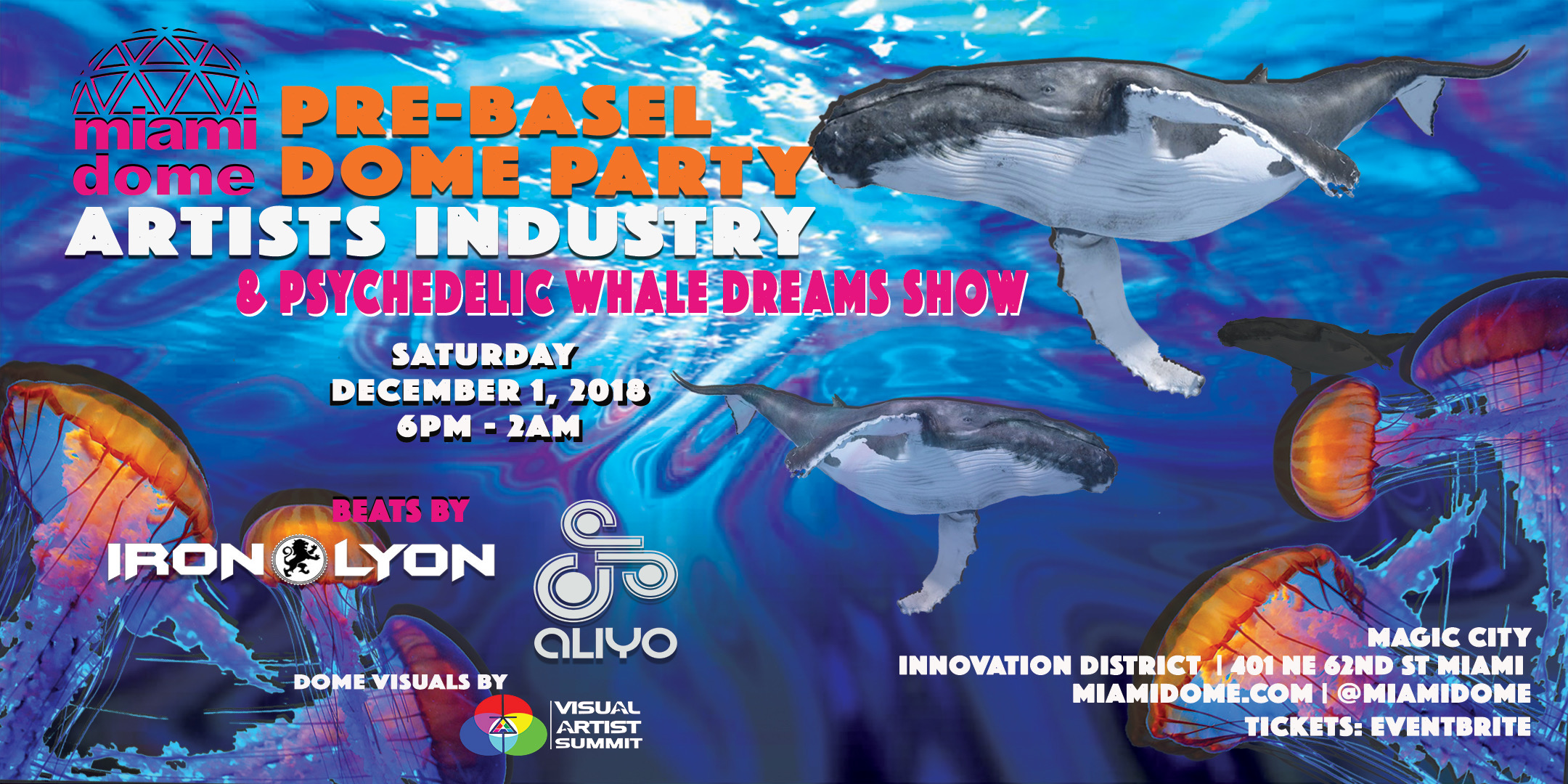 DESCRIPTION
PRE-BASEL INDUSTRY PARTY
Don't miss your first chance to discover the many wonders of the MIAMI DOME!
FEATURING
Special DJ sets by LIV Resident
DJ Iron Lyon AND DJ Aliyo
EXHIBITING
Innovative digital art work by world-renown visual artists
TAS Visuals, UON Visuals curated by our own resident guru VJ Psyberpixie
and MANY OTHERS!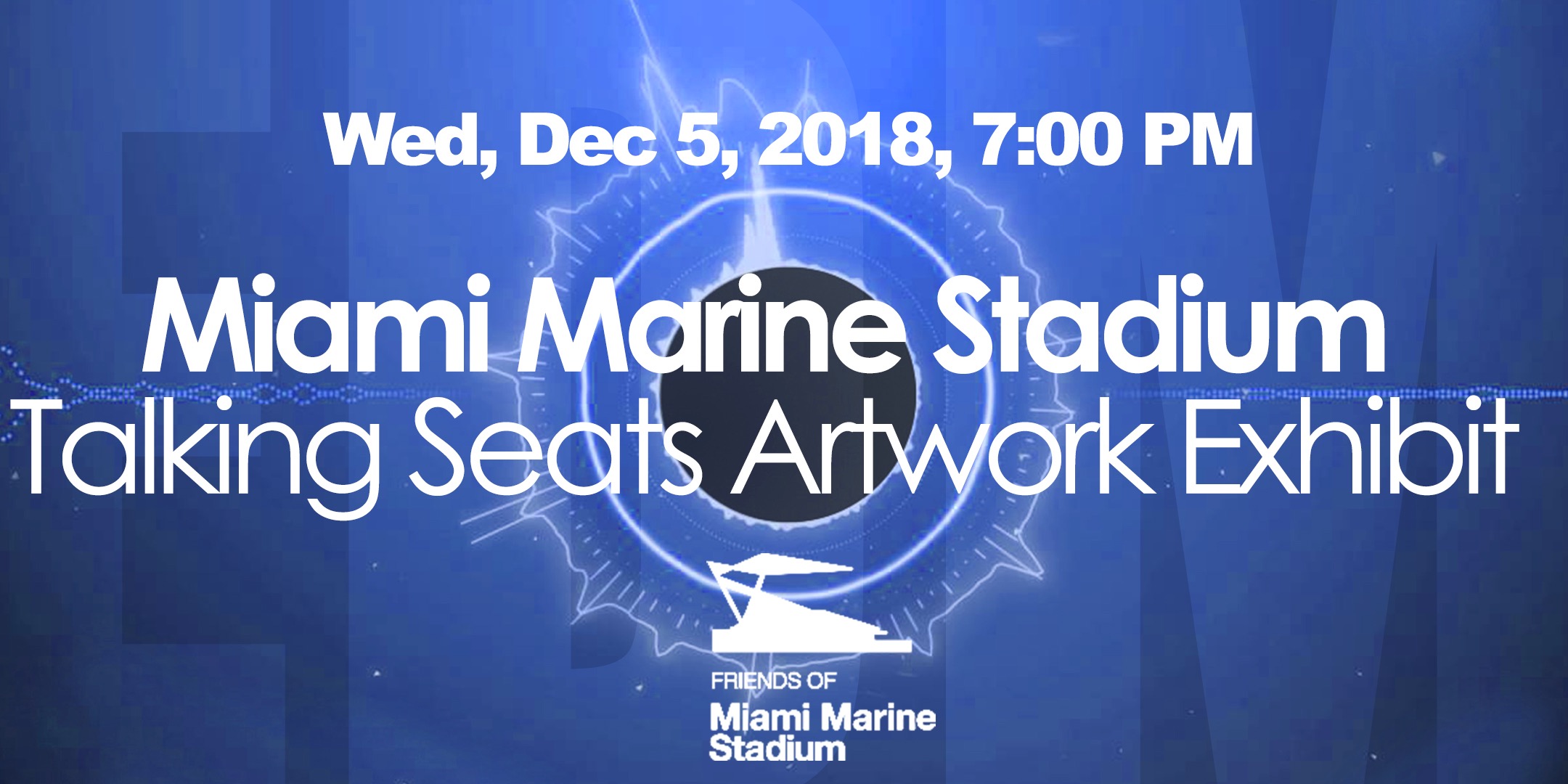 DESCRIPTION
It's the Art Basel weekend, so what better time to support a great cause and enjoy a fabulous EDM party?
Miami Marine Stadium Talking Seats Artwork Exhibit
We are delighted to have this exclusive event with several artists exhibiting their Art Seats from the Miami Marine Stadium. This showcase is dedicated to the Miami Marine Stadium.
Our resident 360 Dome VJ Psyberpixie will be visualizing special historic Miami Marine Stadium footage and special drone footage of the Stadium.
Also featuring Beautiful City by amazing artists Mathew Hoyos and Robert Giordano
Featuring Miami legend DJ Damaged Goods
Damaged Goods has developed a career out of "stretching the borders of musical sanity". Also one half of the production duo Caligula, he is a fixture in Miami Nightlife and transcends genres seamlessly the way he does scenes. Residencies at Mansion, Louis, Mokai, Set.
Featuring Geishaz who will groove well into the night
and last but most definitely not least
NIKO!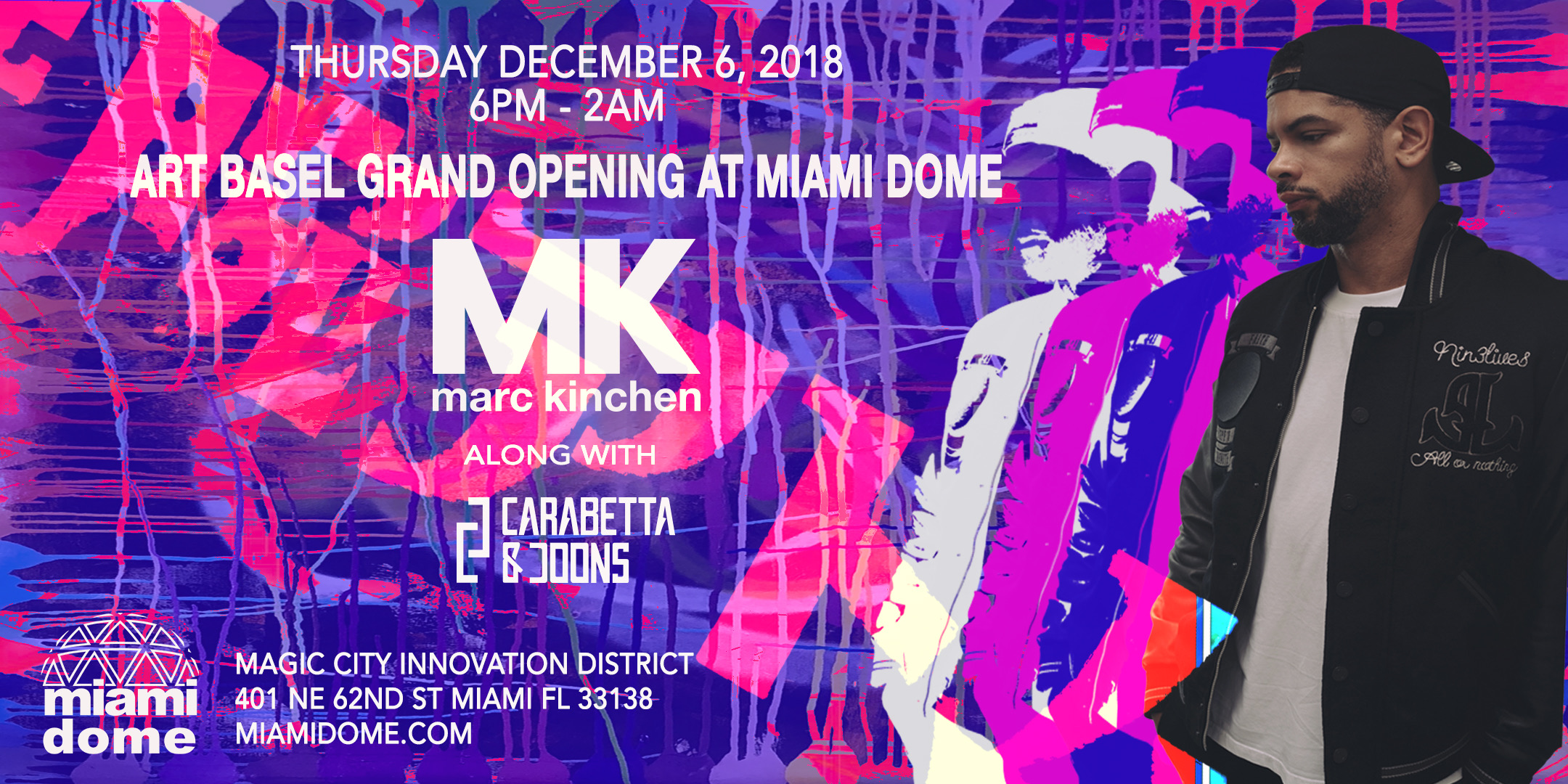 DESCRIPTION
Join us at the Art Basel Grand Opening, featuring:
Performance by legendary MK (Marc Kinchen)
Premiere of a new Virtual Reality film, "A Strange Travelogue" by groundbreaking fractal artist Julius Horsthuis

Live Visual Mixmasters : VJ Arcane, VJ Lightbender, VJ Psyberpixie and VJ SWWIII will mesmerize you with 360 Dome Visuals'

With special musical guests Leyva, Carabetta & Joons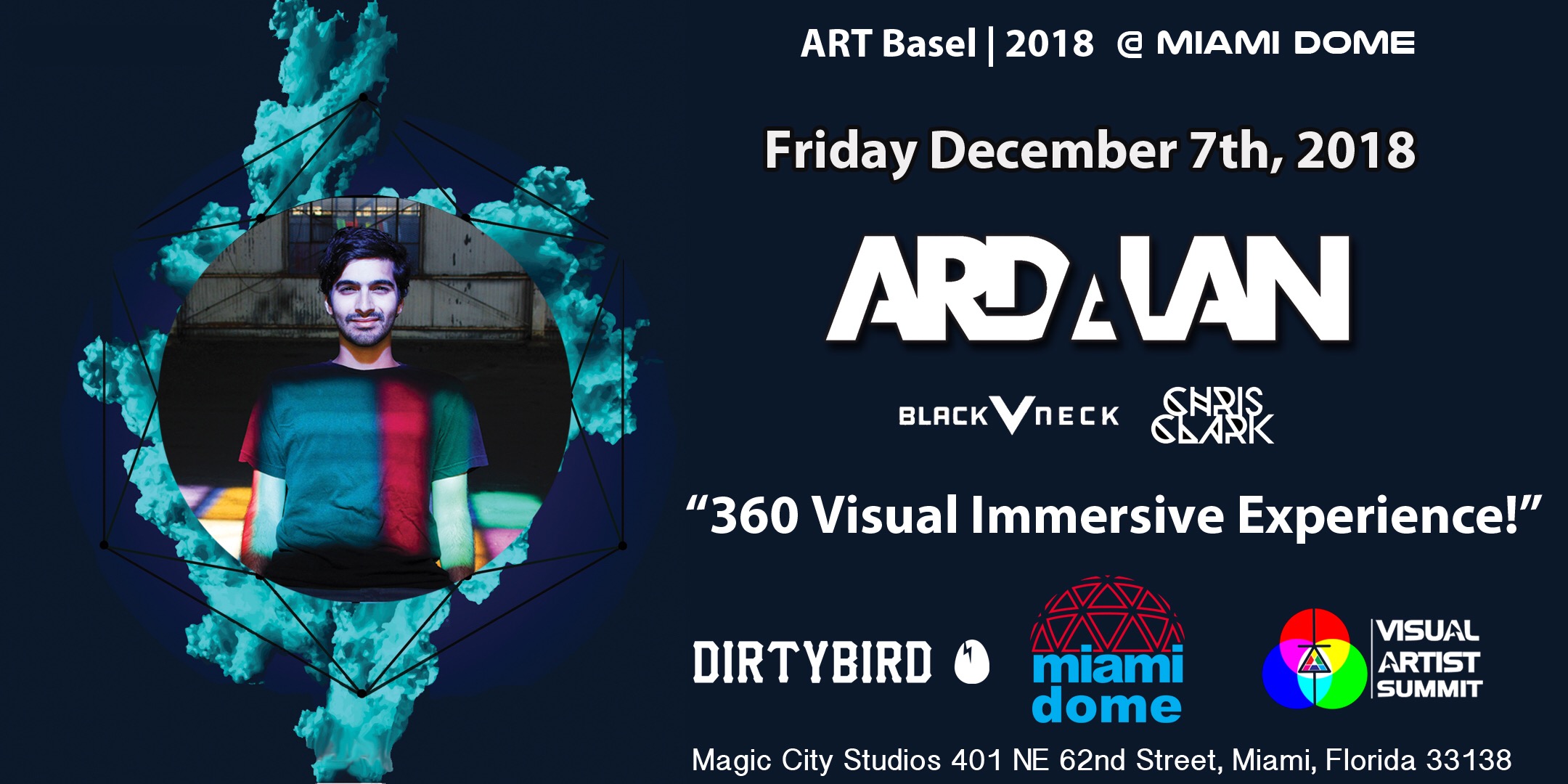 DESCRIPTION
Come party with us and the one and only Ardalan at Miami Dome on Friday night!
Featuring the Visual Artist Summit,live visual performances, projection mapping, Digital Visual Gallery, VR showcases and VR mini-movies, headlining DJ's, live music, panels and more!
With special appearances by Black V Neck and Chris Clark!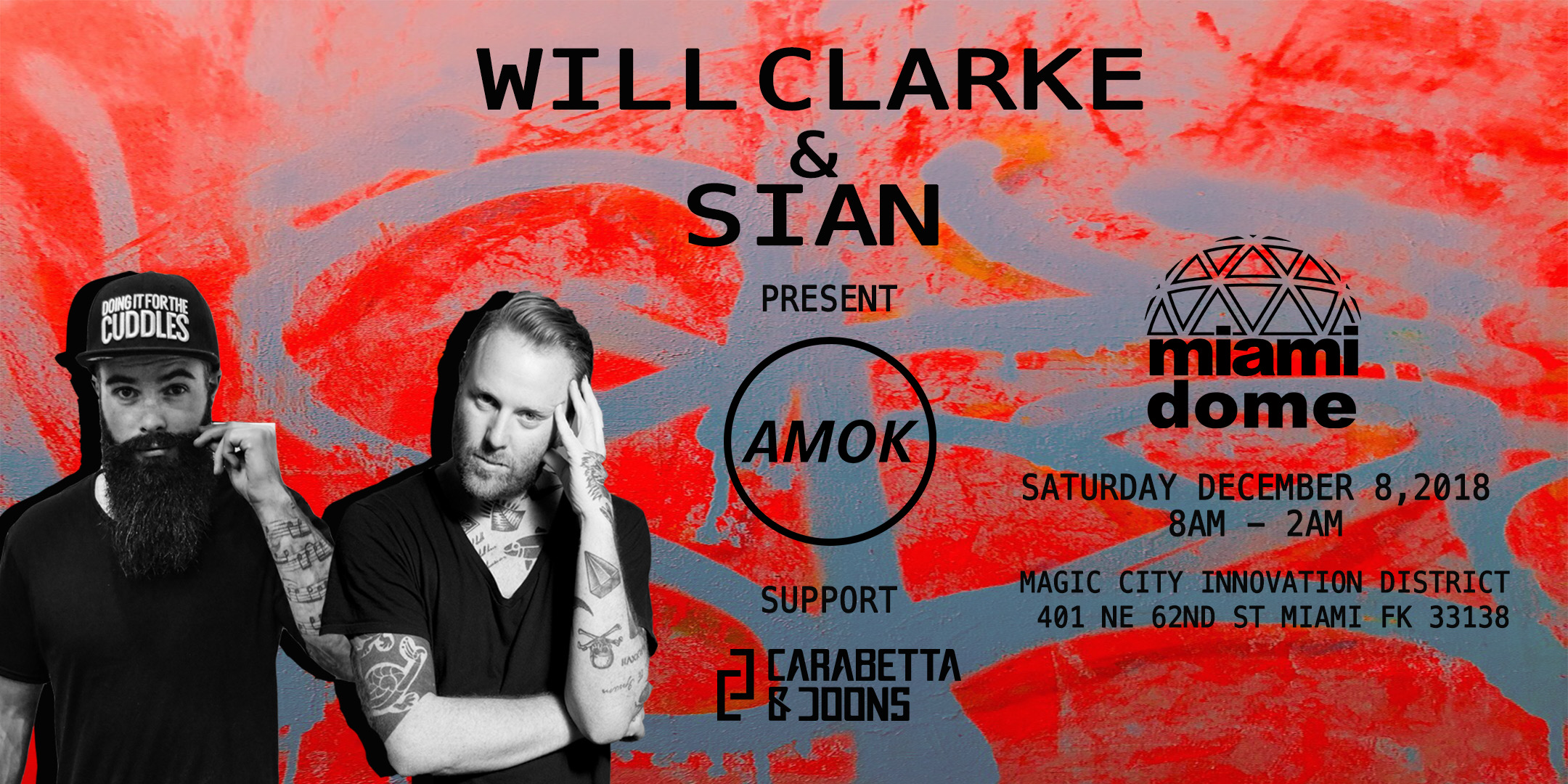 DESCRIPTION
Take in a groundbreaking show featuring immersive dome artwork and then party the night away at the Miami Dome: