Description
Join us to create a one of a kind, handcrafted wind chime by using ordinary items and reusing them in an extraordinary way. We'll decorate metal washers with vibrant, fast-drying alcohol inks, and string to a tree branch or a recycled CD, along with assorted beads to create a truly unique keepsake. All materials will be provided. Recommended to wear an apron/smock or old clothing. Feel free to bring your own special adornments.
WHAT IS ART BAR? - The Arts Alliance offers these relaxed, friend making, art making opportunities to all! Come and enjoy an evening of creativity,. where you have the opportunity to create some that is as unique as you. NEVER any experience required at ART BAR, after all, Stick People are People, too! We want you to enjoy your time, de-stress, create, and make merry!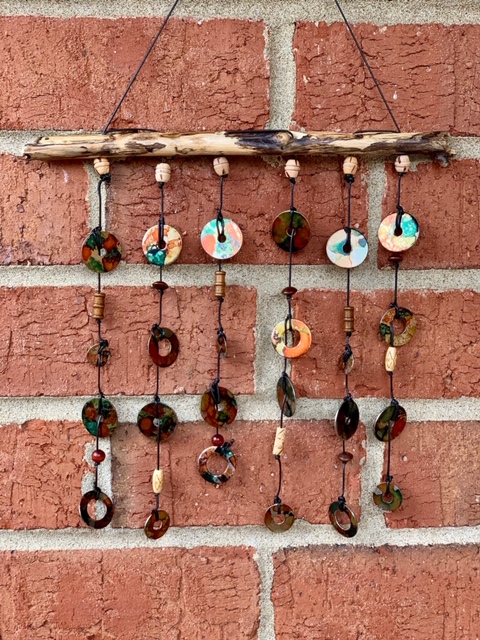 ABOUT Carolyn McGowan
Native Cincinnatian, Carolyn McGowan works in finance, while also feeding her creative appetite through painting, photography and travel. Carolyn is currently focusing on painting using fluid acrylics and inks and also enjoys watercolor, ceramics and collage.
For more information about Carolyn, please visit www.artbycmstudios.com
Art Bar is designed for those 18 and over.
CONTACT US ANYTIME!
If you have questions about this event, please contact Meredith Raffel at 513-309-8585 or mraffel@the-arts-alliance.org.
BECOME BETTER AS IMPROVEMENTS ARE DISCOVERED!
In other words, enjoy! The idea behind the ART BAR is to gather, enjoy, try, be, laugh, make mistakes, make something beautiful and build community and friendship.
CANCELLATION and REFUND POLICY
The Arts Alliance reserves the right to cancel events with insufficient enrollment. Participants will be notified of cancellation within three – five days prior to event. Full refunds will be given via Paypal with five business days when events are cancelled due to low enrollment.
Notification of cancellations due to inclement weather or unexpected circumstances will be made as soon as possible via text, email or Eventbrite. Full refunds will be given and processed via Paypal with a five day period.
Please note, membership discounts can not be applied to off site Art Bar events.
LIFE IS WHAT HAPPENS TO YOU WHILE YOU'RE…
We get it, things happen and there might be a reason why you can't attend said event. We'll work with you if we can. But please understand that our wonderful instructors put a lot of time and effort into gathering materials and preparing for class. No refund will be given if cancellation is made the day of class.
The Arts Alliance – a cool organization, serving a cool community.