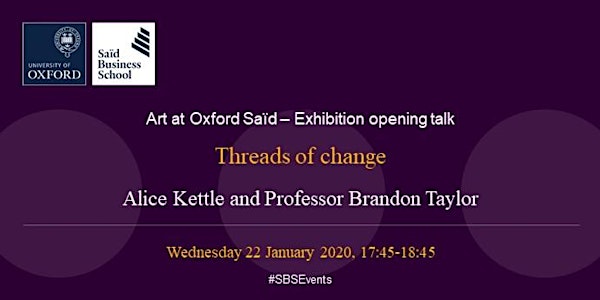 Art at Oxford Saïd - Exhibition Opening Night - Alice Kettle
When and where
Location
Saïd Business School Park End Street Oxford OX1 1HP United Kingdom
Description
Threads of change
In her role as Professor at Manchester School of Art, Alice Kettle has researched the meeting place of traditional analogue stitching skills and digitised contemporary methodologies. She has developed a unique practice, creating textile works which employ a combination of stitch techniques, bringing together the use of antique machines from early last century with hand stitch and contemporary digital technology.
Amongst the works are a new series of portraits being shown at Saïd Business School which are communally stitched work, co-created with women from Pakistan – work that has been co-funded by Saïd Business School and Candida Stevens Gallery. This communal way of working reflects the ability of stitch to intersect across divided spaces and connect with others through a common language of making. These new works create a quiet space for action where stitch can encounter what it means to be human. The works simultaneously explore individual and collective identity, divided and shared through social, political and economic circumstances.
Art at Oxford Saïd
A programme that explores the interconnections between art and business and sets out to delight and inspire the School community and reflect our values.
Event Schedule
17:15 - Registration opens
17:45 - Event starts
18:45 - Drinks reception
19:45 - Close
About the Speakers
Alice Kettle
Internationally renowned, pioneering artist Alice Kettle whose work is regarded as boundary breaking and contemporary. "Alice Kettle has established a unique area of practice in stitch, consistently and on an unparalleled scale." She is Professor of Textile Arts at Manchester School of Art and President of the Embroiderers' Guild.
Alice Kettle's work is regarded as boundary breaking and contemporary in its process, yet it also evokes a deep sense of the fundamental with it's themes. Her approach is immersed in the relationship we as humans have with nature, the world and each other. "We are part of the material world as physical beings" she says "… implicated in a generative cycle of relation­ships".
Her fine art training at the University of Reading, links her to an influential generation of con­temporary painters such as Terry Frost, Mali Morris and Albert Irvin, all whom were her tutors. You can see the legacy of their work present in her mark making, colour and energy of line. Yet, unlike theirs her work is largely figurative. Turning to textiles after her time at Goldsmith's, Kettle's work contributes to a tradition of thread narrative in Britain, which began in the 11th century with the Bayeux tapestry, and with the histories of women who have long communi­cated their lives and experiences through textile work.
Kettle depicts contemporary events and the experience of being in the world in her stitched tales, which spring from mythology and storytelling. She draws references from the history of figurative textiles and monumental narrative tapestry. In Kettle's narratives these allusions tell of her own encounters, of transformative experiences and the continual process of growth, renewal, change, decay, and the counterpoints of tragedy and hope.
Kettle is a pioneer of her art form, with an application and process that makes her a unique creator and maker of art. She describes her work like holding a kite, connected to the earth in real time and flying into the sky in her imagination.
While she trained as a painter, Kettle has been lauded by her contemporaries for "her use of a craft medium, consistently and on an unparalleled scale." With curator Sara Roberts stating "The scale of her work belies their component parts: individual tiny stitches, which combine to form great swathes of colour, painterly backgrounds incorporating rich hues and metallic sheen."
Professor Brandon Taylor
Brandon Taylor BA., MLitt., PhD., DPhil is Professor Emeritus of History of Art, University of Southampton, and currently Senior Research Fellow in Contemporary and Modern Art at Solent University, Southampton, and Visiting Tutor in History and Theory of Art at the Ruskin School of Art, University of Oxford.
From 2008-13 he was Visiting Professor in History of Art at the University of Reading. In 2000 he was a Visiting Scholar at the Paul Mellon Centre for British Art, Yale University, and in 2001 and 2002 at the Institute of Art History of the Czech Academy of Sciences, Prague and the Slovak Academy of Sciences, Bratislava. In 2004 he was nominated a membre suppléant of the Comité Internationale d'Histoire de l'Art (CIHA), and in 2007 and 2008 he was a Visiting Scholar at the Getty Research Institute, Los Angeles, California. In 2015 he was a Research Scholar at the Hans Arp and Sophie Taeuber-Arp Foundation, Berlin.
His research fields include contemporary and recent art, modernism, the history and theory of art institutions, and the art of central and eastern Europe and the former USSR. Books include Art and Literature under the Bolsheviks (2 Vols), London 1990, 1991; Art of Today, Weidenfeld, London 1995; Collage: The Making of Modern Art, Thames and Hudson, London 2004; Art Today, Lawrence King Publishing, London 2005; Sculpture and Psychoanalysis (editor), Ashgate and Henry Moore Institute, Leeds 2006; After Constructivism, Yale University Press, New Haven and London 2014; St Ives and British Modernism, Pallant House Gallery, Chichester 2015. His books have been translated into French, German, Spanish, Korean, Russian and Chinese. In recent years he has developed a practice as a studio painter and has exhibited in group shows in London and elsewhere.
About the event
The seminar is open for anyone to attend (over 18yrs only)
Registration is essential and spaces are limited and tickets are non-transferable.
Please note once the main room is full you will be directed to an overflow room, here you will be able to watch the live event, beamed from the main room, so please arrive early to avoid disappointment
Photography, filming and live social media streaming may take place at Saïd Business School for promotional purposes. This will be confirmed via the confirmation emailed two days before the event. If you wish to opt out of image capture at an event please contact oxfordsaid.events@sbs.ox.ac.uk.
Eventbrite processes data (including any personal data you may submit by taking responding to this invitation) outside of the European Economic Area. Please only submit any personal data which you are happy to have processed in this way, and in accordance with Eventbrite's privacy policy applicable to attendees (available here: https://www.eventbrite.co.uk/support/articles/en_US/Troubleshooting/eventbrite-privacy-policy?lg=en_GB). If you prefer not to use Eventbrite for responding to this invitation, you may respond directly to oxfordsaid.events@sbs.ox.ac.uk.