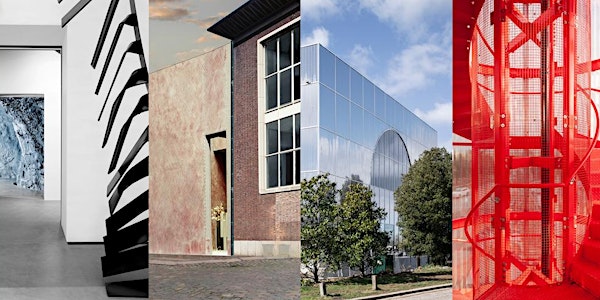 Art & Architecture Summit, London 2019
When and where
Location
Royal Institute of British Architects 66 Portland Place London W1B 1AD United Kingdom
Description
New Ways of Seeing: Art & Architecture in a Changing World
The way that we look at art is changing. So are the spaces in which we encounter it. The circulation of images has been fundamentally affected by digital technologies and social media; our expectations of how art responds to, and agitates within, the world has been shaped by political upheavals, questions of social justice and the looming threat of environmental catastrophe; museums have become social spaces as much as galleries. As traditional definitions are expanded or pulled apart, what do we want from our cultural institutions? From the most innovative new museum spaces, to studios looking to traditional methods for sustainable design, to way the selfie is shaping exhibition making, leading figures from the worlds of art, architecture and technology come together for a day of interdisciplinary conversations about 'good' design – and why it matters.
In partnership with

---
CONFIRMED SPEAKERS
Theaster Gates (Artist)
Elvira Dyangani Ose (Director, The Showroom, London)
Jakob Kudsk Steensen (Artist)
Anthea Hamilton (Artist, London)
Daniel Birnbaum (Artistic Director, Acute Art)
Sam Jacobs (Architect)
Liz Diller (Architect, Diller Scofidio + Renfro)
Tom Emerson (6a Architects, London)
Sou Fujimoto (Architect)
Orit Gat (critic, New York)
Ralph Rugoff (director, Hayward Gallery; curator, Venice Biennale 2019)
Chasper Schmidlin (Voellmy Schmidlin Architektur, Zurich)
Amy Sherlock (deputy editor, frieze; curator, Frieze Academy Art & Architecture)
Francesca Torzo (Z33 Kunstencentrum, Hasselt, Belgium)
Lukas Voellmy (Voellmy Schmidlin Architektur, Zurich)
Tomás Saraceno (Artist)
Manijeh Verghese (head of public programmes, Architectural Association; curator, British Pavilion, Venice Architecture Biennale 2020)

---
PROGRAMME
9.15am: Registration
9.45am: Introduction
Amy Sherlock, Deputy Editor, frieze; Curator, Frieze Academy Art & Architecture
10.00am: Opening Conversation: What Else Can Art Be? Theaster Gates In Conversation
Theaster Gates's work has long been rooted in creating spaces for communities and cultures that are politically and economically marginalized or under threat. In long-term, ongoing projects – many of them based in Chicago, the artist's home city – Gates has used the economies, institutions and materials of art as a force for urban regeneration and cultural preservation. In conversation with Elvira Dyangani Ose (director, The Showroom).
10.40am: Virtual Worlds: Design Beyond The Physical, presented by RIBA
Technological developments are beginning blur the boundaries between virtual and physical space. How can we use VR to re-imagine the ways in which we design and use our built environment? Conversely, how can we design these new and limitless virtual spaces to best utilize their potential? Architectural designers Space Popular will be in conversation with artist Jakob Kudsk Steensen and Daniel Birnbaum (artistic director, Acute Art).
11.20am: Coffee Break
11.50am: New Spaces
Architects present some of the most interesting and innovative recently completed international museum projects.
Chasper Schmidlin & Lukas Voellmy (Schmidlin Architekten & Luvo Architekten, Zurich) – Muzeum Susch, Switzerland
Francesca Torzo – Z33 Kunstencentrum, Hasselt, Belgium
Tom Emerson (6a Architects, London) – MK Gallery, Milton Keynes, UK
1.00pm: Lunch Break
2.00pm: Panel Discussion: Insta-tutions? How Social Media Is Changing Exhibition Design
How are traditional arts institutions responding to the phenomenon of Instagram museums? How much does the selfie influence what artworks are installed and in which kinds of space? Does this democratize the art-viewing experience or do we risk making art more visible but less seen?
Moderator: Orit Gat (critic, New York)
Anthea Hamilton (artist, London)
Sam Jacobs (architect, London)
Ralph Rugoff (curator, Venice Biennale 2019)
2.50pm: Performing Architecture: Liz Diller discusses The Shed
A telescoping shell that can expand and contract to create standing, seating or open space for an infinite variety of uses, The Shed is responsive, future-proofed setting for live performance and time-based artworks. Eleven years in the making, the building is the result of a challenging design process: construction began without a cultural institution confirmed to take the space, with the architects acting as both designers and clients. Liz Diller, who lead on the project for Diller Scofidio + Renfro discusses the challenges and possibilities of this unique structure.
3.30pm: Coffee Break
4.00pm: What Will the Future Be Made Of? Tomás Saraceno in Conversation
Artist Tomás Saraceno makes sculptures and installations that span the macro level of the cosmos to the micro level of a spider's web. His projects, which include ongoing experiments in aerosolar travel using only the heat of the sun, draw on approaches and collaborators from the fields of life sciences and social sciences to help us rethink our relation to the natural world and to one another. In conversation with Manijeh Verghese (head of public programmes, Architectural Association; curator, British Pavilion, Venice Architecture Biennale 2020)
4.40pm: Closing Keynote: Between Nature and Architecture: Sou Fujimoto
From his smallest project – an all-glass public toilet set within an enclosed garden in Ichihara City, Japan – to his open, scaffold-like design for the 2013 Serpentine Pavilion, and the recently opened abre blanc, a mixed-use tower that seems to grow from the ground in Montpellier, France, Sou Fujimoto's designs seek to incorporate nature into the built environment. In this lecture, he discusses what architects can learn from natural forms.
5.20pm: Closing Remarks
5.30pm –7.00pm: Drinks Reception
*Timings and content are subject to change*
---