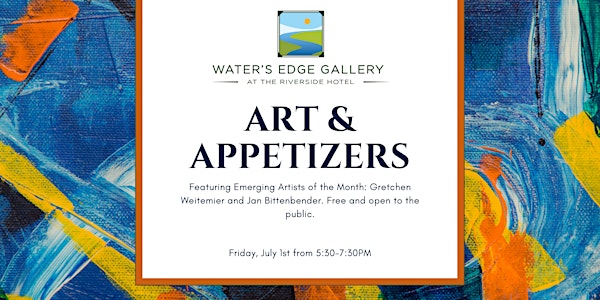 Art & Appetizers at the Water's Edge Gallery
Location
BAR365
2900 W Chinden Blvd
Boise, ID
Come enjoy drinks and appetizers in the Water's Edge Gallery and welcome Emerging Artists of the Month, Gretchen and Jan.
About this event
The Water's Edge Gallery is located inside the Riverside Hotel above the main Lobby and features a new artist every month. There will be an artist meet and greet and complementary appetizers from 5:30-7:30PM. Enjoy live music by local duo Cunningham & Moss from 5-8PM. Drinks will be available for purchase in Bar 365.
After visiting the Water's Edge Gallery, take a stroll through the Riverside's hallways where you will find exhibitions from 12 different local artists. These exhibitions change every other month. Current display from June-August.
Meet the Artists:
Jan Bittenbender's journey into the art world began 25+ years ago when she studied advanced seed-bead techniques and began a successful jewelry business. A couple of years ago, she became interested in wool felting, and started making wet/dry felted paintings. This medium is free-form, organic and spontaneous! Jan incorporates seed/bead work along with merino, bamboo, rose and silk fibers to create beautiful and fun pieces of art.
Gretchen Weitemier started Gretty Beth Arts from her interest in using wood and paper for woodblock printmaking, painting, and collage, and wood as a canvas itself for painting, carving, and pyrography (woodburning). Her passion is guided by intuition and a profound sense of gratitude.