Description
2018 ART AND THE VINEYARD VOLUNTEER
CONTRIBUTE TO YOUR COMMUNITY!
The 35th Annual Freedom Fireworks Festival on Wednesday, July 4th, and the Art and the Vineyard Festival on Friday-Sunday, July 6-8th. This year's highlights include a performance on July 4th by Rock 'n Rewind featuring the music of Janis Joplin and Grace Slick. The Festival also hosts 100 artists showcasing their art in the Artists' Marketplace, an international food court, Art for Your Garden, and our Youth Art Arena.
Help support Maude Kerns Art Center, a non-profit Art Center and Gallery serving the greater Eugene/Springfield community. Please apply to be a 2018 Volunteer at the 35th Annual Art and the Vineyard and Freedom Festival Fireworks!
Are your friends and family interested in attending Art and the Vineyard? Please direct them to the Art and the Vineyard website for more information on purchasing tickets online!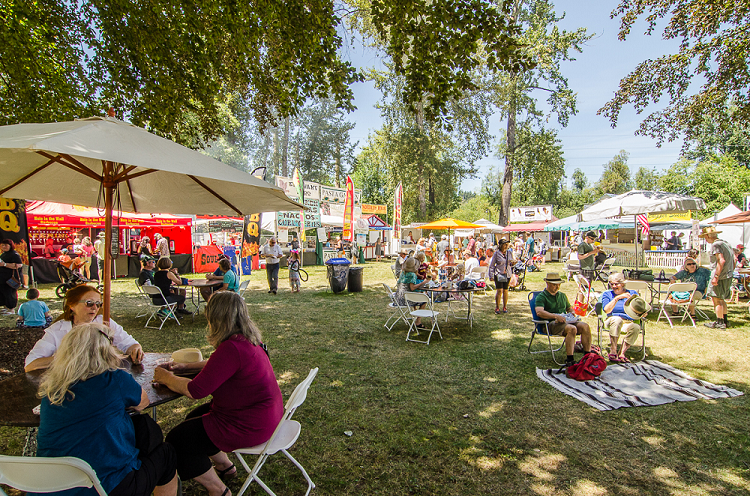 To register as a volunteer:
Click on the green 'Register' button. Choose how many people you wish to register. Fill in the application including your name, contact information, and which areas of the festival you'd like to volunteer in. Click 'Complete Registration' and the ATV Volunteer Coordinator will contact you with your volunteer assignment. Online registration ends July 1st at 2PM, but volunteers can still apply day of and onsite at Art and the Vineyard!
Please be aware that all your selections may be assigned and you will be assigned where most needed. Thank you!
---
VOLUNTEER BENEFITS
Free Day Pass
Have fun for a good cause
Enjoy 4th of July Fireworks
Make new friends
Opportunities to see art
Rock 'n Rewind: The Music of Janis Joplin and Grace Slick on Juky 4th
---
JOB CATEGORIES
PRE-EVENT SETUP: Wednesday, July 4th and Thursday, July 5th
GARDEN SETUP: Thursday, July 5th
GARDEN SALES: Assist Coordinator with Sales
INFORMATION BOOTH: Festival/MKAC Info
ARTISTS' HOSPITALITY: Serve Artists
VOLUNTEER BOOTH: Greet & Instruct Volunteers
BOOTH SITTING: Artist Relief and Sales
FOOD COURT: Bus Tables & Keep Area Clean
YOUTH ART ARENA: Assist Kids with Activities
SITE CREW: Assist the Site Manager
SANITATION: Trash Control & Recycling
PERIMETER/FENCE SITTING: Security Assistance
FLOATERS: Any Area Needed
TAKE DOWN: Monday, July 9th
---
For questions please contact the Maude Kerns Art Center staff by email at staff@mkartcenter.org, by phone at 541-345-1571, or in person at 1910 East 15th Avenue, Eugene, OR 97401.
Special thank you to our sponsors:
TITLE SPONSOR •
• 2018 PRESENTING SPONSOR •
• 2018 PRESENTING SPONSOR •
• FESTIVAL PARTNERS •


Photography by Ben Davis and Patrick Plaia.