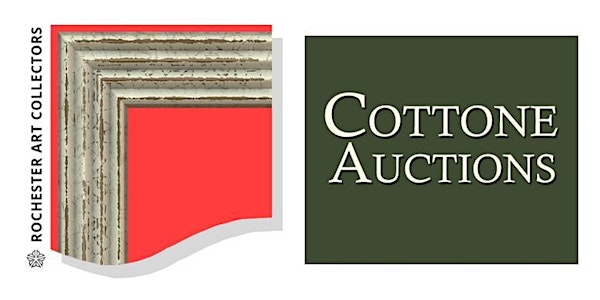 Art And Antiques At Auction: The Inside Scoop | Cottone Auctions | FREE
Visit Cottone Auctions in Geneseo to see art offered for sale by auction. Learn about auctions from the auction house owner & a collector.
When and where
Location
Cottone Auctions 120 Court Street Geneseo, NY 14454
About this event
Art And Antiques At Auction: The Inside Scoop
Rochester Art Collectors is collaborating with Cottone Auctions in Geneseo, NY and Nick Zumbulyadis to provide attendees with an opportunity to learn how auctions work from the point of view of the auction house as well as from an experienced and avid collector.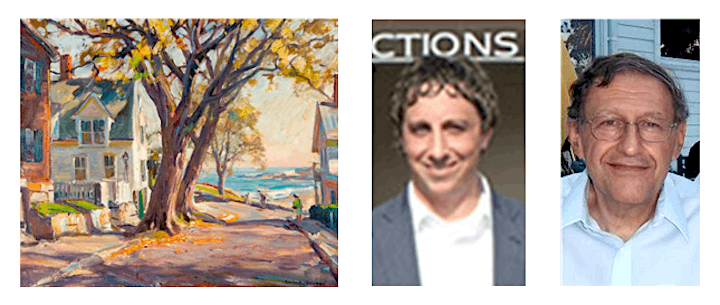 Program Details & Schedule
2:00 pm - 2:30 pm
Guests are invited to travel to Cottone Auctions (120 Court Street, Geneseo, NY 14454) to preview the entire contents of a public auction scheduled to take place on November 2, 2022. You will see all the objects for sale in person. Objects include paintings & prints, decorative arts, lamps, art Glass, estate jewelry and silver, oriental rugs, collection of Native American items, Americana.
The first 30 minutes will be more of a social mixer. During this time you will have a chance to see the works for sale. Chat with friends and other collectors. Meet our presenters, Nick Zumbulyadis and Matt Cottone, informally.
2:30 pm - 3:30 pm
Rome Celli from Rochester Art Collectors will welcome attendees and introduce our panelists: Matt Cottone of Cottone Auctions and notable local collector, Nick Zumbulyadis.
Mr. Cottone will talk about the history of Cottone Auctions; how Cottone works with clients; and, of course, how Cottone and other auction houses conduct their auctions including navigating the CottoneAuctions.com website, bidding online and bidding in person.
Mr. Zumbulyadis will talk about his many experiences buying art at auctions including some helpful tips and insights into the buying desired objects at auction.
General Q & A will follow the presentation.
3:30 pm - 4:00 pm
Take one more look at the works for sale. Check in with Matt Cottone & Nick Zumbulyadis with any additional questions.
=====
This program is FREE. Advance registration here on eventbrite.com is required. You do not have to be a member of Rochester Art Collectors or register at Cottone Auctions to participate at this program. However, if you wish to bid on any of the items during the auction on November 2nd, you will have to register at Cottone Auctions in advance.
About Cottone Auctions:
With average sales between $1 million and $2.5 million, their typical offerings include Fine Jewelry, Asian Art, Modern Design, American & European Paintings, Decorative Items, Americana, Native American, Oriental Rugs, and more. Cottone is your gateway to the international art market through live internet and unlimited phone bidding.
Cottone Auctions strives to provide welcoming personal service with outstanding final results. They are proud to work with private individuals, estates, museums, and institutions across the United States and all over the world. If you represent a museum, have a private collection, or are deaccessioning a single time or an estate, contact us today to learn more about how to consign. View their Prices Realized and see the quality property they bring to the marketplace.
Cottone Auctions offers free auction valuations for single items, collections, or entire estates. Visit their Appraisal and Consignment pages to learn more about their process, or contact them directly with any questions.
About Nick Zumbulyadis:
Mr. Zumbulyadis is a retired scientist who lives in Rochester and has successfully purchased works at auction over the years. He has also published art-historical and scientific research on several works from his collection in peer-reviewed journals.