Art All Night - presented by The Martin Luther King Jr. Memorial Library
ART ALL NIGHT - DC's free overnight arts festival is back in person and DC Public Library will be a part of it!
About this event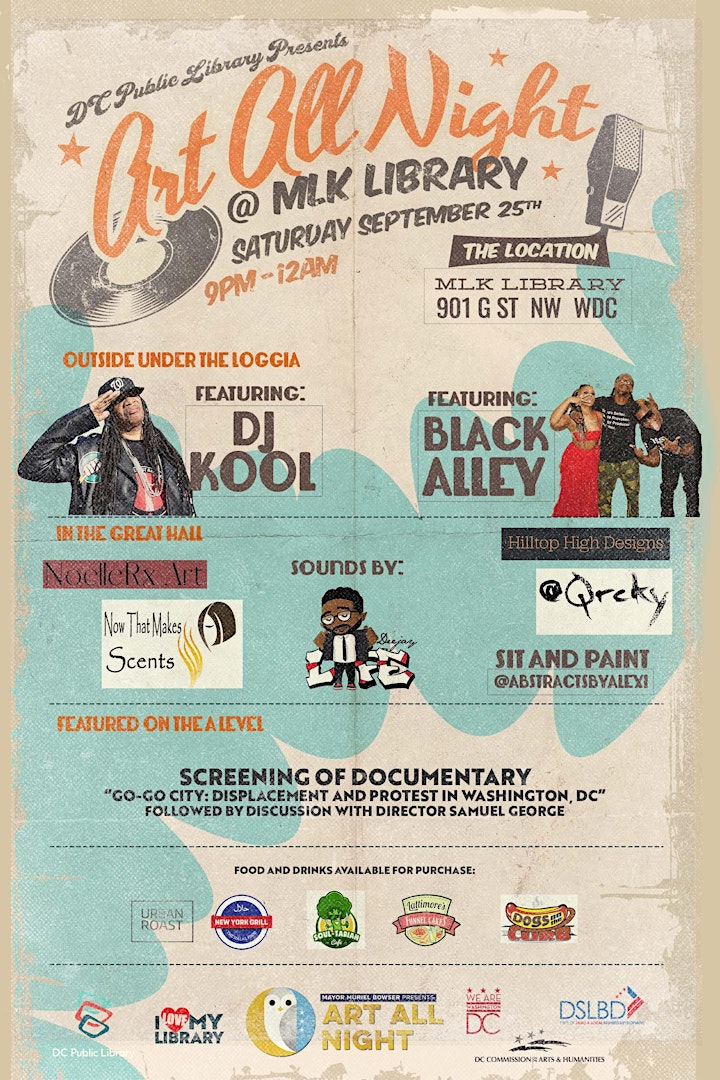 The festivities at Martin Luther King Jr. Memorial Library will take place from 9 p.m. – Midnight. All events will be on Saturday, Sept. 25. Highlights of the event at MLK:
9 p.m. - Midnight
Great Hall | First Floor The People's Lounge
Artist's Lounge with Deejay LIFE, artist displays and Open Mic poetry performances. Experience and create art in our interactive artists studio with Deejay LIFE providing the soundtrack, a Sit & Paint Workshop by @abstractsbyalexi, artwork by NoelleRx Art, a poetry open mic, and candles by Now That Makes Scents.
9 p.m.
The Labs | A Level Go-Go City: Displacement & Protest in Washington, D.C. Go-Go City Screening & Discussion
Watch the critically acclaimed documentary Go-Go City followed by a discussion with filmmaker Sam George and musician Ricky "Rocksteady" Brown who is featured in the film.
9:45 p.m. & 10:45 p.m.
Main Stage | Outdoor Loggia - DJ Kool | Black Alley
Outdoor Concert featuring two of DC's Own: DJ Kool will hit the stage at 9 p.m. and to help you dance your way home, Black Alley will headline the evening starting at 10:45 p.m.
Masks are required as part of the District's mandate while inside the building.
About Art All Night
DC Art All Night will take place from 7 p.m. to 3 a.m. the following morning on two nights—Sept. 24 and 25. The festival will take place in sixteen (16) neighborhoods with different activations on each night, bringing visual and performing arts, including painting, photography, sculpture, crafts, fashion, music, dance, theater, film, and poetry, to indoor and outdoor public and private spaces, including local businesses and restaurants.
The festival is presented by Mayor Muriel Bowser and in partnership with participating Main Streets and Business Improvement Districts, with support from the DC Commission on the Arts & Humanities (DCCAH) and the DC Department of Small and Local Business Development (DSLBD).
Organizer of Art All Night - presented by The Martin Luther King Jr. Memorial Library