Description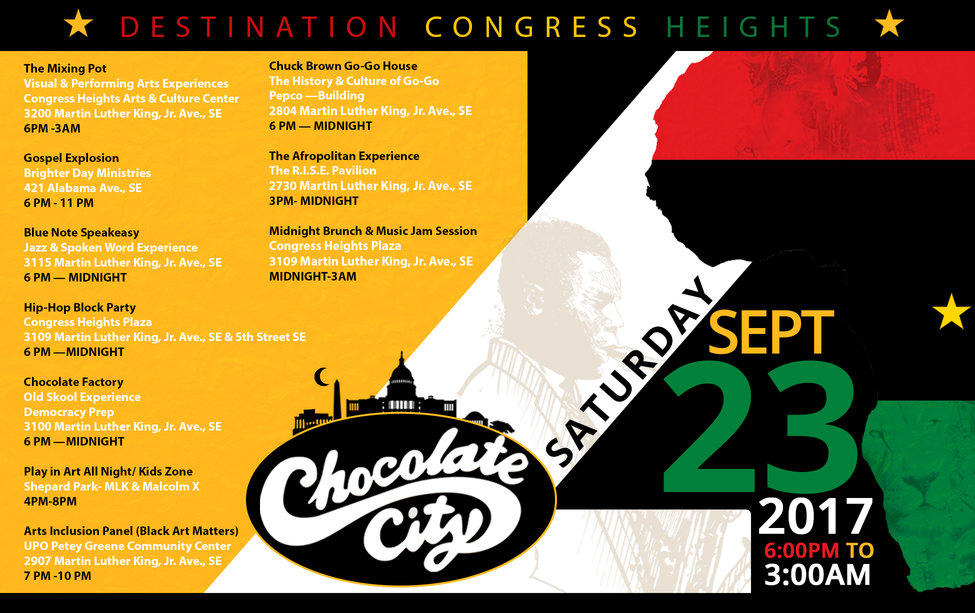 ---
Destination Congress Heights in Collaboration with DSBLD invites you and your family to Art All Night Made In D.C - The Chocolate City Edition. Drive, walk, ride, hop or skip to the Congress Heights neighborhood which is east of the Anacostia River to experience all forms of visual and performing arts; aiming to take you on a journey across the African-American Diaspora in the District Of Columbia.
There will be Nine (9) main venues with five (5) other artfully activated outdoor venues, featuring some of our local small businesses and vendors along with our Congress Heights Main Street corridor.
Destination Congress Heights, The Chocolate City Edition of Art All Night highlights the history and future of Gospel, Blues, Jazz, R&B (Old and New Skool), Rap, Hip-Hop, Go-Go, Reggae, Soca, Latin, Cuban, and Afro-Beats through several musically driven venues.
On September 23rd, 2017 the Congress Heights Chocolate neighborhood will come alive, so you better be here.
Public Notice:
For all our patrons, staff, dedicated community volunteers and sponsors; Destination Congress Heights would like to say thank you as we anticipate this spectacular event.
For Our Patrons please pay special attention to this event guide which will maximize your fun and safety:
1. All participating Art All Night venues will be highlighted by colorful up-lights at the main entrances.
2. There are two Information booths/ Check-in locations for this event. Click the thumbnail below for more information on our check-in locations.
3. On-Street parking will be available; however, pay close attention to parking signs.
4. Do not drink and drive - Drive carefully and look out for pedestrians- young, old, big and small.
5. Utilize public transportation - Nearest metro stop is the Congress Heights Metro. DCH will provide Shuttle bus services to and from the main check-in location at 15 - 20min intervals.
6. Bring your most positive vibe.

Destination Congress Heights is a community where people live, work, worship, shop, and play. On this eventful day, we will be promoting safe and organized entertainment.
What to expect here?
Make either one of these locations your first pit stop on your way to a fun-filled evening. Here, you will receive a special glow in the dark wristband signaling that you have checked-in at one of the check-in points highlighted below. You will also receive a map of the corridor and a brochure/Tri-fold with much more details about each venue.
Chocolate City Check-in No. 1 – Main Check-in Point

Address: Intersection of Alabama Avenue SE and Martin Luther King Jr. Ave., SE
Chocolate City Check-in No. 2
Address: Intersection of Martin Luther King Jr. Ave., SE and Lebaum St SE