Art After Dark Chicago is a creative artists after-hours event which features an array of art genres.
About this Event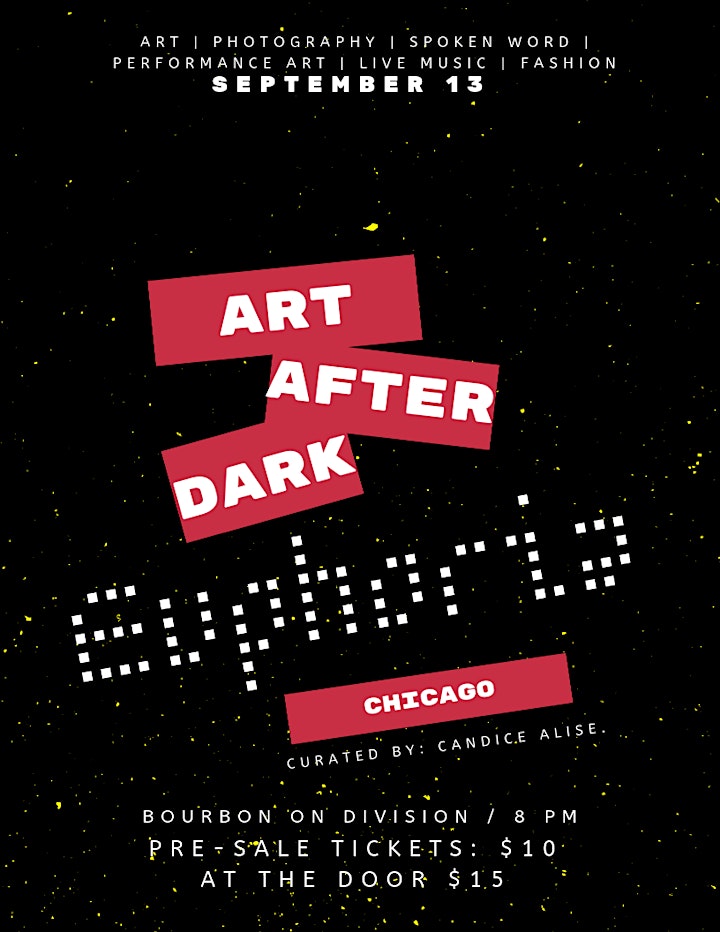 A place where creativity flourishes, while enjoying your favorite beverage. These events feature art, photography, spoken word, live music, performance art, food, drinks (bar) and chill vibes all around!
Whether coming alone or with friends - Join Us - These events are a way for local artists to share their work with the community, and for visitors to have the opportunity to appreciate and enjoy the work of inspiring artists. x Cheers!
Euphoria: euphoria[​ yoo-​fawr​-ee-​uh,​ -​fohr​- ]noun
a state of intense happiness and self-confidence:
Psychology​. a feeling of happiness, confidence, or well-being sometimes exaggerated in pathological states as mania.
MC & Host:
Ray Williams from The Microphone Misfitz
Art:
- Hollie Davis
- Alice Perez
- Hnuh_57
- Keyana Scott
Photography:
-Shauna Regan
-Maalik Falsetto
Fashion:
-Sara Aviva
Spoken Word:
-Selahadin Hashim
-Armondo Bouie
Live Music Acts
Galxia
Zoha
Rhymstr
Chemical Ghost
Mic Terror
Jess The Savior
Deloney
Dance:
Gargi Bandyopadhyay
Keisha Bennett
DJ's
Nick & David's Infinite Playlist