Description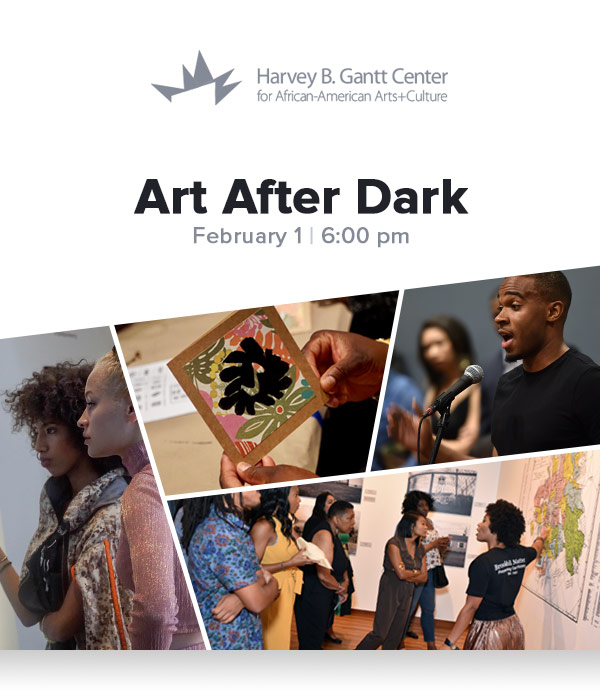 Art. Cocktails. Conversation.
Join us on Friday, February 1st for Art After Dark, an evening of music, conversation and creative expression. Our doors will be open late, so come enjoy the art for free. Join us as we celebrate our common humanity through the arts.
*Ages 18+ | Visit ganttcenter.org for artist bios.

6pm - 10pm | Galleries Open. Guided art tours on the hour.
6pm - 10pm | 'For The Culture" Hands On Art
Kick off Black History Month by created your own ALBUM COVERS & MAGAZINE COVERS inspired by the work of contemporary artist Mickalene Thomas. Bring your favorite photographs to incorporate into the work.
6:30pm The Art of Our Stories w/ Dasan Ahanu
As Black writers, we walk in a long tradition of wordsmiths who seek to use their verse as representations of Black life. Poets such as Paul Laurence Dunbar, Zora Neale Hurston, Yusef Komunyakaa, and Audre Lorde have eloquently captured our beauty and struggle in their work. What does it mean to tell these stories? What is at stake if we don't? This performance will be a poetic journey through the craft and significance of Black storytelling.
7:30pm - 9:30pm | R&B Trivia and Musical Family Tree w/ Stephanye Woods
Rhythm & Bodyroll is the basement house party of your golden years. It's where the R&B bred+fed and newcomers congregate in honor of supreme vocal stylings and melodic baselines that get you bankhead bouncin' in slow-mo. Besides an evening of solid jams, you also get to flex your R&B knowledge, where the winning team takes home the sacred gold Charlie Wilson fedora. …and by gold Charlie Wilson fedora, we mean exciting prizes! We've been getting down and dirty every second Monday at Trophy Bar in Brooklyn, NY since 2014.
Musical Family Tree
Lineage is integral to the history of Black music in this country. In this workshop, we'll be creating family trees as a visual representation of these throughlines. Scott Joplin begat Nina Simone who begat Benjamin Clementine. Join us as we discover the musicians that not only inspired, but birthed your faves. Check out the family tree Stephanye Watts built during Black History Month 2017 on her podcast The Psyce.
8:30pm | Ted Talks and Chill
What is Black Art? Who are the gatekeepers of the Culture? Watch, Listen, React to short in this clips and conversation session.
9pm - 10pm | Performance: Excerpts from Black Love is Revolutionary Artists: Cedric Umoja + Roni Nicole Henderson
Excerpts from Black Love is Revolutionary is a preview of an interactive performance being developed by Roni Nicole Henderson and Cedric Umoja. This performance will engage the audience in movements meant to challenge the historically violent undertones of revolution by re-centering black love as an elemental aspect of change-making. Participants will have an opportunity to share feedback regarding the performance and help in the development of the final piece.
Musical soundtrack for the evening provided by The StereoTypez.
Visit ganttcenter.org for artist bios.
Parking Information
Discounted parking for the Harvey B. Gantt Center is available in the Duke Energy/Levine Center for the Arts parking garage located at 101 W. Stonewall Street and in The Green parking garage located at 454 S. College Street.