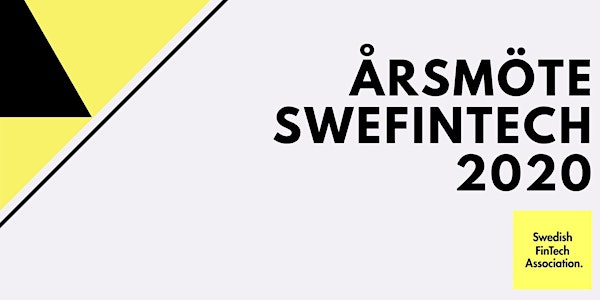 Årsmöte SweFinTech 2020
Alla medlemsbolag i SweFinTech välkomnas till SweFinTechs årsmöte 2020 för att vara med och besluta över föreningens verksamhet kommande år.
By Swedish FinTech Association
Date and time
Wednesday, February 19, 2020 · 5:30 - 8pm CET
Location
Nasdaq Stockholm 15 Tullvaktsvägen 105 78 Östermalm Sweden
About this event
Välkomna på årsmöte för SweFinTech.
Den 19e februari bjuder vi in alla våra medlemsbolag att delta i årsmötet som detta år äger rum i Frihamnen i Stockholm i Nasdaqs lokaler. Alla företag som är medlemmar har möjlighet att skicka en eller flera representanter.
Under årsmötet kommer beslut tas om verksamheten det kommande året, ny styrelse ska väljas och en ny ordförande för föreningen ska utses. Under kvällen får vi besök av två utomstående gäster, först börjar vi kvällen med en Q&A med Finansborgarrådet i Stockholm Anna König Jerlmyr och hennes syn på hur Stockholm kan bli än mer en fintech-stad. Lite senare under kvällen får vi besök av Malin Omberg som är chef för konsumentskydd på Finansinspektionen som kommer berätta mer om hennes och Finansinspektionens arbete.
Kom och lyssna på verksamheten vi har haft under 2019 och ge inspel på hur ditt bolag vill att verksamheten ska utvecklas under 2020. Alla medlemsbolag har en röst. OBS endast representanter från medlemsbolagen får komma på årsmötet!
17.30: Registrering och mingel
18.00: Årsmöte startar
18.05 - 18.20: Finansborgarråd Anna König Jerlmyr talar
18:20: Mötesförhandlingar startar
19.00: Malin Omberg - Finansinspektionen talar
19.30: Mötesförhandlingar återupptas
20.00 - 20.30: Avslut och mingel
About the organizer
Swedish Financial Technology Association, shortened SweFinTech, is an independent, non-profit association for companies and individuals that act within the Swedish Financial Technology area.
The purpose of the association is to in all possible ways ensure a well functioning FinTech market in Sweden, by initiating meetings and cooperation with relevant government officials, authorities, agency, politicians and other business organizations. SweFinTech will also take part in governmental hearings and investigations as well as act as a referral body for public inquiries.