Arsenal Easter Jam

Thursday, April 2, 2015 at 7:00 PM

-

Sunday, April 5, 2015 at 10:00 PM (CEST)
Event Details
Arsenal Easter Jam 2015
2nd-5th of April
It's happening! Easter Jam is finally here!
So get ready to fire up those game-engines!
This gamejam is open for everyone - seasoned gamejam veterans, as well as newcomers to the game development scene. This is the place where students, amateurs and professionals can meet, make weird games, and hang out.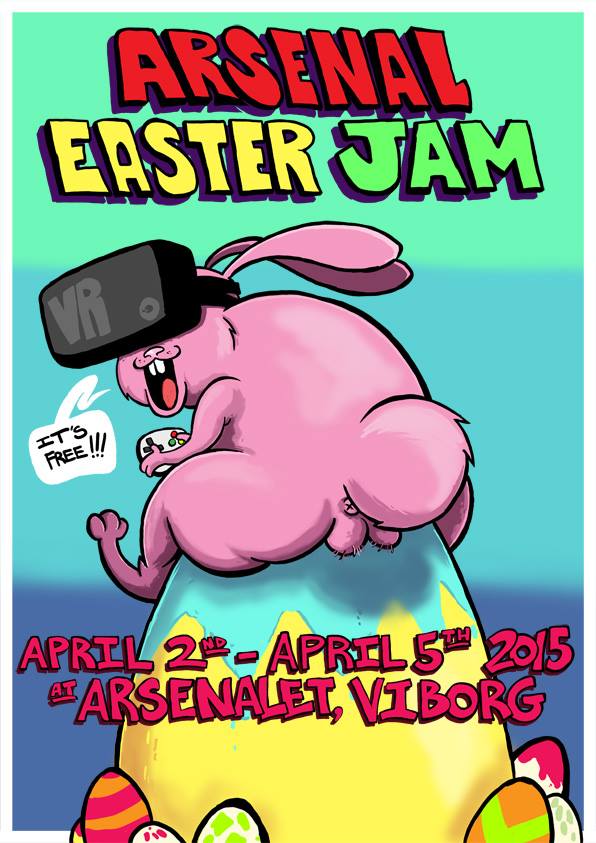 Features:
- 4-days of gamejam
- 100% free to join
- Infinite free coffee!
- Open Mic session (if you want to give a talk, get in touch with us by sending an email to emkj@via.dk)
- Retro arcade tournaments (N64, Gamecube and more)
- Access to showers
Location:
Arsenalet, Kasernevej 8, 8800 Viborg, Denmark
Program: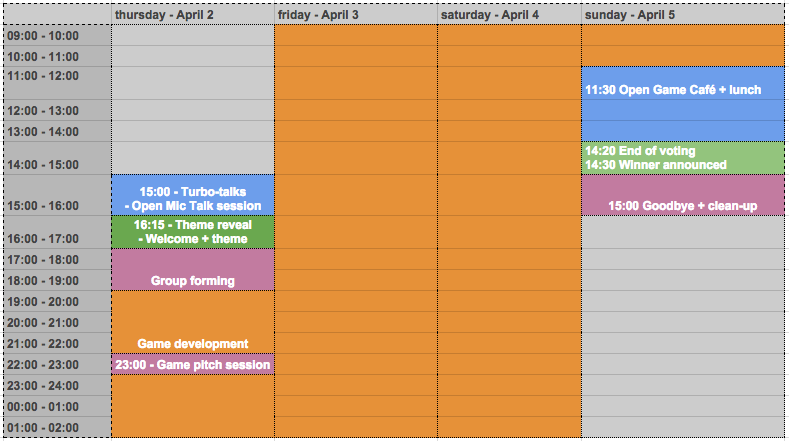 Get tickets below - and let your friends know!
Also - tell your friends that you're signing up, and help us spread the word by joining the Facebook Event as well!
https://www.facebook.com/events/1617541605148963/
FAQ:
Q: Is it really free?
A: Yup! Thanks to our sponsors and partners, you don't have to pay anything.
Q: What about food?
A: There's a lot of food-places nearby, and as a gamejam participant you'll also have access to a kitchen where you can cook your own food. We'll make sure that there's a steady supply of healthy (and unhealthy) snacks throughout the jam!
Q: Where do we sleep?
A: Sleep? Okay, if you really need it, you can crash at the top floor of Arsenalet. Remember to bring your own mattress and sleeping bag though.
Q: What should I bring?
A: 
1: Your computer, with a few game-engines and tools installed already - if everyone tries to download all at once it'll put a lot of pressure on the wifi-connection.
2: Personal hygiene stuff - shampoo, deodarant, toothbrush.
3: Game controllers, and other random things that you think you might be able to use to create a game.
When & Where

Kasernevej 8
8 Kasernevej
8800 Viborg
Denmark


Thursday, April 2, 2015 at 7:00 PM

-

Sunday, April 5, 2015 at 10:00 PM (CEST)
Add to my calendar
Organizer
We've been making gamejams every year since 2007 across Denmark.
100% powered by volunteers and love.