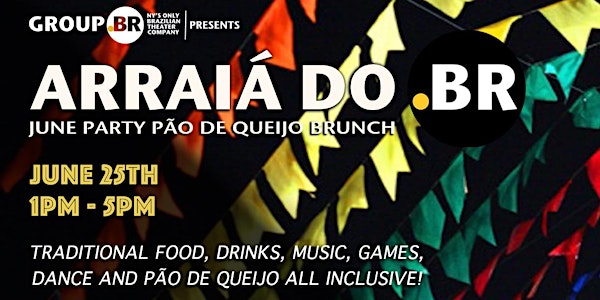 Arraia do .BR - June Party Pão de Queijo Brunch
When and where
Location
34 N 7th Street #3W Brooklyn, NY 11249
Refund Policy
Contact the organizer to request a refund.
Description
"ARRAIÁ do .BR"
June Party Pão de Queijo Brunch
It's time for another Pão de Queijo Brunch and for this next one we are celebrating Brazilian June festivities, or as we call it "Festa Junina". You can expect a lot of traditional food, drinks, music, games, dance and, of course, pão de queijo (cheese bread).

Feel like dressing up? Pull off your best jeca/caipira costume! Not mandatory but highly recommend it for extra fun. Oh, one mandatory thing: bring your inner child!

This is a small and exclusive house party and tickets are very limited, we recommend guaranteeing yours now!
June 25h, 2017
1PM - 5PM
Tickets start at $30
(prices are available on a first come, first served basis)
Food and drinks all inclusive. Get tickets now!
---
KNOW MORE
Festas Juninas are the annual Brazilian celebrations historically related to European Midsummer that place in the beginning of the Brazilian winter. These festivities, which were introduced by the Portuguese during the colonial period (1500-1822), are celebrated during the month of June nationwide both in Brazil and Portugal. It usually takes place in an arraial, a huge tent made of raw material (with a thatched roof) that was reserved for special parties in old rural areas. Men dress up as farm boys with large straw hats and women wear pigtails, freckles, painted gap teeth and red-checkered dresses, all in a loving tribute to the origins of Brazilian country music, and of themselves.