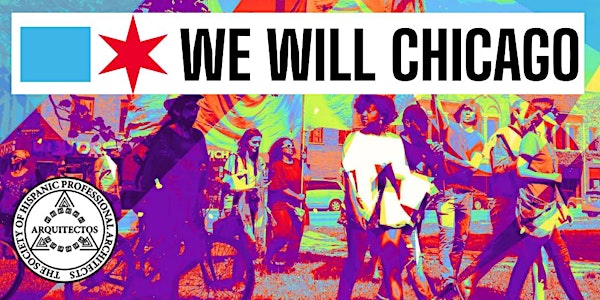 Arquitectos GBM + ✶ We Will Chicago - Community Engagement Event 2✶
You are invited to attend a meeting hosted by Arquitectos, Inc. intended to serve the City of Chicago work on the "We Will Chicago" Plan.
About this event
During this online event we will host our traditional General Body Meeting, intended to serve as an introduction to the newly appointed Executive Board of Arquitectos.
Plus an informational conversation of the process surrounding the City-wide Plan known as We Will Chicago.
"We Will Chicago" is a new citywide planning initiative under Mayor Lori E. Lightfoot that will encourage neighborhood growth and vibrancy while addressing social and economic inequities. Your participation will help promote the goals of using meaningful and inclusive engagement to shape the plan. The conversation will be focused on the pillar of Transportation and Infrastructure, with your citizen hat on, we hope to have a diverse conversation and capture your expertise and your input as it relates to the future living of the city.
Arquitectos and City staff want to hear from its residents on what matters most to us so that we can keep our city thriving.
We look forward to hearing from you!
For more information about the process, please visit www.wewillchicago.com
For more information about Arquitectos, please visit www.arquitectosinc.org