Description
dōTERRA® CPTG Certified Pure Therapeutic Grade® essential oils have been recognized as the most therapeutic oils in the world and play a leading role in positive health choices. Join us for an all-day, hands-on training to learn the clinical approach to essential oil application combined with the power of touch!
We are excited for you to experience the AromaTouch technique personally as well as receiving instruction and gaining confidence in it's application and use. This training is a perfect gift for yourself or others (birthday, graduation, bride or groom to be). You will leave with skills to promote wellness in the lives of those you love using this powerful technique. Aromatouch has so many benefits for both the giver and the receiver!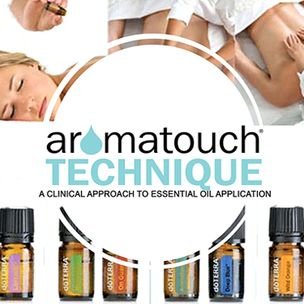 *Dress Comfortably

*Please bring the following:
A robe, zipper jacket, or large shirt that can be turned around and buttoned up the back for modesty while recieving
A small blanket in case its chilly
Plenty of drinking water
A packed meal (and snacks if needed)
Notebook and pen to take notes
*Plan a minimum of 6 hours to complete your training and certification.
EVENT AGENDA The ArōmaTouch® Certification Training will go from 9 am - 3:30 pm. Classroom instruction will go for 3 hours, followed by the 3 hr hands on training after lunch break. You will be able to experience the ArōmaTouch® Technique by giving one, receiving one, and watching one. You will leave feeling educated and empowered with the technique.
* The Registration fee of $149 is set by doTERRA and includes a special AromaTouch Technique Training Kit, AromaTouch Manual and full AromaTouch Technique demonstration video online. The kit incudes the eight oils used in the technique. This special event kit does not include Fractionated Coconut Oil. If you would like to bring your own FCO, please feel free to do so.
After registering for your ticket, you will receive specific communication to help you be fully prepared for the training.
* After completing the training, you will be required to perform a minimum of three AromaTouch Techniques to help solidify the technique. You will then receive your official Certificate of Completion directly from doTERRA.
We are looking forward to meeting you and enjoying a day of AromaTouch with you! Please contact us at oilingforlife@gmail.com with any further questions.