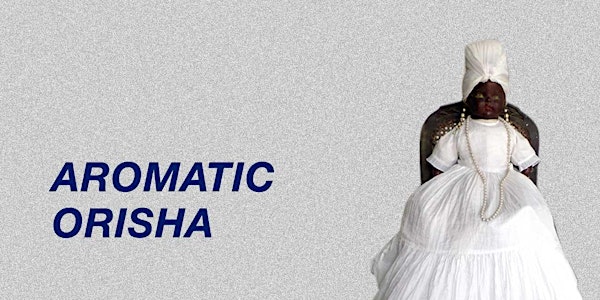 Aromatic Orishas, Part 2: Scent Practices
Perfumer Lakenda Wallace details scent practices relating the Orishas in the second part of her two part series.
Refund Policy
Contact the organizer to request a refund.
Eventbrite's fee is nonrefundable.
About this event
Developed in Benin and Nigeria, the Orisha traditions remain the oldest non-interrupted nature-based religion. The belief system of the Orishas is as varied as the number of stops for slaves along the Diaspora. But the basis of the religion and its traditions remain surprisingly constant.
In this online talk, perfumer Lakenda Wallace will expand upon her first talk, leveraging the patakis — the stories of the Orisha — to explore specific instances of scent within the tradition, including important expressions of belief such as spiritual cleansing, sacrifice and offerings. Pulling from the traditions of Ifa, Candomblé, Santeria, and Umbanda, as well as Low Country Hoodoo and Louisiana Voodoo, Lakenda will share how nature is used magically by practitioners to bless, cleanse, and affect the outcome of situations.
The class will cover:
+ A selection of patakis relating to the individual Orishas
+ Breakdown of herb lore and aromatic associations within the tradition
+ Discuss conjure medicine, mojo bags, and spiritual baths uses within the tradition
+ Some recipes will be made available to participants
This talk takes place on Zoom and will be recorded. We will share the video for the workshop with registered participants for 3 days after it takes place.
ABOUT LAKENDA WALLACE
Lakenda Wallace is the founder, owner and alchemist at Modern Peasant.
Modern Peasant is a 100% natural (organic wherever possible), handcrafted, indie brand. Bringing the aromas of the garden to you, Modern Peasant strives to recreate the grandeur of iconic fragrances in all-natural forms. Modern Peasant's mission is to cultivate beauty in our every day lives. Whether that be by scenting the world around us or perfuming ourselves, our desire is to help enhance everyone's natural beauty-- inside and out.
With 20+ years of experience crafting scent for personal care and home products. Lakenda's love of useful plants drives her to find the herbs & flowers that smell delicious and are beneficial to mind and body. Enjoy your journey through the garden.
--
ATTENDANCE AND REFUND POLICY
This is an online class that will take place on Zoom. The Zoom link will be sent by email approximately 24 hours before the class. Lest this email end up in your spam folder, please be sure to add hello@artandolfaction.com and noreply@order.eventbrite.com to your address book.
+ Event times are listed in Pacific Time (PDT); please use a time converter for your local start time.
+ Please download and install Zoom before the class starts, to avoid last minute technical issues.
+ Learn more about how we teach and our community guidelines here: https://artandolfaction.com/newcomers/.
+ We will upload the class recording after session, and share it for 3 days with attendees. This video is view-only, and expires at the end of the 3 day window.
+ We will send you a list of materials and teaching formulas upon signup, as part of your Eventbrite confirmation of registration.
+ Unfortunately, we cannot offer refunds or credit for this class. Note also that event tickets are non-transferable.
Photo credits: Ji-Elle (Wikipedia)