The Local Street Market is BACK... in Smyrna
About this event
Recreate Smyrna presents the 2021 Smyrna Handmade Market. This year's market will take place on Sundays from 11:00-3:00 p.m., and is located at 1265 W Spring St, Smyrna. located between King St and Atlanta Rd (behind the fountain). The market season will run through Sunday, October 17.
The Market will feature farmers and makers, as well as some featured small, local businesses. On a typical Market day we will have between 25-30 vendors set up offering their best vegetables, fruits, baked goods and specialty items.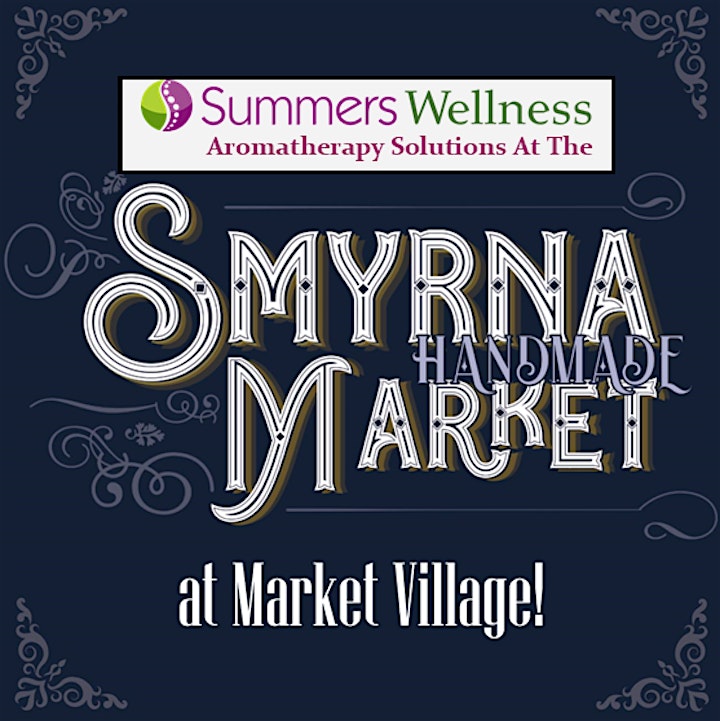 SummersWellness is honored to have been invited back to be a part of the new Smyrna Handmade Market for the 2021season. After the struggles we all went through last year, it is refreshing to have these markets returning and offering small, local businesses the opportunity to present their goods, interact with the public, form lasting relationships, and, most importantly, REBOUND from the most challenging year many of us have ever faced in business.
As a "maker's market", SummersWellness will be featuring the products we create with our #EssentialOils. For your convenience, we take Cash, Credit, Venmo, & Cashapp
Personal aromatherapy inhalers (if you have never tried these... you are in for a treat!)
Inhaler / Roller combo kits
Therapeutic bath soaks
Personal / Linen sprays
Hand sanitizer spray
Mask sanitizer spray
Custom curated essential oil blends
Aromatherapy diffusers
Aromatherapy books / guides / education supplies
More products to be added throughout the season
CUSTOM ORDERS / SPECIAL ORDERS always available
You will be BLOWN AWAY when you sample and purchase what we have for you at the market each week...and don't be surprised when we ask, "WHAT THE HEALTH IS WRONG WITH YOU?"
We are always sharing safe, effective usage tips for essential oils. We would love to have you follow us and join the SummersWellness Community: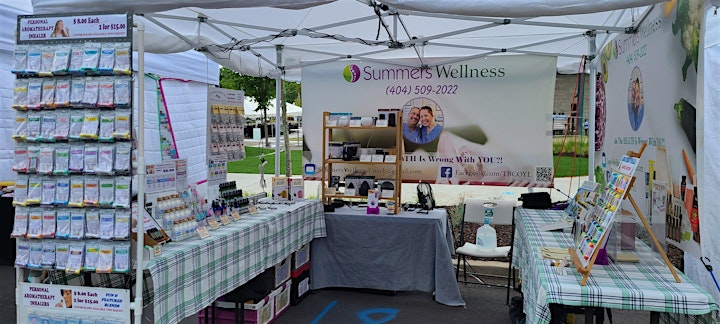 Wanna join the 2021 market?
Interested vendors may contact smyrnahandmademarket@smyrnaga.gov for more information on vendor applications and scheduling.
Organizer of Aromatherapy at the Smyrna Market
Summers Wellness
is the husband and wife team of
Evan
&
Jennifer
Summers. We are Holistic Aromatherapists, focused on helping to support the body's natural ability to heal itself through natural means. After far too many years struggling with chronic pain and illness, suffering with the endless side effects of modern medicine with no relief, and frustrated with impersonal, revolving-door relationships with our doctors, we decided it was time to seek healthier options. In the midst of our lifestyle change, we discovered
doTERRA essential oils
. Within a year of consistent use, we successfully managed to wean ourselves off of
every medication
we were tethered to for so many years and now we are on a mission to share our experience and help others achieve better health. With so many people struggling with their own health every single day, we want to be here to help… through education and understanding. It is our desire to empower everyone to become "The healer in the home" and that is why we begin every consultation with the same question, "
What the HEALTH is wrong with you?
"What is a "Holistic Aromatherapist"?
A holistic aromatherapist takes a whole-body view to support natural healing. While essential oils are the cornerstone of our business, we broaden our education to the impact of diet, mindset, essential oils, supplements, and more, as part of the total picture of a healthy lifestyle.
How are you different than other essential oils reps?
When we began our business, we wanted a theme that would define us- something that we knew would keep us grounded, regardless of our success. Together, we came up with, "

What The Health Is Wrong With You?"

, and that has been the primary focus of our business. We put YOU first. We consult with you, one-on-one, to learn YOUR health priorities, and together, we create an action plan to address YOUR needs.

Bottom line, we care more about helping you and your health than we do about selling you product.