Description
For more than forty years, Dawoud Bey (b. 1953) has portrayed Americans from marginalized groups with remarkable sensitivity and complexity. Bey has taught photography at Columbia College Chicago since 1998 after earning his MFA from Yale School of Art. Upon being named a MacArthur Fellow in 2017, Bey spoke of the sense of social responsibility driving his art: "I believe that if I can make work that begins to transcend difference while locating a common humanity that we all share, a radical reshaping of the world is possible, one person at a time."
When he was eleven, Bey was shocked to see a picture of a young survivor of the 1963 Ku Klux Klan bombing of the 16th Street Baptist Church in Birmingham, Alabama. Four young black girls died in the church and two African American boys were murdered in related violence later that day. Decades later for The Birmingham Project (2012–2013), Bey created sixteen pairs of life-size portraits of present-day residents of Birmingham: one of a young person the same age as a victim in 1963 and another of an adult fifty years older, the child's age had she or he survived. Representing these unwitting icons of the civil rights movement with ordinary people, the diptychs connect generations and, as Bey explained, make the children "real, tangible. These girls are an abstraction to people—the mythic four girls—we lose sight of their humanity." His series, which includes a single-channel video with sound, 9.15.63, also raises broader questions about how to visualize loss and memory in photography and film.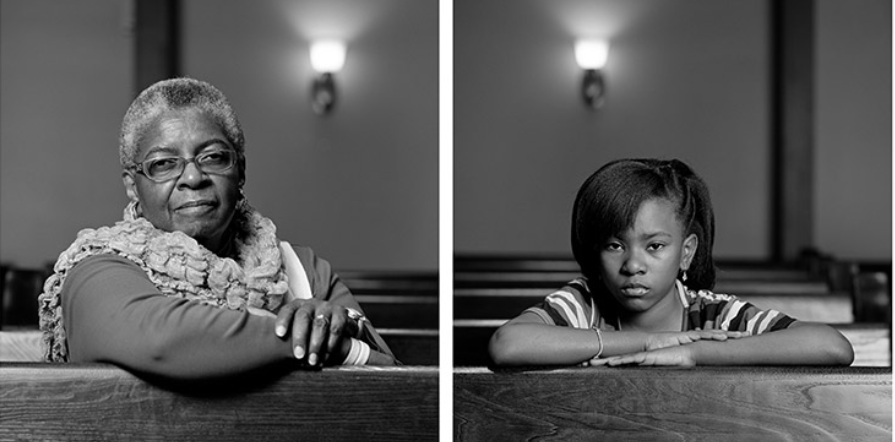 His work is represented in the Gallery's collection by four inkjet print diptychs and the video, 9.15.63, which are on view in the exhibition Dawoud Bey: The Birmingham Project through March 24, 2019. A short film featuring a new interview with Bey will run continuously in the West Building Project Room while the exhibition is on view.
A signing of Bey's monograph, Seeing Deeply, follows.
Image Credits: Dawoud Bey. Photo by Whitten Sabbatini, 2018; Dawoud Bey, Mary Parker and Caela Cowan, 2012, 2 inkjet prints mounted to dibond, overall: 101.6 x 162.56 cm (40 x 64 in.), National Gallery of Art, Washington, Gift of the Collectors Committee and the Alfred H. Moses and Fern M. Schad Fund.