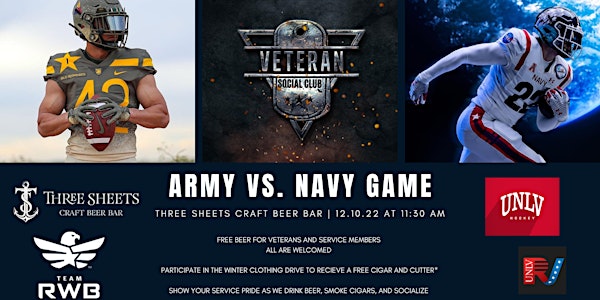 Army vs. Navy Game Watch Party
America's football game, free beer, free cigar, and socialize with other veterans!
When and where
Location
Three Sheets Craft Beer Bar 1115 South Casino Center Boulevard Las Vegas, NV 89104
About this event
Join us for America's football game, Army vs. Navy!
The Game
Thank you to our hosts, Three Sheets Craft Beer Bar. Doors open at 11:30am, kickoff is at noon. All **21+ only** are welcome. FREE beer for veterans and military service members. FREE food! Mark Gorodetzer of Rec Therapy BBQ will be the grill master. Side dishes are welcomed!
Giving back
Participate in our winter clothing drive for Veterans in-need. Bring any of the following to receive a free cigar or cutter. Stay to enjoy the cigar on the patio of Three Sheets.
Drive Items:
Gently used winter coats/jackets, new underwear, new socks, gently used backpacks, gloves, ear covers, etc...
Enjoy
Show your service pride, sit back, enjoy a cigar, beer, and socialize with fellow Veterans! Hope to see you there!
Who We Are and Why:
We are 100% Organic, free-trade, ethically-sourced veterans. We provide the finest quality, nationally grown, robust veterans, locally nurtured from seeds of freedom. We are beer, wine, whiskey, cigar, golf, rucksackin, and double-timin' group of veterans with social problems. If you have any issues with these, we are here to support you, not exclude you! The VSC's culture seeks to go beyond military service by creating a casual and friendly environment for Veterans to engage, laugh, and reflect on their service. . Providing an avenue for honest military talk, camaraderie, and positive reflection on one's military service, while recognizing that the path forward is the focus.
How We Do:
Through the coordination of our various volunteer ambassadors, once a month members will gather at local supportive establishments that understand providing our veterans with a place to congregate, be social, experience that feeling of camaraderie, and bond enhances our community and will lead to increased volunteer efforts and an increased willingness to improve the veteran outlook. We aim to help each veteran succeed mentally and emotionally, by positively contributing to the mental health and physical well being of our fellow brothers and sisters.
VSC is strictly focused on the various social aspects of veterans and military members. There will be an area for veteran-owned businesses to leave their business card or swag, but we are here for the camaraderie, not to be propositioned to by persons or companies looking to sell goods and services to Veterans or military members. . When a member leaves a business card on our "Operational Command Board" that is where business stops and veteran engagement begins. In order for all veterans to enjoy themselves, trust the Board, then be a battle buddy, a swim buddy, a crayon eater, a puddle pirate or a desk pilot for one night of the month. Unless otherwise noted, all VSC events are Veteran and Military Member only. Significant others, family, and friends will be invited to a few events a year. The focus here is on military service, not support of.
As a not-for-profit 501c(3), VSC will maintain a private Facebook group, a public Instagram, an Eventbrite calendar, and a LinkedIn page to disseminate important information. Using social media resources guarantees a strict policy of ensuring our membership is not publicized, monetized, or used for profit. Across our social media platforms, members will be able to access the 48 and 24 hour mission brief, which lays out the mission for each event and rules of engagement.
Our Mission:
To provide a safe and encouraging community for veterans and military members to engage, interact, and grow their social and support network.
Our Values:
Duty. Responsibility to look after our fellow Veterans.
Selflessness. To continue to serve by putting the community's needs above our own.
Camaraderie. Continue the mutual trust and friendship established while serving.