The Armory Football Combine is a 1 day event that applies state-of-the-art timing technologies to give NFL Combine type data
About this Event
With the majority of the high school football players in the northeast having their football season impacted in one way or another, The Armory Combine gives these players the opportunity to showcase their talents to college coaches ahead of the early signing period of December 16-18, 2020 and the regular signing period in February, 2020.
College football recruiting relies heavily on combine type events to evaluate future talent. Additionally, with the added help and expertise of Tracking Football (www.trackingfootball.com) and Brian Hawkins of Prospect New York, these athletes will be able to be compared to other players throughout the country and give tangible results to the college coaches and schools.
The Armory Football Combine can provide this opportunity.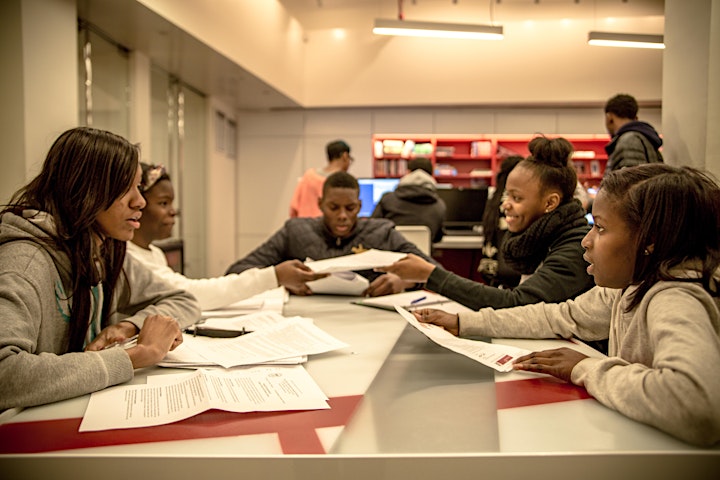 The Armory Foundation is a non-profit organization dedicated to serving youth by promoting fitness and education through a broad range of educational, athletic and community programs, including:
Armory College Prep - The Armory College Prep High School Program is keeping kids on track by providing college prep and academic counseling services to New York City public high school students. The Armory College Prep Middle School Program offers academic support, computer science education, and high school application guidance to local middle school students. Over the past four years, 100 percent of our high school seniors have been accepted into four-year colleges, while also receiving funding that covers over 70 percent of their total college costs. Many of these students become the first members of their families to receive a college education.
CityTrack, Little Feet and Tiny Feet - The Armory Foundation offers track & field and general exercise programming for students that go to school or live in the Washington Heights, Inwood, and Harlem communities of NYC. CityTrack welcomes students in grades 6 - 8, and Little Feet and Tiny Feet serve students in grades 2 - 5.
For more information about The Armory Foundation and the work we do, please visit our website.
You may also make a donation to The Armory Foundation through our website.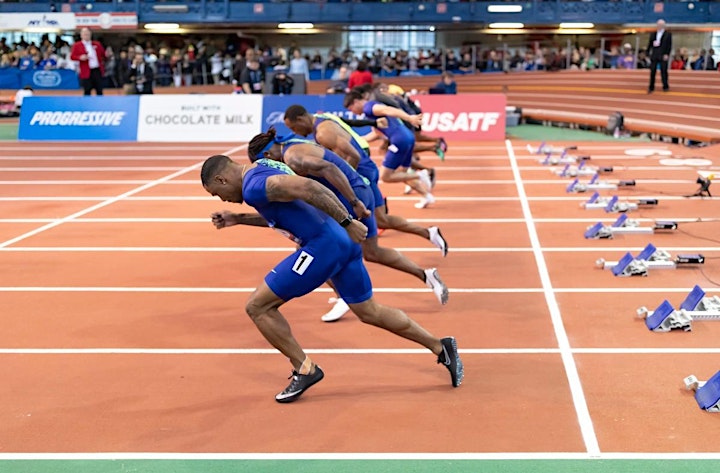 The Event:
Event 1: The Mondo Dash. 55m dash that can be run in track spikes on the Mondo track surface (Trials & Finals by position group) with the 40yd dash timed enroute. Each athlete's top speed will be converted to miles per hour so they can be accurately compared to current college football players.
Shoes: Track spikes are recommended but not required
**This differs from the traditional combine where athletes run alone. In this setting, they would be both competing to win and competing for time.**
Event 2: Standing long jump into the sand pit.
Shoes: Regular turf or standard training shoe
**This differs from the traditional combine where the athletes land on turf. Athletes would use the sand pit and spikes which would allow for greater extension of the landing, leading to increased distances.**
Event 3: 3k Medicine Ball Throw
Shoes: Regular turf or standard training shoe
**New event that will measure an athletes power production. The distance traveled will be measured to create a standard event from which athletes of all position groups can be compared**
Event 4: Pro Agility (5-10-5) The event will have fully automatic timing (FAT) that will give the athlete the best representation of their true agility. This event will take place on an older style traditional astroturf type surface. Turf shoes are recommended, NO CLEATS!
Shoes: Regular turf or standard training shoe
**Same event that takes place at the combine**
Position Groups (up to 24 athletes per group):
Quarterbacks
Running Backs
Wide receivers
Tight ends & fullbacks
Offensive Linemen
Defensive Linemen
Linebackers
Defensive backs & Safeties
Cost:
$120 per athlete. Each athlete is limited to compete within one position group. If a player plays multiple positions they will need to decide which group they would like to compete with.
Receivables:
Each athlete will receive a bib # that will indicate who they are and will be given a combine t-shirt that must be worn during the duration of the event. The bib number must be pinned to the front of the shirt so that it can clearly be visible throughout the event. Each attendee will also receive a bag provided to them by Mondo USA.
Timing and Results:
All timing and results will be done by The Armory's internal timing crew and will be put up on results.armorytrack.com in real time in the same manner as typical Armory track & field meets. Additionally, Tracking Football will be uploading the results into their databases and analyzing each participant against those in their same position throughout the country. Please see www.trackingfootball.com for more information about their services.
Masks:
***UPDATE***
Masks must be worn at all times! All others in the arena must wear masks at all times and maintain social distancing.
Broadcast Information
The Armory Combine will be broadcast live on Runnerspace.com across the nation! This will provide all players to showcase their skills to coaches and scouts from anywhere in North America. This also makes it possible for those that cannot attend in person to watch as their favorite players showcase their skills that day.
More information can be found at Runnerspace.com or ArmoryTrack.com.
COVID-19 Information and Protocols
Please note that all information regarding our COVID-19 protocols may change at any time, as more information becomes available.
Facility Information
All athletes, student chaperones, and staff must enter through The Armory's main entrance on Fort Washington Avenue. Athletes and their chaperones will not be admitted unless they are scheduled for their position group within 60 minutes.
You will also be denied entry if any of the following exists:
You have experienced, or are currently experiencing, a fever, cough, or shortness of breath within the last 14 days.
You have had close contact with an individual infected or suspected infection with COVID-19 within the last 14 days.
You are traveling from a state that is on the NYS Travel Advisory (see below) within 14 days prior to the event.
Once you have passed the screening in the lobby, you should proceed to the fourth floor and sit in your assigned seats in the stands.
Everyone must wear a mask at all times inside the facility, except while actively participating.
Everyone must socially distance themselves and keep six (6) feet away from others inside the facility.
All stairways and walkways will be unidirectional. Please strictly adhere to signs and arena maps that will be provided in each packet.
Hand sanitizers are available throughout the facility.
Restrooms will be open for athletes and chaperones.
Each athlete will be permitted one (1) chaperone to accompany them free of charge, additional chaperone passes can be purchased. All chaperones will be required to sit in their assigned seats (in the 4th floor bleachers) and not within six (6) feet from other chaperones and competitors.
Once you are done participating, you'll be asked to collect your belongings and leave the facility through the exit door by the shot put cage on the third floor as soon as possible.
New York State Travel Advisory
The NYS Department of Health has issued a travel advisory, in conjunction with Connecticut and New Jersey, to help stop the spread of COVID-19. Anyone coming to New York from states other than Pennsylvania, Connecticut or New Jersey must be tested three days prior to arrival, test negative, quarantine for three days in New York and test negative once again at the end of that quarantine period to be allowed admittance to the state.
How to get to The Armory:
The Armory is located on Fort Washington Ave between 168th & 169th Streets, one block west of Broadway. It is accessible off the West Side Highway or the FDR. The Armory is also in close proximity to public transportation. Below is a listing of the different ways available to access the Armory.
Subway: We are located one block west of the 168th Street stop off the A & C trains (168th street stop on the 1 train is out of service).
Bus: The M4 stops directly in front of our building on Fort Washington Avenue. M100, Bx7, M5 and M3 have stops one block west of the Armory on Broadway & 168th Street
Hotel Info:
Please contact Aaron Robison (aaron@armorytrack.com) if you need info about hotel accomodations. A block of rooms has been resereved in neighboring Fort Lee, NJ at a discounted rate.
Media and Press Credentials
Please fill out this form if you are interested in obtaining media or press credentials for this event:
Schedule:
Group #1: Quarterbacks
7:30am: Quarterback group check-in and height & weight measurements
8:00am: Quarterbacks group begins
8:00am: The Mondo 55m dash - 8 heats, 3 per heat
8:40am: The Mondo 55m dash - 2 heat final - 6 fastest athletes per position group
8:45am: 12 athletes start broad jump into sand 3 attempts each (sand pit closest to oval)
8:45am: 12 athletes start agility drill in the shot put cage
9:15am: 12 athletes start broad jump into sand 3 attempts each (sand pit closest to oval)
9:15am: 12 athletes start agility drill in the shot put cage
9:45am: 12 athletes begin medicine ball throw in shot put cage and then exit the building
10:15am: 12 athletes begin medicine ball throw in shot put cage and then exit the building
10:45am: Quarterback group completed and exited the building
Group #2: Running Backs
8:45am: Running backs group check-in and height & weight measurements
9:15am: Running backs group begins
9:15am: The Mondo 55m dash - 8 heats, 3 per heat
9:55am: The Mondo 55m dash - 2 heat final - 6 fastest athletes per position group
10:00am: 12 athletes start broad jump into sand 3 attempts each (sand pit closest to oval)
10:00am: 12 athletes start agility drill in the shot put cage
10:30am: 12 athletes start broad jump into sand 3 attempts each (sand pit closest to oval)
10:30am: 12 athletes start agility drill in the shot put cage
11:00am: 12 athletes begin medicine ball throw in shot put cage and then exit the building
11:30am: 12 athletes begin medicine ball throw in shot put cage and then exit the building
12:00pm: Runningbacks group completed and exited the building
Group #3: Wide Receivers
10:00am: Wide Receivers group check-in and height & weight measurements
10:30am: Wide Receivers group begins
10:30am: The Mondo 55m dash - 8 heats, 3 per heat
11:10am: The Mondo 55m dash - 2 heat final - 6 fastest athletes per position group
11:15am: 12 athletes start broad jump into sand 3 attempts each (sand pit closest to oval)
11:15am: 12 athletes start agility drill in the shot put cage
11:45am: 12 athletes start broad jump into sand 3 attempts each (sand pit closest to oval)
11:45am: 12 athletes start agility drill in the shot put cage
12:15pm: 12 athletes begin medicine ball throw in shot put cage and then exit the building
12:45pm: 12 athletes begin medicine ball throw in shot put cage and then exit the building
1:15pm: Wide Receivers group completed and exited the building
Group #4: Tight Ends & Fullbacks
11:15am: Tight Ends & Fullbacks group check-in and height & weight measurements
11:45am: Tight Ends & Fullbacks group begins
11:45am: The Mondo 55m dash - 8 heats, 3 per heat
12:25pm: The Mondo 55m dash - 2 heat final - 6 fastest athletes per position group
12:30pm: 12 athletes start broad jump into sand 3 attempts each (sand pit closest to oval)
12:30pm: 12 athletes start agility drill in the shot put cage
1:00pm: 12 athletes start broad jump into sand 3 attempts each (sand pit closest to oval)
1:00pm: 12 athletes start agility drill in the shot put cage
1:30pm: 12 athletes begin medicine ball throw in shot put cage and then exit the building
2:00pm: 12 athletes begin medicine ball throw in shot put cage and then exit the building
2:30pm: Tight Ends & Fullbacks group completed and exited the building
Group #5: Offensive Linemen
12:30pm: Offensive Linemen group check-in and height & weight measurements
1:00pm: Offensive Linemen group begins
1:00pm: The Mondo 55m dash - 8 heats, 3 per heat
1:40pm: The Mondo 55m dash - 2 heat final - 6 fastest athletes per position group
1:45pm: 12 athletes start broad jump into sand 3 attempts each (sand pit closest to oval)
1:45pm: 12 athletes start agility drill in the shot put cage
2:15pm: 12 athletes start broad jump into sand 3 attempts each (sand pit closest to oval)
2:15pm: 12 athletes start agility drill in the shot put cage
2:45pm: 12 athletes begin medicine ball throw in shot put cage and then exit the building
3:15pm: 12 athletes begin medicine ball throw in shot put cage and then exit the building
3:45pm: Offensive Linemen group completed and exited the building
Group #6: Defensive Linemen
1:45pm: Defensive Linemen group check-in and height & weight measurements
2:15pm: Defensive Linemen group begins
2:15pm: The Mondo 55m dash - 8 heats, 3 per heat
2:55pm: The Mondo 55m dash - 2 heat final - 6 fastest athletes per position group
3:00pm: 12 athletes start broad jump into sand 3 attempts each (sand pit closest to oval)
3:00pm: 12 athletes start agility drill in the shot put cage
3:30pm: 12 athletes start broad jump into sand 3 attempts each (sand pit closest to oval)
3:30pm: 12 athletes start agility drill in the shot put cage
4:00pm: 12 athletes begin medicine ball throw in shot put cage and then exit the building
4:30pm: 12 athletes begin medicine ball throw in shot put cage and then exit the building
5:00pm: Defensive Linemen group completed and exited the building
Group #7: Linebackers
3:00pm: Linebackers group check-in and height & weight measurements
3:30pm: Linebackers group begins
3:30pm: The Mondo 55m dash - 8 heats, 3 per heat
4:10pm: The Mondo 55m dash - 2 heat final - 6 fastest athletes per position group
4:15pm: 12 athletes start broad jump into sand 3 attempts each (sand pit closest to oval)
4:15pm: 12 athletes start agility drill in the shot put cage
4:45pm: 12 athletes start broad jump into sand 3 attempts each (sand pit closest to oval)
4:45pm: 12 athletes start agility drill in the shot put cage
5:15pm: 12 athletes begin medicine ball throw in shot put cage and then exit the building
5:45pm: 12 athletes begin medicine ball throw in shot put cage and then exit the building
6:15pm: Linebackers group completed and exited the building
Group #8: Defensive Backs & Safeties
4:15pm: Defensive Backs & Safeties group check-in and height & weight measurements
4:45pm: Defensive Backs & Safeties group begins
4:45pm: The Mondo 55m dash - 8 heats, 3 per heat
5:25pm: The Mondo 55m dash - 2 heat final - 6 fastest athletes per position group
5:30pm: 12 athletes start broad jump into sand 3 attempts each (sand pit closest to oval)
5:30pm: 12 athletes start agility drill in the shot put cage
6:00pm: 12 athletes start broad jump into sand 3 attempts each (sand pit closest to oval)
6:00pm: 12 athletes start agility drill in the shot put cage
6:30pm: 12 athletes begin medicine ball throw in shot put cage and then exit the building
7:00pm: 12 athletes begin medicine ball throw in shot put cage and then exit the building
7:30pm: Defensive Backs & Safeties group completed and exited the building