A fundraiser for Rakestraw Books
About this event
It's a tough time for local bookstores, what with the social distancing and the sheltering in place. So we're raising funds to help local Bay Area bookstores stay in business.
The authors
Alia Volz is the author of Home Baked: My Mom, Marijuana, and the Stoning of San Francisco (Houghton Mifflin Harcourt, 2020). She is a MacDowell Colonist and a Ucross Foundation Fellow. Other writings appear in The Best American Essays, The New York Times, Golden State 2017: Best New Writing from California, and Dig If You Will The Picture: Remembering Prince. She's a homegrown San Franciscan from weedy hippie stock.
Launched in 1976 as a groundbreaking serial in the San Francisco Chronicle, Armistead Maupin's iconic Tales of the City series has since blazed its own trail through popular culture – from a sequence of globally best-selling novels, to a Peabody Award-winning television miniseries starring Olympia Dukakis and Laura Linney, to an ambitious new musical that had its world premiere at San Francisco's American Conservatory Theater in 2011. The series now encompasses eight hugely popular novels: Tales of the City, More Tales of the City, Further Tales of the City, Babycakes, Significant Others, Sure of You, Michael Tolliver Lives, and Mary Ann in Autumn. The final Tales novel, The Days of Anna Madrigal, was released in January 2014. It premiered at #3 on the Independent Bestseller list and #7 on the New York Times Bestseller list. In 2019 Netflix will be airing a new series based on the novels titled Armistead Maupin's Tales of the City.
Maupin's 1992 novel, Maybe the Moon, which followed the serio-comic adventures of a dwarf actress working in Hollywood, was named one of the ten best books of the year by Entertainment Weekly. The Night Listener (2000), a psychological suspense novel inspired by an eerie episode in Maupin's own life, became a 2006 feature film starring Robin Williams and Toni Collette. In 2017 he wrote a memoir titled Logical Family which grew out of his critically acclaimed one-man show of the same name. Neil Gaiman said this about Logical Family; "Maupin is one of America's finest storytellers, and the story of his life is a story as fascinating, as delightful and as compulsive as any of the tales he has made up for us."
In 1997 Maupin received the Bill Whitehead Award for Lifetime Achievement from the Publishing Triangle of New York. In 2002 he was honored with the Trevor Project's Life Award "for his efforts in saving young lives." Maupin was the first recipient of Litquake's Barbary Coast Award for his literary contribution to San Francisco. In 2012 he was awarded Lambda's Pioneer Award which is bestowed on individuals who have broken new ground in the field of LGBT literature and publishing. In 2014 he received an honorary Doctor of Letters from the University of North Carolina-Chapel Hill. He also received the Visionary Award from the 2014 Outfest Legacy Awards for his collected novels and their "...diverse, interconnected community of San Francisco bohemians -- which shaped our collective fantasy of what LGBT life is and could be...." Maupin is the subject of a new documentary titled Untold Tales of Armistead Maupin. He lives with his husband, Christopher Turner, a photographer.
Hosted by Marke Bieschke from 48 Hills Magazine
The beneficiary
Located in the beautiful San Ramon Valley, at the base of Mt. Diablo, Rakestraw Books "The Bookstore in Danville" strives to be a place where books and writers and readers matter. Founded in 1973, Rakestraw Books is a small, independent bookshop that reAbout Rakestraw Booksmains dedicated to the principles espoused by its founders: to sell a variety of books of merit; to help readers discover those books; to sponsor events that bring a diverse range of writers and artists to our community; and to accomplish these tasks in a manner that is both professional and friendly.
Our particular strengths are contemporary fiction -- although we maintain a strong showing in British writers from fifty years ago; literary essays; biographies; and literature of travel. Each month a number of authors visit Rakestraw Books – as part of our successful Writers and Readers at Rakestraw program -- to share their latest works with our audience of readers. These events allow us, and our community, to take part in the larger literary conversation of our day.
Every penny you spend on tickets to this event goes directly to Rakestraw Books.
How does it work?
We use the conferencing system Zoom. After you sign up you'll get an email with the Zoom access code. (Check that Eventbrite is using your current email address.) You don't have to join with video, but it's nice to see faces.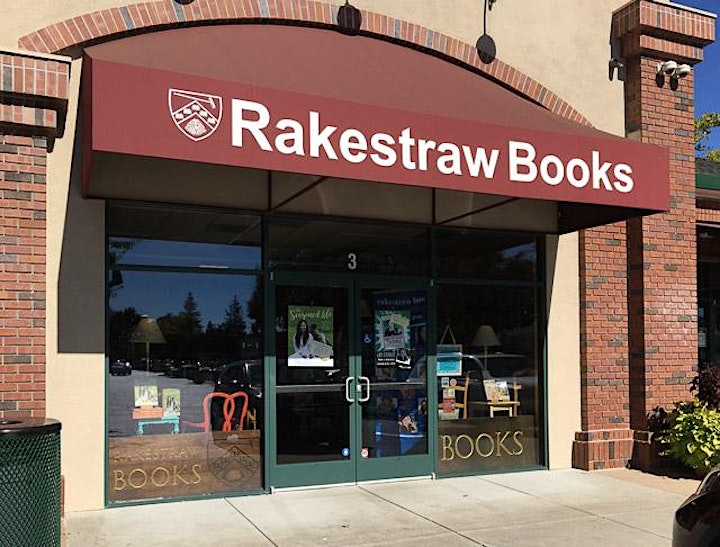 Organizer of Armistead Maupin and Alia Volz for Rakestraw Books
Charlie Jane Anders is the author of Victories Greater Than Death, the first book in a new young-adult trilogy, which came out in April 2021. Up next: Never Say You Can't Survive, a book about how to use creative writing to get through hard times; and a short story collection called Even Greater Mistakes. Her other books include The City in the Middle of the Night and All the Birds in the Sky. Her fiction and journalism have appeared in the New York Times, the Washington Post, Slate, McSweeney's, Mother Jones, the Boston Review, Tor.com, Tin House, Teen Vogue, Conjunctions, Wired Magazine, and other places. Her TED Talk, "Go Ahead, Dream About the Future" got 700,000 views in its first week. With Annalee Newitz, she co-hosts the podcast Our Opinions Are Correct.