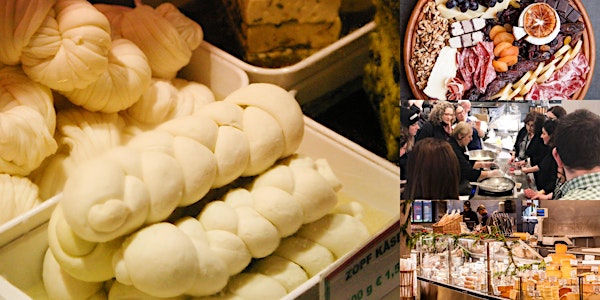 Armenian String Cheese-Making Workshop @ Sahadi's Industry City
New York Adventure Club | www.adventureclub.com
When and where
Location
Sahadi's Industry City 34 35th Street Brooklyn, NY 11232
About this event
If you think that Armenian String Cheese is anything like the rubbery stick packed in your school lunch box growing up, then get ready to have your mind blown. That's because this mezze staple made of semi-soft cow's milk — and shaped into thick, circular braids with slightly crunchy nigella seeds — is like a saltier version of the very freshest mozzarella that's ever hit your taste buds. Fortunately for you, one of New York City's premier Middle Eastern grocers is ready to show you how to make this twisty, cheesy delicacy before sending you home with your own mouth-watering creation. Are you ready to get your string cheese on?
Join New York Adventure Club for an Armenian string cheese workshop at the Industry City location of Sahadi's, a James Beard Award-winning grocer that's been serving Middle Eastern cuisine in Brooklyn since 1948.
Led by in-house cheesemonger Liana Kindler, our speciality cheese-making experience at Sahadi's Industry City will include:
A brief overview of Sahadi's and its impact on the Brooklyn community for generations
The 101 on Armenian string cheese, from its origin story to what differentiates it from other cheeses
A step-by-step instruction on how to make Armenian string cheese, from the opportunity to braid your own cheese to observing how the cheesemonger goes about the salting process
Complimentary pours of a Middle Eastern wine throughout the class
A tutorial on how to craft an artisanal cheese board — once made, you'll get to snack on this cheese and various specialty accompaniments throughout the workshop
The opportunity to go home with your own hand-crafted Armenian string cheese along with the secret family recipe (keep it hush hush!)
See you there!
*Food allergy note: please note that the cheese has caraway seeds and mahlab in it, and that nuts are used on the cheese board
About Sahadi's
Originally from Lebanon, the family first established Sahadi's in Manhattan's "Little Syria" in 1895. Wade Sahadi moved the shop to Atlantic Avenue in Brooklyn in 1948, due to the construction of the Brooklyn Bridge and the migration of the community. Wade's son Charlie Sahadi took over in 1967, with the help of his wife Audrey and his siblings Bob & Richie. Today, it's currently helmed by Charlie's children, Ron Sahadi and Christine Sahadi Whelan, and her husband Pat Whelan. Now, two generations born & raised in Brooklyn, the fourth generation of the family have recently entered the business, returning to their roots and offering fine arak, Lebanese wines, and expanding on the world-famous Lebanese hospitality with cafe service and private events.
Disclaimer
By attending a New York Adventure Club experience, you accept our terms of service.
Categories: In-Person, Food & Drink