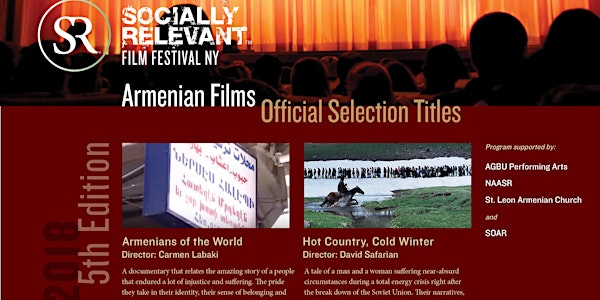 Armenian Spotlight at SR Socially Relevant™ Film Festival NY
When and where
Location
Cinema Village 22 East 12th Street New York, NY 10003
Description
Armenian Spotlight at Fifth Edition of SR Socially Relevant™ Film Festival NY
One feature and one documentary

Q&A with Armenian filmmaker David Safarian in attendance
SR Socially Relevant Film Festival 2018 (SRFF 2018) brings in its Fifth Season with 70 international and local films, industry workshops and panels, and other events dedicated to social issues and the filmmakers that highlight them. SRFF 2018 will be held from March 16 to 22, 2018 at Cinema Village and neighboring venues. $5 early bird tickets and $100 all-access passes are available via Eventbrite in limited quantities until full price tickets kick-in on February 20.
The rapidly-growing Festival, now in its fifth year, is a multi-faceted event that embodies the cultural values of New York and the world. SRFF 2018 showcases films across an array of platforms from emerging, international and local filmmakers. There will be several spotlight programs, industry workshops and panels on different regions and issues. Previous editions of the festival have included a number of Armenian films. A percentage of the box office from the Armenian films will be donated to SOAR - Society of Orphaned Armenian Relief.
ARMENIAN FILMS - Official Selection
N.Y. PREMIERE
Armenians of the World

Carmen Labaki
Lebanon, Armenia, Syria, & Turkey | 2017 | 56 min
Armenians of the world is a documentary that relates the amazing story of a people that endured a lot of injustice and suffering. The pride they take in their identity, their sense of belonging and integration is second to none. Shot in Turkey, Syria, Armenia, and Lebanon the film took a whole year of research to be completed. This is a recent edit with updated information. In Turkey: Scenes of desolation, ruins, and silence. In Syria: Tears and testimonies. In Armenia: Resistance, strong will, and a dream. In Lebanon: An entire destiny beginning in ancient times and everlasting through history.
Today, the Turkish government is busy destroying whatever belongs to the Armenians: bridges, houses, churches…If you go to Turkey, you won't find the same images that were filmed some years ago.
See website for more details and images.
Trailer: http://www.dailymotion.com/video/x6e6u4n
Screens on Sunday, March 18, at 6:00 pm.
_______________________________________________
N.Y. PREMIERE
Hot Country, Cold Winter

David Safarian
Armenia, The Netherlands, Germany | 2016 | 104 min
Armenian, Russian with English subtitles

A tale of a man and a woman suffering near-absurd circumstances during a total energy crisis right after the break down of the Soviet Union. Their narratives, recollections, imagination, and dreams are depicted in this powerful narrative feature film dealing with a period of modern history, not so far away from our times.
Awards:
Best Actress and Best Art Director National Film Academy of Armenia, 2016

Best Narrative Feature Film Director Award 19th ARPA International Film Festival 2016 Los Angeles, USA

Best Screenplay Award and Special Mention of Jury 13th Golden Apricot Yerevan International Film Festival

Effulgent Angel Prize 13th Effulgent Angel International Film Festival, 2016 Moscow, Russia
See website for more details and images.
Trailer: http://www.dailymotion.com/video/x6dbdg0
Screens on Sunday, March 18, at 7:30 pm.
______________________________________________
Among the other 67 Officially Selected films to be screened in the heart of Greenwich Village, are a diverse mix of four narrative features, 12 documentaries, 40 shorts, 10 VR/360º films and more. There is also a script-writing contest and readings of excerpts from finalist scripts. The films represent 35 countries. Visit www.ratedsrfilms.org for schedules, film synopses, and filmmaker bios.