Description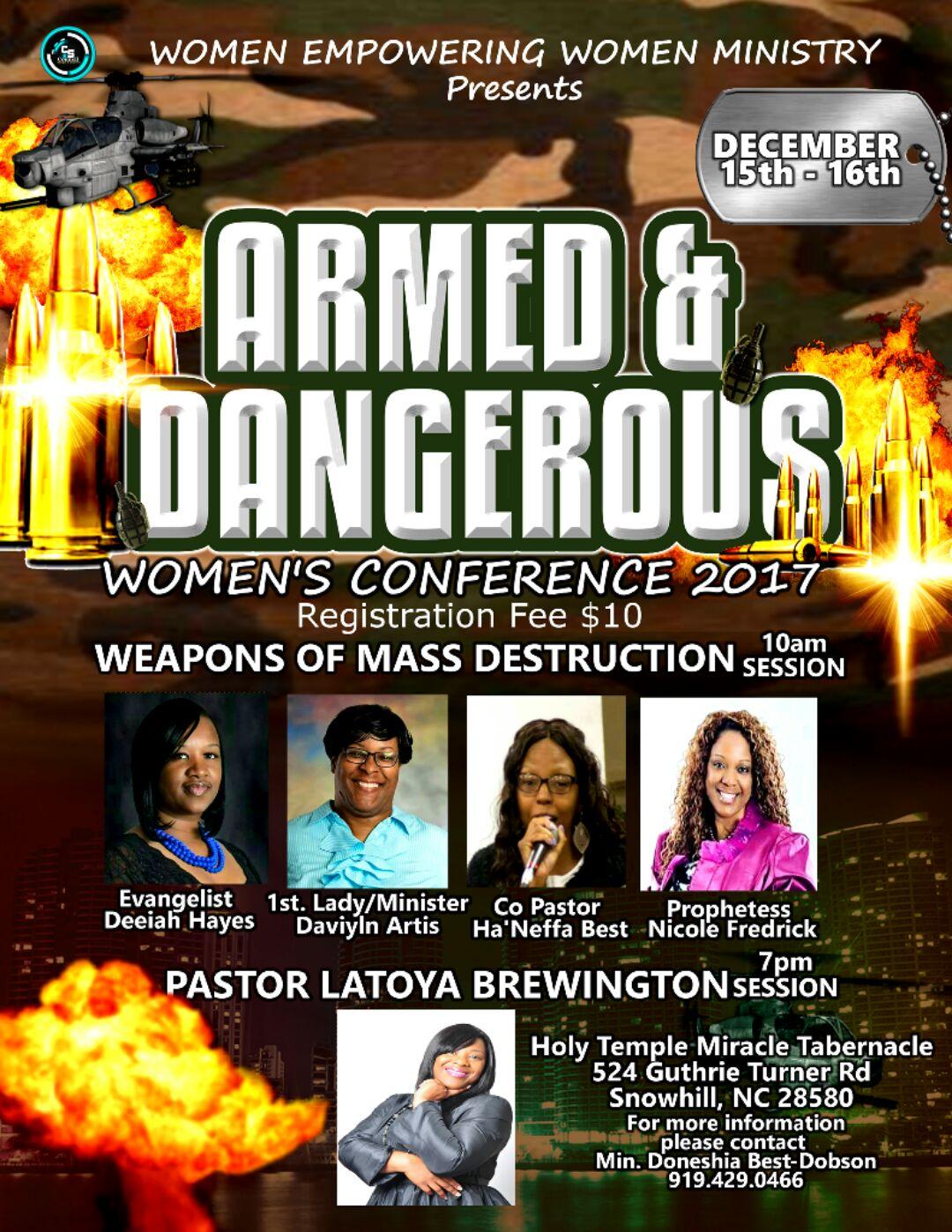 Armed and Dangerous
"I'm a Survivor"
Praise the Lord
It is with great expectation and anticipation that we invite all women to join the Women Empowering Women Fellowship Ministry (WEWFM) in our Women's Conference 2017 "Armed and Dangerous". The goal of this conference is to allow the Women of God to leave Empowered, Equipped and fully Armored to be able to stand and defect Satan and his tactics. God has equipped and given us weapons but do we use them to its full potential? The "Word" the "Bible" is our weapon and we must learn to completely us the tools that God has provided us to defeat and empower.
Women, we must realize how dangerous we are to Satan. After this conference, we want each one of you to leave with the mindset that "Yes, I am more than a Conquer, I am Victorious and Yes, I am a threat to the enemy".
We have survived many attacks that have been thrown our way this year but we're here to testify that we are still standing and we have survived it all. So, not only our theme is "Armed and Dangerous" but "We are Survivors", "I am a Survivor".
We declare and decree that this will not just be another conference but one of many that will transform us, push us to another level, as well as drive us to another dimension that will bring out the new fight within us. We are praying for a high time in the Lord, ng these conference where God's presence, his anointing and power will take complete control.
So, women of God please meet us December 15th and 16th where your life will be forever changed and you will know that you are Armed and Dangerous, a threat to Satan and most of all a Survivor.
Registration Information: Armed & Dangerous Conference (2 days)
*Dec. 15th @ 7:30pm - Free
*Dec. 16th
o 1st session @ 10am ($10 registration fee open @9am)
o 2nd session @ 7pm ($10 registration fee)
Any questions or concerns please contact visionaries:
Min. Donesia Dobson

Min. Felicia Wooten

Email address:

WEWFM@Gmail.com